Gay Provincetown Guide
Welcome to gay Provincetown, a town of, writers, sailors, artists, gays, booze, the beach, and Summers of excess; just 90 minutes from Boston! Discover the best places to stay and play with our Provincetown Gay Guide..
Summer pool parties are a way of life in P Town
Welcome to gay Provincetown, a town of, writers, sailors, artists, gays, booze, the beach, and Summers of excess; just 90 minutes from Boston! Discover the best places to stay and play with our Provincetown Gay Guide.
Provincetown is a colourful and sandy resort town located at the tip of Cape Cod. It is one of America's most loved gaycation spots and has been welcoming pilgrims, artists and gays since the 1600's.
"P-Town", as it is affectionately known by regular visitors, has a village feel with independent stores, eclectic art galleries and some of the best seafood restaurants on the coast.
Provincetown attracts a diverse range of visitors. The town's population swells from just over 3,000 to 60,000 during the Summer months when large events such as Carnival, Bear Week and Pride bring visitors from far and wide. You will find straight couples mingling with gay families, crazy drag queens, circuit boys and gay club kids.  P-Town has always been known as a town that embraces its LGBTQ following. Most of the straight visitors are day trippers, meaning gays have the place to themselves once the sun sets.
Where to stay in Gay Provincetown?
Provincetown is blessed with some of the most charming guest houses and hotels suitable for all budgets.
Top Tip! The key events and festivals attract huge crowds which can make finding accommodation difficult.
Make sure you book a hotel in gay Provincetown as far in advance as possible, especially if you want to visit during weekends in July and August. Be aware many hotels will require a three to five-night minimum stay during high season.
Brass Key Guesthouse – Legendary Pool Parties
Brass Key Guesthouse, a luxury lodging with equally stunning grounds and an elegant yet laid-back atmosphere.  Located 4 minutes' drive from Herring Cove Beach on the Cape Cod National Seashore, this resort is 5 minutes' walk to Provincetown city centre. This adult's only accommodation offers spa services, an outdoor pool and free WiFi. Brass Key is also the owner of the trendy Shipwreck Lounge.
Lands End Inn – Adults Only
This Lands End Inn is a luxury accommodation and boasts panoramic ocean views and lush gardens. Perched atop Gull Hill in the quiet West End, the individually decorated rooms have free Wi-Fi and flat-screen TVs. Public beaches are within 1.6 km of the property.
Crowne Pointe Historic Inn – 4 Star
Just one block from key Provincetown points of interest on Commercial Street meanwhile, is the sprawling Crowne Pointe Historic Inn, comprising of six restored Victorian buildings and a main mansion. Adults only for ultimate relaxation, hotel facilities include the exclusive Kiehl's Shui Spa, fine-dining Pointe Restaurant, in-room fireplaces, and a small but lovely outdoor swimming pool.
The Waterford Inn – 3 Star
The Waterford Inn is a charming Provincetown accommodation is a 1850s sea captain's mansion, It boasts a seasonal rooftop terrace with views of the harbour and serves a daily continental breakfast. It is in the Gallery District, 5 minutes' walk from Pilgrim Monument.
The 8 Dyer Hotel – Adults Only
The 8 Dyer Hotel is a tiny guest house tucked away on a quiet side street in a lively area of Provincetown and comes complete with a pool, dry sauna and indoor Jacuzzi. All rooms feature a flat-screen TV with satellite channels and a private bathroom. Providing free WiFi throughout the property.
The Queen Vic Guest House
The historic Queen Vic Guest House is in a former sea captain's home, just steps from the beach. A complimentary continental breakfast, including fresh fruits and baked items, is served each morning.
Where is the gay area in Provincetown!
P-Town is a small town. It is just three miles long, and just a few streets wide. But its attractions spread well beyond the town's outer limits with more than 4,000 acres of rolling sand dunes and 30 miles of beautiful beaches.  The town sees a huge influx of visitors over the Summer season to fill its 40 guest houses, 2 gay beaches and 12+ gay bars and clubs.
Commercial Street is where you will find most of the action in Provincetown. The pedestrian-only street is home to some of the most popular gay bars and restaurants and is also the scene for some crazy parades and parties.
Meanwhile, on nearby Bradford Street, you will find most of Provincetown's gay owned or gay-friendly boutique hotels and bed-and-breakfast inns.
When to visit Provincetown?
The Winter months are the quietest in gay Provincetown. Business picks up from the end of May as visitors arrive from Memorial Day Weekend.
High season kicks off on the 4th of July weekend and lasts right through until the August Carnival. The scene quietens after Labor Day, but picks up on long weekends and holidays such as Halloween and Thanksgiving.
If you can't visit during the peak tourist weeks around the biggest events, don't worry: there's always something happening in Provincetown. Indeed, Winter here is charming and is the perfect time for those who prefer the peace and quiet of snowy sand dunes.
Getting to gay Provincetown is easy. Just do not drive!  There is only one highway into and out of the town and Summer traffic from Boston can be quite chaotic.
The best way to get to Provincetown is by ferry.  The town is just a 90-minute fast ferry ride from Boston. The ferries run roughly 18 times per week.
There are two speedy ferry services from Boston, Bay State Cruises and Boston Harbor Cruises. Relax and enjoy a cocktail at the bar and enjoy the view. You might even spot whales during the 90-minute journey.
Peter Pan buses also run to Provincetown from Boston, New York and beyond.
Alternatively, you can take a small charter flight to Cape Cod with Boston. Cape Air and avoid summer traffic on the busy roads to the Cape.
Getting Around
The best way to get around PTown is on foot or by bike. Streets are narrow and filled with pedestrians and few parking spots, so avoid driving.
Visit P-Town Bikes for a rental and keep the bike for a day or your entire trip. Bikes come with a lock, helmet, and optional basket. What would be a 40-minute walk would be a 9-minute bike ride. It also makes it a lot easier to head to Herring Cove, which you must go to at least once while you're in town.
The Cape Cod Provincetown Shuttle provides a seasonal (May – September) bus service between Provincetown and the Province Lands Visitor Center, Herring Cove Beach, North Truro, the Provincetown Airport, Race Point, and the Plymouth & Brockton Bus Stop at Dutra's Market.
You can flag the bus down anywhere along the bus route. The fare is $2 or buy a $6 day pass. Buses have bike racks, but space is limited.
Provincetown Neighborhoods
It will not take long for you to familiarize yourself with the layout of gay Provincetown. Commercial Street is the pedestrian thoroughfare that runs through the town. Bradford runs parallel and his full of car traffic.
The town is divided into East End and West End by the MacMillan Wharf, the central pier where the ferries dock.
East End
Home to the town's art galleries, with a more relaxed vibe. Visitors looking for a quiet guest house escape choose this part of town.
Centre and West End
This is where you will find the gay scene. Commercial Street is full of gay men from sunrise to sunset. In the summer months shirtless men can be seen spilling out into the streets, relaxing by guest house pools and dancing by the seafront at The Crown and Anchor resort.
Most of the bars are in the centre along with the larger hotels.  Further towards the west end you will find downtown and the gay beaches.
Provincetown Gay Bars and Clubs
Provincetown's party offering is quite extensive featuring everything from open-air lounges to underground leather bars to sprawling dance clubs.
All of the bars close at 1am so don't start your night too late. Most evenings begin with post beach cocktails at the Boatslip Resort T dance from 4pm to 7pm followed by dinner and drinks. Then the fun begins from around 10pm onwards.
While most of the bars are at their busiest during the Summer Season, many stay open year-round and attract visitors from nearby Boston and Providence. Bars and clubs will be busy throughout the week in high season. During the months of May and October, busy periods occur over the weekend.
Dance clubs & entertainment complexes.
Paramount at Crown and Anchor is where you will wind up dancing the night away. Part of the Crown and Anchor complex, Paramount is the largest club in Provincetown and has a great pool patio. Other bars in the complex include Wave video bar, a cabaret venue, a poolside bar, a piano bar and a leather bar known as The Vault.
Purgatory Gifford House is a gay dance club with various theme nights in the basement of a vintage inn, open tourist season only.
Atlantic House – P-town's favorite gay club for over 25 years with three bars. You can relax during the day at the Little Bar, complete with a cozy fireplace during the cooler months, dance in The Big Room with top DJs and themed nights and cruise the leather bar, "Macho" upstairs at night, 7 nights a week!
Insider Tip! – If you plan to visit the Atlantic House, there early, say 9:30 PM, and get your stamp. You can then leave and return at 11 PM. If you arrive after 11 PM, the line is going to be long, and it will take you at least 20 minutes to get in.
Provincetown Gay Events Calendar
Where to eat? Restaurants in Provincetown
Gay Provincetown has a wide range of restaurants serving everything from delicious snacks to fine dining. Many of the best restaurants offer a twist on New American cuisine. Enjoy some of the best fish with harbor side views. Here is our shortlist for where to eat!
Cruising in Gay Provincetown
During the peak Summer months, the town becomes one large cruising ground. From the benches at the Town Hall Square to the legendary "Dick Dock" under the Boatslip's boardwalk, there are plenty of places for some anonymous hook ups.
The Vault at The Crown & Anchor is a cruisy leather bar.
At Boy's Beach, you can also head back into the dunes, and guarantee you'll find some boys getting a little action there too.
Alternatively, as gay boys stumble out of the bars late at night, head to Spiritus Pizza where people gather in the street for some post drink sustenance and the chance at a last-minute rendezvous.
Catch a show! Theatres in Provincetown
Provincetown hosts some great Broadway seasonal musical performances throughout the season
The Provincetown Art House Theatre  hosts much of the best theatre in Provincetown, both on and off season. Guest stars include big names from Broadway such as Neil Patrick Harris and Jeremy Jordan as well as several Drag Race alumni. While enjoying a show try their Naked & Famous cocktail!
The Cabaret Room at the Crown & Anchor hosts some great cabaret and drag shows. Regular headliners include Thirsty Burlington as Cher, and comedy legend such as Margaret Cho and Lisa Lampanelli.
Other shows take place at Pilgrim House,  Fishermen Hall, and The Post Office Cafe.
Provincetown offers miles of breathtaking Cape Cod National seashore including amazing ocean beaches, sand dunes, salt marshes, woodlands, and ponds.
Herring Cove
Herring Cove is Provincetown's most popular gay beach. The beach can be found on the left side when you enter the parking lot.
The beach is divided into sections. The first stretch is primarily lesbian, and then the beach is primarily gay male/nude towards the Wood End Lighthouse. It is often referred to as "Boys Beach".
The section to the right of the parking lot is where you will find families. Although practiced (a lot), nude sunbathing is not legal. The area is managed by the Cape Cod National Seashore. It is very rare but sometimes police do come and nude bathers could be issued with an on the spot fine.
The best way to get to the beach is via bike or by taking the shuttle. Parking fills up by noon. Drive (9 mins)/ or walk (30-40 min from Provincetown) to the end of Route 6 where there are two car parks ($10 ticket).
There are virtually no amenities on this part of the beach.  Be sure to bring drinking water.
Race Point
Race Point offers smoother sand than Herring Cove and is quite popular, primarily with straight visitors. The gay section is located at the end of the beach past the crowds.
Long Point
Home to the one of the most picturesque spots in Provincetown, the lighthouse, you can reach  Long Point via Flyers Boatyard shuttle boat.
Wood End
A very quiet beach accessed via the stone breakwater at the foot of Commercial at Pilgrim Landing Park. To avoid getting stranded, check for high tide times before heading out.
Things to see and do in Provincetown
The best gay Provincetown points of interest are found along the coastline
Explore the beautifully designed Provincetown Art Association and Museum. View the latest exhibits and stroll through the shaded sculpture garden.
Cruise down Commercial Street and venture from one queer art gallery to the next. You will find some unique one-of-a-kind items on sale.
Drive 20 minutes south of Provincetown and visit Wellfleet, a picturesque town with a colourful artists' community.
Explore the ground of the Long Point Lighthouse, a historic 38-foot-tall building located on the Cape Cod National Seashore.
Visit Beech Forest and take the bike trail on Race Point Road where you can shade under mayflowers and red maples.
Recommended Short Term Rentals in Provincetown
Antique Cape
Sleeps 8 Guests
Steps from Commercial Street, this gracious Antique Cape (circa 1749) is located on one of the most picturesque streets in the heart of P-town's Gallery District.
Beachfront House
Sleeps 9 Guests
Nestled along Provincetown's famous waterfront offering Sweeping Views of the Harbor, this home offers it all! Just steps to the best spots downtown and direct access to a beautiful bay beach.
Share this Page with Your Friends!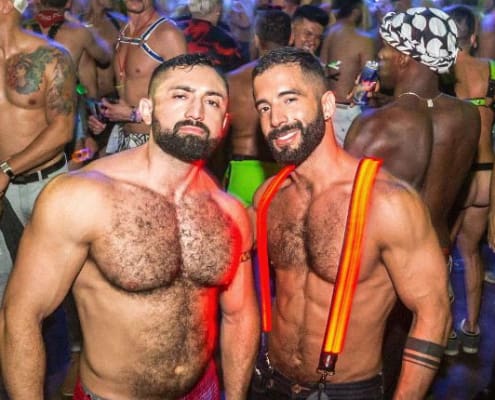 Enjoy a vibrant Gay Thanksgiving filled with festivities, from the snowy streets of PTown to the sun-kissed beaches of Puerto Vallarta!
https://www.gaytravel4u.com/wp-content/uploads/2023/10/The-top-gay-thanksgiving-parties-and-holidays-in-the-USA.jpg
430
1210
admin
https://www.gaytravel4u.com/wp-content/uploads/2014/10/logo-gt4u.png
admin
2023-10-15 18:33:38
2023-10-15 19:30:42
The Top Gay Thanksgiving Events in the USA