Sydney Mardi Gras 2022
Earth's largest gay festival at the height of the hot Sydney Summer, this is one event every gay person needs to visit at least once!,
From: Tuesday, February 15, 2022
To: Monday, March 7, 2022

Fair Day
The Parade
Mardi Gras Party
Sissy Ball
Luna Park Day
Pool Party
The Program is long – but so is the Journey – & Its worth it!
The Mardi Gras Parade is the highlight of the Sydney Mardi Gras and will take place on March 5th, 2022 and is not to be missed.

Highlights for Sydney Mardi Gras include

Fair Day – A full-on fabulous day of fun and adventure where you can chill with a picnic spread, browse the community stalls or kick up your heels and have a dance in Victoria Park.
The Main Parade – A bustling extravaganza that brings Sydney to a standstill and shines a global spotlight on LGBTQI lives, culture, communities and creativity.
The Mardi Gras Party – After the spectacular Parade, come and enjoy the night with over 12,000 of your newest and closest friends! The Mardi Gras Party is Australia's biggest LGBTQI event of the year.

Other popular events include the Laneway After Party, The Sissy Ball, The Ivy Pool party and of course the Candyland closing event.

The Oxford Street entertainment strip hosts many major Sydney Gay & Lesbian Mardi Gras events and is also home to the city's best-known gay venues. To give your dance shoes a workout, head to clubs like ARQ.

For a touch of class, head into the city to ivy, which features a popular open-air Pool Club Bar for the beautiful people and their admirers. ivy celebrates Sydney Mardi Gras with a Pool Party, meant to evoke the decadent atmosphere of Palm Springs and St Tropez.

Sydney Mardi Gras 2022 Parade!

The 44th Sydney Gay and Lesbian Mardi Gras Parade returns to the Sydney Cricket Ground for a stunning and sparkling showcase of LGBTQI+ culture and community.

Feel the energy of the crowd and gaze in wonderment at what we can create together. Join the stadium audience of 23,000 families, friends and allies, where you'll witness a colourful cavalcade starring 5,000 paraders from over 100 LGBTQI+ community groups.

The 2022 Parade will take inspiration from its past and move away from large floats, focusing instead on the outlandish pageantry of vibrant costumes, puppetry and props that made it such a phenomenon in its earliest years.

Where to stay during Sydney Pride?

Here are the hotels we recommend that have good reviews and keep you close to the gay bars, pride parties and tourist attractions:
Gay Map of Sydney
Most of the gay bars are in Oxford street so we have chosen Hotels close to all the gay bars in this area that have high reviews on booking.com
our hotel partner.
Recommended Hotels in Sydney By Booking
Book with confidence. Get the best Prices from our partner Booking.com
We have chosen hotels in Sydney that keep you close to all the shops,restaurants & bars
Video Of Sydney Mardi Gras
PARTY 2016 – Sydney Gay and Lesbian Mardi Gras
Recommended Hotels in Sydney By Expedia
Book with confidence. Get the best Prices from our partner Expedia
We have chosen hotels in Sydney that keep you close to all the shops,restaurants & bars
Why you may want a car in Sydney
Explore beyond Sydney's well known landmarks such as the Opera House! Head to the Hunter Valley, Australia's famous wine lands? With more than 150 different wineries to choose from, wine lovers will be spoiled for choice! The valley is just a short 2 hour drive north of the capital.
Discover some amazing resorts and hotels such as The Kirkton Park Hotel or Chateau Elan At The Vintage  located in the midst of some stunning vineyards. Try some of the regions famous Semillon or Shiraz wine as you sample locally sourced chocolates or cheese! For those a little bit more adventurous, take a helicopter tour of the valley!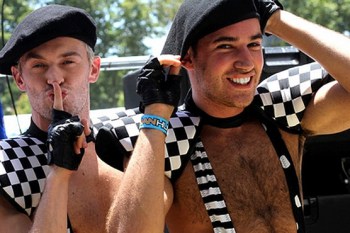 From: Jan. 23.2022 - To: Feb. 13.2022
Midsumma Festival has been held annually since 1988 in Melbourne featuring 130+ queer arts and culture, a parade, carnival, T-Dance, over three weeks.
https://www.gaytravel4u.com/wp-content/uploads/2014/11/midsumma-melbourne-6.jpg
370
800
admin
https://www.gaytravel4u.com/wp-content/uploads/2014/10/logo-gt4u.png
admin
2014-11-05 22:03:50
2021-11-21 18:30:16
Midsumma Festival
Latest Gay Travel News
Gay Easter Events

Tuesday, Dec 28th, 2021 - 6:42 pm

Celebrate the arrival or Spring with chickens, some chocolate eggs and a few confessions!

Gay Carnival Events

Tuesday, Dec 28th, 2021 - 5:32 pm

There's nothing quite like a Carnival. After a long Winter, it's the perfect excuse to party! From Cologne to Rio, discover the top Carnivals with significant gay events as part of their celebrations.

The Top Gay New Year Events and Escapes

Wednesday, Sep 1st, 2021 - 8:30 pm

From the White Parties in Bangkok & Puerto Vallarta to fireworks displays in Rio and Sydney, here's our top choices for a Gay New Year escape.
Never miss another event again!
Trending Events & Articles
Here are the most popular events searched for and views by our readers over the past 7 days: