Sydney Mardi Gras 2024
Earth's largest gay festival at the height of the hot Sydney Summer, this is one event every gay person needs to visit at least once!,
From: Friday, February 16, 2024
To: Sunday, March 3, 2024

Fair Day
The Parade
Mardi Gras Party
Sissy Ball
Luna Park Day
Pool Party
Sydney Mardi Gras 2024
Sydney's Mardi Gras is one of the most iconic gay celebrations in the world. The event features a colourful parade, spectacular circuit events, pool parties, after parties and outdoor events.  The Program is long – but so is the Journey – & Its worth it!

Visiting for Mardi Gras? Stay in Darlinghurst , the focal point of the annual Mardi Gras festival and home to some of Australia's longest-running and best-known LGBTQI bars.

Fair Day in Victoria Park


Sunday February 18th 2024 –

Join over 80,000 people in Victoria Park for a free, fun-filled celebration of Australia's communities with delicious food, rides, market stalls, comedy, dance and live music to boot.

Whether you are in the mood for a picnic or a party, whether you're eight or 85, Fair Day offers something for everyone, kicking off the fortnight to come. Chill with a picnic spread, browse the community stalls or kick up your heels and have a dance.

Stay close to Victoria Park. The Old Clare Hotel is rated "Fabulous" by guests and features spacious rooms, a great rooftop bar and gorgeous pool.

Sydney Mardi Gras 2024 Parade

Saturday March 2nd 2024 – The 46th Sydney Gay and Lesbian Mardi Gras Parade takes over Oxford Street for one of the most spectacular parades featuring elaborate floats, famous faces and over the top dance routines!
The parade continues along Flinders Street and Anzac Parade as part of the biggest night-time LGBTQIA+ Parade in the world.

Mardi Gras Party

Saturday March 2nd 2024 – The Mardi Gras Party – After the spectacular Parade, come and enjoy the night with over 12,000 of your newest and closest friends!
The Mardi Gras Party is Australia's biggest LGBTQI event of the year, with music, light and performances.
Awaiting lineup and venue.
Stay close to Hyde Park. Check out the Sheraton Grand, with views of the park. The hotel is right on the doorstep of the busy gay bars on Oxford Street.

Laneway

Awaiting Dates – Laneway, a cherished tradition of the Mardi Gras Festival, has evolved from a couple of milk crates and a portable stereo on Hill Street, Surry Hills, to a full-blown street party across the Beresford Hotel & surrounding laneways.

Expect live music, diva drop-ins, pop-up drag shows and world-class DJs across a mix of indoor and outdoor spaces.

Stay close to the venue in Surry Hills. Feel like a local in your own apartment at the Best Western Plus Hotel Stellar, offering full suite amenities and just steps from the bustling and vibrant gay scene.

Other Events & Parties

Other popular events include  The Sissy Ball and the Candyland closing pool event.
For a touch of class, head into the city to Ivy, which features a popular open-air Pool Club Bar for the beautiful people and their admirers.
Ivy celebrates Sydney Mardi Gras with a Pool Party, meant to evoke the decadent atmosphere of Palm Springs and St Tropez.

Gay Sydney during Mardi Gras

Darlinghurst – In Sydney, bustling inner-city Darlinghurst is the focal point of the annual Mardi Gras festival and home to some of Australia's longest-running and best-known LGBTQI bars, such as The Colombian and the Stonewall Hotel, where you can catch drag shows and dance on podiums until late.

The neighbouring suburbs of Surry Hills and Potts Point are queer hubs, too; both spots are known for their concentrations of top restaurants and their well-dressed residents.

Newtown  – (10 Mins drive from Sydney city centre) –  Think of Newtown as Darlinghurst's wonderfully weird bohemian cousin. Newtown's main thoroughfare, King Street, has long been a popular hangout for students, artists, musicians and members of the LGBTQI community, while its leafy backstreets and pretty old terrace houses attract hip families and young professionals. Newtown also boasts some of the best casual dining in Sydney.
In nearby Erskineville, the Imperial Hotel has been an LGBTQI meeting spot since the 1980s.

Top Gay bars in Sydney

ARQ – Popular nightclub with 2 spaces featuring regular drag performances and DJs spinning house, possibly the city's most delightfully trashy gay nightclub.
THE BEACHAM  – Newly renovated. Come for the Sunday sesh! Enjoy Chicken Parmigiana, Beef Wellington, and happy hour from 4pm to 6pm. 265 Oxford St, Darlinghurst
THE BEARDED TIT  – The Bearded Tit is a haven for rebels and queer artists in Redfern, encouraging emerging work and performances. 183 Regent Street, Redfern

THE BERESFORD

  – Celebrating good times in Surry Hills? The Beresford is open Tuesday to Sunday; enjoy wood-fired pizza, pappardelle, and happy hour from 6pm to 8pm.

354 Bourke Street, Surry Hills

THE BURDEKIN HOTEL  – Darlinghurst's 5-storey icon is open Tuesday to Sunday with drag trivia, Italo-dining, and bottomless brunch. You can enjoy heavy metal to princess pop at this icon! 2 Oxford Street, Darlinghurst
CHING-A-LINGS  – This Darlinghurst, softly lit sanctuary is open Wednesday to Sunday, complete with exposed brick, low ceilings, couches, a rooftop, and drag performances. Level 1/133 Oxford Street, Darlinghurst
THE COLOMBIAN HOTEL  – Sip cocktails and enjoy the rooftop sunset at this Oxford Street after-hours gay bar. Patrons can enjoy themed parties, DJs, and mirror balls. 117-125 Oxford Street, Darlinghurst
THE IMPERIAL  – The jewel of Erskineville holds Priscilla's restaurant, UP-rooftop bar and Basement bar. Enjoy nightly drag, Wednesday to Sunday and happy hour, 5pm to 7pm. 35 Erskineville Road, Erskineville
KINSELAS  – Darlinghurst's Kinselas is open every day with 6pm to 8pm happy hour, drag trivia, pool tables, and three levels with bars. 383 Bourke Street, Darlinghurst
OXFORD HOTEL  – This 100-year-old landmark is open seven days a week, entertaining patrons with trivia, drag, RuPaul watch parties and RuGirls Coco Jumbo and Maxi Shield. 134 Oxford Street, Darlinghurst
PALMS ON OXFORD – This classic Darlinghurst nightclub is open from Thursday to Sunday. Party the night away at the tropical-themed bar with 80s and 90s dance hits. 124 Oxford Street, Darlinghurst
POOF DOOF SYDNEY  – Sydney's gay rave is hosted by Poof Doof every Saturday at Ivy – join the dance parties and drag queens to bring on the weekend. 330 George Street, Sydney 
THE RED RATTLER THEATRE INC  – This queer-run community performing arts centre in Marrickville supports emerging and established artists and a warehouse theatre for performances, drinks, and music. 6 Faversham Street, Marrickville 
STONEWALL HOTEL  – The Heart of the Community is open seven days a week. Patrons can enjoy drag, DJs, cocktails, and happy hour from 6pm to 8pm. 175 Oxford Street, Darlinghurst
UNIVERSAL  – Universal is a two-level party destination. Ground floor hosts drag shows seven days a week. Friday to Sunday, upstairs welcomes DJs and light shows. 85-91 Oxford Street, Darlinghurst

Where to stay during Sydney Pride?

Here are the hotels we recommend that have good reviews and keep you close to the gay bars, pride parties and tourist attractions:
Gay Map of Sydney
Most of the gay bars are in Oxford street so we have chosen Hotels close to all the gay bars in this area that have high reviews on booking.com
our hotel partner.
Recommended Hotels in Sydney By Booking
Book with confidence. Get the best Prices from our partner Booking.com
We have chosen hotels in Sydney that keep you close to all the shops,restaurants & bars
Video Of Sydney Mardi Gras
What to expect in 2023 – Sydney Gay and Lesbian Mardi Gras
Top Gay Neighbourhoods in Sydney
Sydney, has several neighborhoods known for their LGBTQ+ friendliness and vibrant culture. These areas are popular among the LGBTQ+ community and allies, offering a variety of entertainment, nightlife, and cultural experiences.
Darlinghurst | The Gay Hub of Sydney
Photo: Darlinghurst is home to some of Sydney's most popular gay bars
Known as Sydney's LGBTQ+ hub,
Darlinghurst is home to the famous Oxford Street, lined with LGBTQ+-friendly bars, clubs, restaurants, and shops.
It's the heart of the city's LGBTQ+ scene and hosts the annual Sydney Gay and Lesbian Mardi Gras.
Next to Darlinghurst, Surry Hills offers trendy cafes, & a bohemian feel. Popular with LGBTQ+ travelers
A more upscale neighborhood, offering boutique shops, fine dining, style & inclusivity. It's close to the city center
Known for its alternative culture, street art, quirky shops, live music, and an inclusive vibe its a unique experience.
With a welcoming vibe & village-like charm & home to The Imperial Hotel famous for its drag shows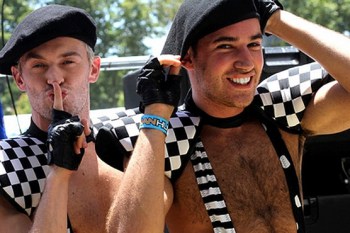 From: Jan. 21.2024 - To: Feb. 11.2024
Midsumma Festival has been held annually since 1988 in Melbourne featuring 130+ queer arts and culture, a parade, carnival, T-Dance, over three weeks.
https://www.gaytravel4u.com/wp-content/uploads/2014/11/midsumma-melbourne-6.jpg
370
800
admin
https://www.gaytravel4u.com/wp-content/uploads/2014/10/logo-gt4u.png
admin
2014-11-05 22:03:50
2023-03-17 12:39:45
Midsumma Festival
Latest Gay Travel News
Get ready for a season of scary boys, sexy costumes and parties to remember, from Austin to New Orleans and beyond with our guide to the best gay Halloween parties.

The Top Gay Christmas Markets & Festive Events, From Santa Speedo Runs to fairytale Christmas Markets.

From the White Parties in Bangkok & Puerto Vallarta to fireworks displays in Rio and Sydney, here's our top choices for a Gay New Year escape.
Trending Events & Articles
Here are the most popular events searched for and viewed by our readers over the past 7 days: