Gay Mallorca Guide
Occasionally overshadowed by its party-going little brother Ibiza, Mallorca is a relatively recent discovery for gay tourists. Make a beeline for the capital Palma, home to great beach clubs, top notch restaurants and rooftop pools.
Palma de Mallorca is the perfect beach-side city break!
Gay Mallorca is the largest island of the Balearics. This sun-kissed Island has a magnetic appeal with picture-postcard beaches, subterranean lakes and Gothic castles!
The capital is home to more than 800,000 people. Palma, an elegant and cool capital is home to almost half, making it the 8th largest city in Spain. The gay scene is quite developed and home to some great gay events, beach and pool parties.
From the tall palm trees that line the waterfront to the character of the Old town with its Moorish architecture, discover Gay Mallorca and the city of Palma with our guide to the best bars, beaches, hotels and places to stay and play.
Gay Friendly Hotels in Palam de Mallorca
Palma de Mallorca is the capital and home to the best gay bars and clubs in the city. It is the perfect base for exploring the rest of the island.
4 Star: Set in Palma de Mallorca, 300 m from Palma Port, Nakar Hotel features air-conditioned minimalist rooms  with free WiFi. The hotel has an outdoor pool. For a relaxed vibe and awe-inspiring views, dine at the on-site Miquel Calent's CUIT Bar & Restaurant.
4 Star: stylish hotel is located in Palma's Portixol Harbour, just 300 m from Portixol Beach. It offers an outdoor pool and elegant, air-conditioned rooms with a private balcony and sea views.
3 Star: Located in a quiet area of Palma de Mallorca, Hotel Araxa – Adults only is a 10-minute walk from the seafront and Bellver Castle. Set among green gardens, it features outdoor pool, spa and free gym.
Gay Map of Palma de Mallorca
Palma de Mallorca Gay Bars
Palma Gay Scene
Gay Palma has undergone something of a renaissance over the past 5 years. Designer beach-clubs, boutique hotels and a rejuvenated waterfront have made the city a not-so-well-hidden secret amongst gay travelers.
The gay bars and clubs are scattered around Palma's Gomila district, along the Av de Joan Miro.
The Island has two gay beaches, nearby Puenta des Grells and the stunning Es Trenc, ranked as one of the most beautiful nudist beaches in Europe.
Palma Gay Bars
Gay Cruising in Palma de Mallorca
Sauna Spartacus – Located in Palma's old town, Bar, Lockers, Finnish Sauna, Steam Sauna, Room XXX Video, Heated Pool , Cabins, Darkroom and more.
Palma De Mallorca Gay Events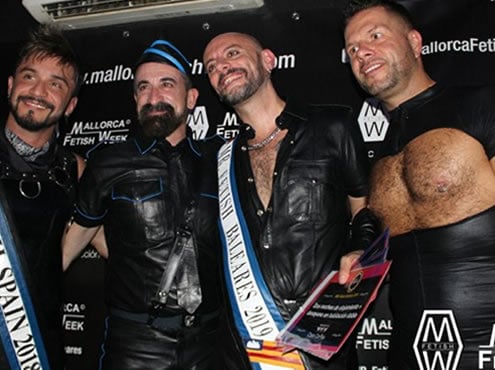 From: Oct. 30.2023 - To: Nov. 05.2023
Mallorca Fetish Week 2021 The event is held each year in Palma de Mallorca with the support of some of the biggest fetish bars from all over Spain.
https://www.gaytravel4u.com/wp-content/uploads/2019/01/Mallorca-Fetish-Week-2.jpg
370
800
Andrew Stevens
https://www.gaytravel4u.com/wp-content/uploads/2014/10/logo-gt4u.png
Andrew Stevens
2019-01-05 18:14:00
2023-09-21 17:19:31
Mallorca Fetish Week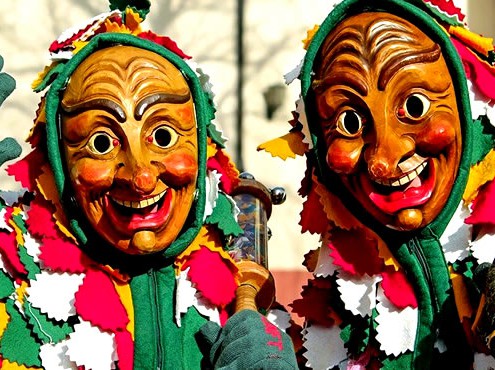 From: Feb. 11.2024 - To: Feb. 11.2024
Mallorca Carnival - Sa Rua & Sa Rueta & Easter Fira del Ram 2022 is a colourful event full of energy and life with parades and shows.
https://www.gaytravel4u.com/wp-content/uploads/2022/02/Mallorca-Carnival-1.jpg
370
800
Andrew Stevens
https://www.gaytravel4u.com/wp-content/uploads/2014/10/logo-gt4u.png
Andrew Stevens
2022-02-14 17:00:01
2023-02-20 16:20:06
Mallorca Carnival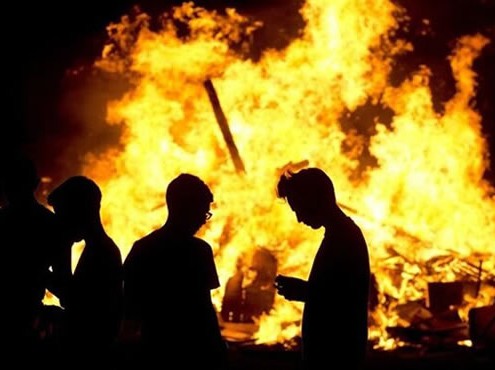 From: Jun. 23.2024 - To: Jun. 23.2024
San Juan's Night of Fire - La Nit de Foc - takes place each June against the impressive backdrop of Palma's Cathedral. The event features a combination of street parties, pop concerts, drummers, devils, demons and fireworks.
https://www.gaytravel4u.com/wp-content/uploads/2022/02/San-Juan-La-Palmas-Night-of-Fire-1.jpg
370
800
Andrew Stevens
https://www.gaytravel4u.com/wp-content/uploads/2014/10/logo-gt4u.png
Andrew Stevens
2022-02-14 17:22:43
2023-06-26 12:48:08
San Juan La Palma's Night of Fire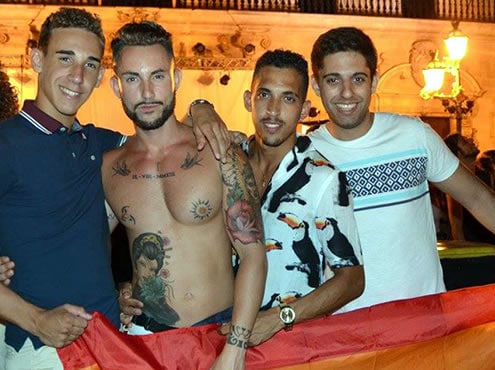 Awaiting dates
Mallorca Gay Pride, Palma de Mallorca hosts a colourful parade and a live music festival. Some of the biggest drag names in Spain will perform live on stage.
https://www.gaytravel4u.com/wp-content/uploads/2019/01/Mallorca-Gay-Pride-Palma-de-Mallorca-5.jpg
370
800
Andrew Stevens
https://www.gaytravel4u.com/wp-content/uploads/2014/10/logo-gt4u.png
Andrew Stevens
2019-01-05 14:03:24
2023-06-30 16:43:59
Mallorca Gay Pride, Palma de Mallorca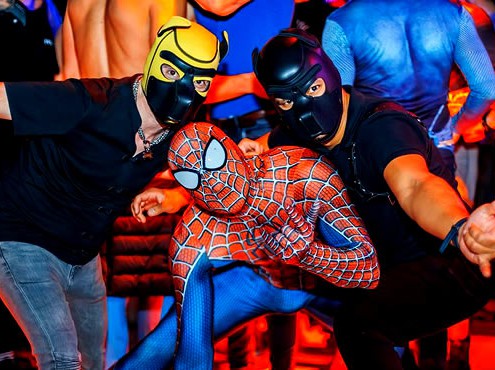 Awaiting dates
Guest Lab is one of the hottest new gay parties on the Island of Mallorca, held in the capital, La Palma, during major holidays and one-off pop-up events
https://www.gaytravel4u.com/wp-content/uploads/2023/02/Guest-Lab-Party-Palma-De-Mallorca-2.jpg
370
800
Andrew Stevens
https://www.gaytravel4u.com/wp-content/uploads/2014/10/logo-gt4u.png
Andrew Stevens
2023-02-05 16:51:20
2023-09-25 11:47:37
Guest Lab Party Palma De Mallorca
Other events include, the Three Kings parade on January 5, Easter processions, Sant Juan fire fiesta in June and Nit de Art, night of art, in September.
Gay Friendly Restaurants in Palma de Mallorca
Palma has a vibrant and constantly evolving dining scene ranging from Michelin-starred restaurants to trendy tapas eateries. Visit San Juan Gastro Market,  open daily from noon to midnight. Weekend nights the market hosts live music and DJs until 4 am.  It's a great opportunity to sample the Island's cuisine. Finally, No trip to Mallorca is complete without trying one of the island's most famous nibbles – the ensaimada.
Coffee & Breakfasts
Tapas and More
Recommended Restaurants
Fine Dining
City Beaches (Close to Palma)
The popular gay beaches are located outside of Palma in quieter parts of the Island – Stock up on sunscreen and water in advance.  The beaches and beach clubs in the centre of Palma are gay-friendly.
The closest beach to the Palma is at Ca'n Pere Antoni. This small stretch of golden sandy beach starts just beyond the cathedral.
The beach gets busy during the Summer due to its proximity to the capital. Easily walk-able from the centre of town, this 750m-long stretch of sand has showers, toilets and a lifeguard (in high season), plus a beach club at either end.
Upmarket Nassau Beach Club at the far end has sun loungers (reserve by phone) with waiter service, and a popular restaurant. Closer to the city is the Anima Beach Club,.
Portixol is another nearby option and is less hectic than the City beach. It is also home to some great restaurants and fine hotels. The sand here is soft and white and perfect for sunbathing.
Further along the coast is Puro Beach in Illetas (10 minutes from Palma) with direct access t o the sea offering 360 degree views and high-end service.
Gay Beaches
Playa del Mago just outside the charming village of Portals Vells (30 mins south of Palma) the first nudist beach on the island with white sands and clear blue shallow water
Located inside a national park (50 mins west of Palma), Es Trenc is the most famous natural beach in Mallorca, with a long stretch of white sandy shores and deep turquoise waters.
Playa de Muro (50 mins north of Palma) is one of the newest kids on the block; a resort beach in the heart of Alcudia Bay, boasting translucent waters, fine sand and exceptional mountain views.
Things to see and do in Palma
Things to see in Palma
Visit Es Baluard, the island's ultra-mod contemporary art museum featuring national works from the start of the 20th-century to the present.
Experience La Seu – An iconic symbol of Palma, a cavernous cathedral that took over 500 years to build at an impressive 7000 sq metres.
The Fundacio Pilar i Joan Miró, houses many important works of the surrealist master artist, Miró. The studio is an unmissable cultural experience for anyone visiting Palma.
Marivent Palace Gardens features twelve of Miró's sculptures in this beautiful botanical garden.
Take in the views at Mirador Es Colomer. The high cliffs are located in the eastern peninsula and the journey to get there is a also an experience!
Marvel at the perfect roundness of Bellver Castle, a 700 year old former prison, now home to the Museum of History. "Bellver" is lovely view in Catalan.
Visit Palma's hip Santa Catalina neighbourhood where you will find a mix of cosmopolitan restaurants and bars.
Stroll along the marina, one of the buzziest spots in town each night, every popular with locals.
Day Trips
Take a 10 minute drive to Illetas is the most attractive resort in the Bay of Palma, featuring whitewashed villas and an assortment of old-fashioned and modern hotels
Go day-tripping to Valldemossa, tucked away in the hills of Tramuntana. See the monastery where Chopin wintered and explore the charming lanes and flower-covered houses.
Discover Alcúdia,  located on the island's northeastern coast, about 35 miles northeast of Palma. This charming town has been beautifully restored. If you can, visit on a Sunday when a market fills the old town, with vendors selling homemade foods and handicrafts. Pack your trunks as Alcúdia beach is one of the best on the Island.
TIP: A good way to avoid the crowds is to arrive at a historic sight during the lunchtime and siesta period (normally sometime between 1pm and 4pm), or shortly before the attraction closes. The advantage is that you face fewer queues and crowds and have more breathing space to admire the exhibits on show. Just remember to pack a water bottle and your shades.
From the airport:  Taxis provide fastest route to the city centre. The ride will cost approximately 25€, it will only take 20 minutes to reach your destination. There are also buses to the centre of Palma. Bus tickets cost only 5€ per person and the journey takes around 30 minutes. There are no ride sharing services on the island.
The best way to get around Mallorca is by car. Having your own set of wheels gives you the most freedom to explore the island on your time. Buses are an option, too, but service is limited, especially on weekends.
Palma's bus service is quite efficient. For most bus rides the fare is €1.50, and €10 for the 10-ride tourist bus pass, which cannot be topped up. The fare for the night bus is €1.50. The 30-day unlimited Travel Card costs €37. The single ticket to Palma airport is €5.
Gay Mallorca – When to visit?
Between March and May the temperature ranges from to 18 to 20 degrees. Nights may still get cold during spring in Mallorca and spring season is generally too cold for swimming in the ocean. Mallorca is a year-round great holiday destination with great weather.  May and September are particular seasonable and the atmosphere is more relaxed. The busiest season is between the beginning of July till the middle of September.
Because of it's temperate climate, Palma is s an all-year-round destination. Most of the hotels stay open, unlike those in the beach resorts. Off-season, particularly from January to April, and mid October to December, there are hotel bargains to be had.
Palma de Mallorca Apartments
Luxury in Downtown
3 Bedrooms
You will be staying on the third floor with elevator of a manor house from the early 19th century, recently renovated. Spectacular and spacious duplex with 3 double bedrooms facing the windows of the church of St. Nicholas
Very spacious duplex with two terraces located on the a second floor with elevator. Its huge living room with ceilings over 5 meters will transport you to a magical atmosphere. The bedrooms both have bathrooms en suite,
Share this Page with Your Friends!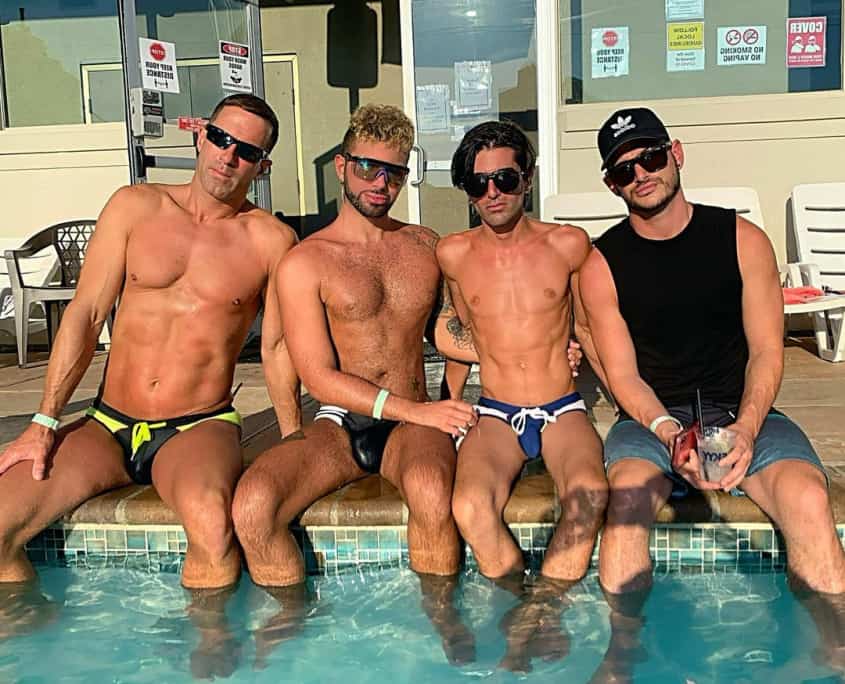 Gay Asbury Park is a vibrant city located along the Jersey Shore. Explore the best bars, hotels, restaurants and things to see and do.
https://www.gaytravel4u.com/wp-content/uploads/2021/02/empress-asbury-hotel.jpg
905
1080
admin
https://www.gaytravel4u.com/wp-content/uploads/2014/10/logo-gt4u.png
admin
2021-02-06 17:40:47
2021-04-03 16:19:55
Asbury Park Gay Guide