Gay Crete – The Perfect Beach Escape!
Gay Crete is set to become one of the busier Islands this Summer, offering a more relaxed holiday than its famous island neighbours. Discover more than Mykonos with our guide to Gay Crete.
Agios Nikolaos, on of gay Crete's most picturesque destinations.
Crete, at more than 8,000 square kilometres, is 80 times bigger than Mykonos. The island is famous for its  under-the-radar, gay beach scene. Crete is a big island and you are not going to see it all in one day!
Most people begin their trip in the capital (at Heaklion Airport). We recommend you stay a few days here to take in the gay beaches and bars of Heraklion.  Rent a car and explore the villages south of the Island for a more authentic island experience.  Eat great good from local tavernas and discover secluded beaches with a shade of blue that will stay with you long after your holiday has ended.
While the local gay scene is discreet, you will find busy bars and gay friendly cafes and restaurants along the north coast of Crete. The gay bar scene and nightlife on Crete island is centered in its capital city, Heraklion.
The area east of Heraklion to Malia is the cosmopolitan part of the island. The touristy but charming town of Hersonissos also offers great options for LGBT nightlife and accommodation.
Visit the capital Heraklion
Heraklion, the capital, is a charming town with charming cafes and bars.
Heraklion is a town of tranquil escapes in luscious surroundings, famous for its archaeological sites, Venetian architecture and stunning beaches. Life here runs at an even slower pace than the rest of the Island.
There are several gay and gay-friendly bars and cafes dotted around Heraklion. La Brasserie is the defacto gay spot to visit when in the capital.
Heraklion is a great jumping off point for exploring the rest Crete or even the other nearby Greek Islands such as Santorini.  Check out the most popular tours and attractions.
Heraklion Gay Friendly Hotels
The 4 Star Olive Green Hotel is centrally located in Heralkion, right in the lively shopping area of the town. Comfortable beds, excellent location and a modern feel make this perfect for exploring the gay scene in style.
3 Star Hotel offering great service, comfortable beds and a patio or terrace in every room.
The 5 Star GDM Megaron is an actual monument located in the heart of Heraklion. Pure perfection.
Hersonissos – a gay friendly beach town.
Hersonissos, great restaurants, cafes and beaches make it a must-visit!
Hersonissos is at the heart of Gay Crete, coming alive during the months of June to September. The town is home to the island's most popular gay beach, Sarantari Beach, as well as other beautiful beaches including Agia Pelagia. There is also a gay bar called Y.O.L.O Bar, located in the port of Hersonissos.
Top Tips!
The nearby beach town of Malia is just 15 minutes from Heronissos, is well-known for its hectic nightlife and is home to Nova Bar, a popular gay venue busy during the season.
Dodge the touristy beach restaurants and go slightly inland and explore the world of authentic Cretan tavernas serving authentic local dishes at half the price!  Pites—pies—are the pride of Cretan gastronomy. Pies with myzithra (a soft and tangy whey cheese), drizzled with honey. Pies with horta or meat. Small pies, grand pies, pies fried, baked, thin as a pancake, or twisted into a rope and curled like a snail.
Gay Friendly hotels in Hersonissos
3 Star Central Hersonissos Hotel is a family-run hotel 200 m from the beach and 300 m from the town. Each room includes a private bathroom, air conditioning and TV.
Featuring a magnificent outdoor pool and a restaurant, the 5-star Elysium Boutique Hotel & Spa (Adults only) offers accommodation in Analipsi of Hersonissos. The resort features a private pebbled beach. Free WiFi is available in all areas.
4 Star Adults Only hotel offering modern design and an excellent breakfast. Large rooms offer every convenience and the location makes a great base for visiting the nearby gay beaches of exploring the town centre.
Offering a private heated jetted pool, Villa Crete is located in Hersonissos Town. This air-conditioned villa features a fully equipped and elegantly decorated unit with Cretan Sea, garden, and mountain views. The property is just 500 m from the sandy beach.
Agios Nikolaos is picture perfect! And fun.
Agios Nikolaos has everything you need for a beach escape; picturesque sunsets, sexy guys and great dining and cocktails.  About 30 minutes from Hersonissos, the seaside town is home to some of the most spectacular beaches on Crete. There are plenty of gay-friendly venues in town.
Pay a visit to the Palazzo cafe bar any time of the day or night for salads, toasties, juices and cocktails.
Dining out for a special occasion? You cant't go wrong with Migomis Restaurant with commanding views, linen tablecloths and a cool vibe. For something more casual check out the Cafe.
Agios Nikolaos Hotel Recommendations
Get the celebrity treatment with world-class service at Minos Beach Art Hotel. Situated just 800 m from the centre of Agios Nikolaos, Minos Beach Art Hotel offers a variety of accommodation, ranging from suites to exclusive villas.
Superb 2 star hotel, worth of more, Offering a sun terrace and views of the city, Ikaros Hotel is situated in Ágios Nikólaos, just 150 m from the beach and a short walk from restaurants and cafes.
Treat yourself at St. Nicolas Bay Resort lies on a private beachfront, 1.5 km from Agios Nikolaos. It features 2 outdoor swimming pools and a luxurious spa and wellness centre.
Agios Nikolaos – Hotels Nearby
Crystal clear waters of Hersonissos
What Crete lacks for in terms of a gay scene is more than made up for by it's great gay beaches.  Crete has more than 10 popular gay beaches dotted across the island. The most popular gay beaches include Sarantari Beach near Hersonissos, Komos Beach near Matala, Kavros Beach near Georgioupolis and Maherida Beach near Chania!
Agios Nikolaos and Elounda Bay are two popular Summer resorts.  Near Agios Nikolaos city, you will find the beaches of Vai and Agia Fotia, which are the busy gay friendly beaches of the area.
Sarantari Beach near Hersonissos is the busiest gay beach on the Island, next to the Hersonissos Maris Hotel. It's located in front of a tavern called Sarantaris.
Komos is an busy summer beach attracting large crowds. The gay beach is on the right side, facing the sea,  five minutes' walk from the main beach area.
Kavros/Peristeras  has a gay beach is located on the right side of the shore beyond the beach clubs, roughly 2-3 minutes from the main beach on foot.
Maherida Beach near Chania is fast becoming the one of the most popular gay beaches in Crete thanks to its sandy beaches and cruisy afternoon atmosphere. The gay beach is by "Akrotiri"
How busy and how gay these beaches are will depend on the time of year you visit.
The annual gay pride of Crete takes places in June or July and takes place in Heraklion city. It is a small but colorful affair.
The Minoan palace of Knossos is stunning. Go early to avoid the crowds
For something different take a tour of the 16km-long Samariá Gorge with more than 50 more canyons to explore, often with only the elusive kri-kri (wild goats) for company.
The high season runs from April to Mid October but the Island is warm year round. Late Spring and Early Autumn are much more relaxed and the daily temperature is not so hot.
Share this Page with Your Friends!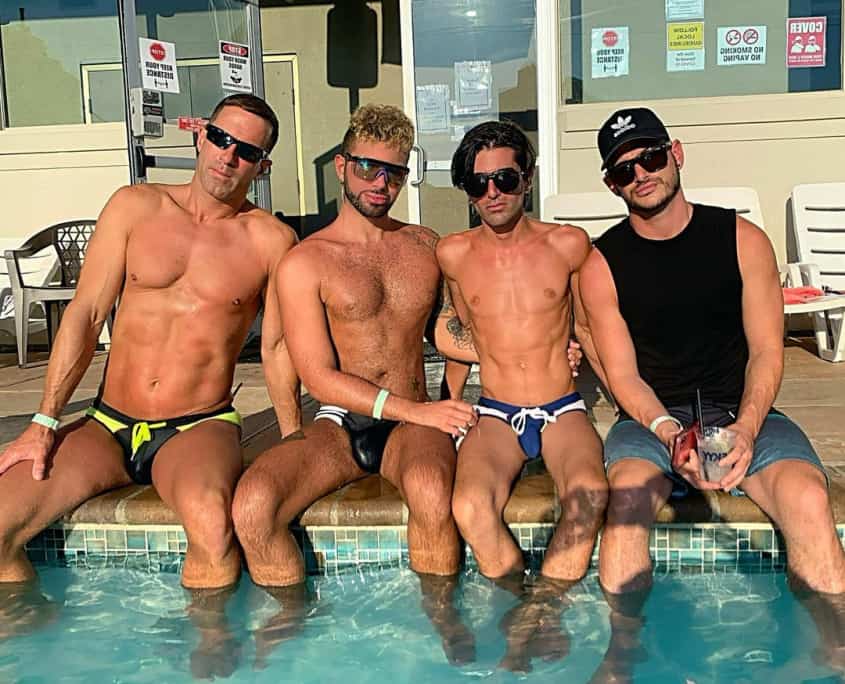 Gay Asbury Park is a vibrant city located along the Jersey Shore. Explore the best bars, hotels, restaurants and things to see and do.
https://www.gaytravel4u.com/wp-content/uploads/2021/02/empress-asbury-hotel.jpg
905
1080
admin
https://www.gaytravel4u.com/wp-content/uploads/2014/10/logo-gt4u.png
admin
2021-02-06 17:40:47
2021-04-03 16:19:55
Asbury Park Gay Guide