Gay Playa Del Carmen Guide
Gay Playa del Carmen lies at the heart of the Mayan Riviera with more than 100 kilometres of sandy shoreline on the Mexican Caribbean.
Playcar beach in Playa Del Carmen
Visitors looking for a different Mexican experience have flicked to Playa Del Carmen as a sophisticated alternative to uber gay Puerto Vallarta or bustling Cancun.
This is our insider guide to Gay Playa del Carmen's best bars, restaurants, hotels and things to see and do!
Where to stay in Gay Playa del Carmen
Playa del Carmen has some great Adult only resorts with beautiful pools and private beaches. The town centre has seen a fresh wave of new designer hotels and boutique offerings.
Avoid the All inclusive hotels if you want to stay close to the gay nightlife of Playa del Carmen. You will find some charming boutique hotels and guest houses right in the centre of Playa by the beach. Alternatively, split our trip and spend some time in one of nearby Cancun's gay-friendly all inclusive resorts and then head to Playa for some authentic action.
Playa Palms Beach Hotel  – 4 Star
Offering an outdoor pool and a private beach area with stunning views of the sea, Playa Palms Beach Hotel is situated steps from famous 5th Avenue and its cafeterias, shops and nightclubs. Free WiFi is available throughput.
Featuring free WiFi throughout the property, Thompson Playa del Carmen is located in Playa del Carmen, 300 m from 28 de Julio Square. The hotel has a year-round outdoor pool and fitness centre. Every room at this hotel is air conditioned and is equipped with a flat-screen TV with cable channels.
Ikonik The Carmen Hotel – 5 Star
Offering an outdoor pool and views of the sea, this adult-only boutique-style The Ikonik Carmen Hotel – Adults Only has a beachfront location in Playa del Carmen. The hotel has a rooftop with infinity pool, private beach area, and suites.
This hotel provides accommodation with private parking, a fitness centre and a bar. Among the facilities of this property are a restaurant, a 24-hour front desk and room service, along with free WiFi. Every room comes with a TV with cable channels.
Gay Map of Playa del Carmen (PDC)
Playa del Carmen Gay Bars
Playa del Carmen Gay Scene
Playa, as it is known by locals, is a melting pot of culture and nationalities with an open and accepting attitude. Gay life has integrated into the local landscape and the town has developed a hip and  bohemian atmosphere attracting visitors from around the world.
The main drag in Gay Playa del Carmen is Quinta Avenida (5th Avenue), a colourful pedestrian zone brimming with local restaurants, friendly bars and gorgeous guys. Playa del Carmen hosts a colourful annual gay pride in June and the legendary Arena Circuit Party in late January.
Playa del Carmen Gay Bars
Playa del Carmen Gay Beaches
Playa del Carmen Gay Beaches
One of the most popular beach spots is located in front of the Mamitas Beach Club.  Take 28th Street down to the beach, turn left and you will see Mamitas Beach Club . Walk past the club and the sandy stretch next to it is where gay boys sunbathe. The beach is especially popular at weekends.
Playacar beach attracts gay visitors who want to relax and chill. Playacar  is a very wide beach and has excellent swimming conditions! Perfect, if you don't like big crowds.
The "Official Gay Beach" of Playa is located away from the centre on 112th Street, in front of the private Playacar neighbourhood, between 2 hotel complexes. To get to the this beach you can walk all the way north past Paradisus Hotel and out to the point if you want to but it will take about 25 minutes. Alternatively, take a taxi from 5th Avenue. The area is quite secluded. The main reason people go here is to lay out naked or go in to the bushes and cruise.
Playa del Carmen Beach Clubs
Mamitas Beach Club – Popular beach clubs attracting young gay guys and admirers during the day, with pools, music, sand and sea. Always a relaxed party atmosphere.
Coralina Beach Club – Coralina is a day light beach club designed as a luxurious refuge for the carefree soul. Beautiful barmen and dancers will serve you as you lounge on comfy daybeds and chill with the cool kids! Look out for the red umbrellas.
Gay Playa del Carmen Events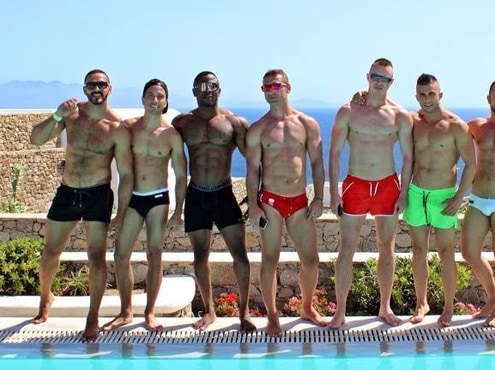 From: Jan. 31.2024 - To: Feb. 06.2024
Arena is Mexico's biggest gay and lesbian dance music festival, and celebrates each year on Cozumel Island, off the coast of Playa del Carmen.
https://www.gaytravel4u.com/wp-content/uploads/2015/01/arena-playa-del-carmen.jpg
370
800
admin
https://www.gaytravel4u.com/wp-content/uploads/2014/10/logo-gt4u.png
admin
2015-01-19 18:52:03
2023-03-23 16:13:17
Arena Festival – Cozumel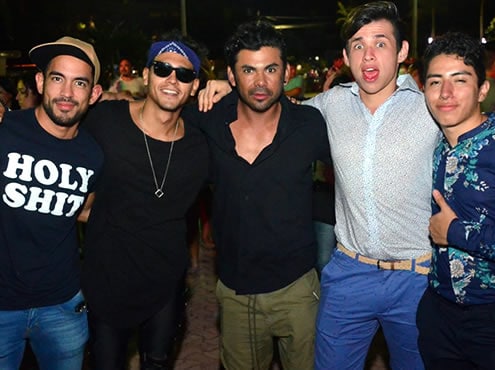 Awaiting dates
Play Pride is shaping to be a major international event in the municipality with the 7 days of celebration
https://www.gaytravel4u.com/wp-content/uploads/2018/05/Playa-Del-Carmen-Playa-Pride-4.jpg
370
800
Andrew Stevens
https://www.gaytravel4u.com/wp-content/uploads/2014/10/logo-gt4u.png
Andrew Stevens
2018-05-02 17:31:25
2023-06-27 15:18:58
Playa Del Carmen Gay Pride
Gay Restaurants in Playa del Carmen
The restaurant scene in Playa del Carmen is quite dynamic. From authentic Mexican eateries to international fine-dining experiences, discover our top choices.
Top things to See and do!
After you have had your fill of days by the beach and nights of partying, consider exploring some of Playa del Carmen's spectacular attractions! The town is close to amazing sinkholes, idyllic beaches and fun theme parks.
Xcaret – an eco-adventure water based activity park, just an hour away from the centre of Playa del Carmen and well worth a visit. Snorkeling, ziplining, river rafting, exploring underwater rivers, and hiking tropical trails through jungle ruins are all options within this natural adventure park, or just relax on the lazy river and enjoy the nightly show.
Tulum – pay a visit to the tiny beach town that has become a must-visit. Take a guided tour of the ruins and learn about the ancient Mayans. Then head to the turquoise waters of the beach below, said to be one of the most picturesque in all of Mexico. Grab one of the fresh fruit popsicles along the way. Delicious! Discover the best experiences in Tulum
Cozumel – a beautiful island reached by tour boat from Playa del Carmen. Visit the Arrefices de Cozumel, the national park and dive along the Mesoamerican Reef one of the best spots for snorkelling and diving.  Take in the underwater Museo Subacquatico de Arte and visit the dolphins in Chankanabb Eco Park.
Chichen Itzá is a large Mayan pyramid that is as jaw-dropping in real life as in photos. Located about 3 hours drive from Playa, it is definitely worth the trip. Visit early to avoid the crowds.
Cenotes are wells or sinkholes especially common in Central America, formed by the collapse of surface limestone that exposes groundwater underneath, and were sometimes used by the ancient Mayans for sacrificial offerings.Those preferring snorkeling options should try out the crystal clear waters Cenote Cristalino, which also has a rock overhang from which those brave enough can jump into the waters below. Divers should consider Cenote Angelita. It has a depth of 200 feet, made up of both salt and fresh water which makes for a unique diving experience.Book a cenote trip with a qualified guide.
Visit Valladolid, a sleepy Mexican town with a picture perfect central plaza. The area is home to some stunning cenotes for swimming and diving. Try a "marquesita" a delicious crepe! Proximity to top sights like Chichen Itza, Cancun, and Río Lagartos makes it a popular base for exploring the Yucatan Peninsula
Shopping in Playa del Carmen
5th Avenue, PDC's main shopping street.
The main shopping district is located along 5th Avenue and continues for over 22 blocks. The shopping starts from Cozumel Ferry Pier to about 40th street.
Visit Hacienda Tequilla and pick up some Xtabentun liquor, a unique Mayan licuor similar to anise. You won't find it difficult to get back home but it is definitely bring back the memories of your visit to Playa del Carmen.
Every Thursday between 24rth and 32nd street you will find street artists exhibiting and painting! It is a great opportunity to pick up a unique momento of your visit.
Head to Sol Jaguar, a unique Mexican craft store with beautiful ceramiccs and wood carvings. Much more unique that the traditional tourist fare available elsewhere.
Corazon de Mexico is a charming gift store with with Mexican inspired ornaments and curiosities.
Getting Around Playa del Carmen
To get to Playa del Carmen, most travelers fly into Cancún International Airport (CUN), which is about 45 minutes north. To reach Playa, you can rent a car, take a bus or arrange a private transfer in advance.
The bus from Cancun Airport to Playa Del Carmentakes about 1 hour and 15 minutes. Buses are comfortable and air conditioned. The bus will stop at the ADO bus station on 5th Avenue and Juarez Avenue. This is the ONLY stop in Playa Del Carmen it makes.
Getting around Playa is easy and mostly walkable, especially from hotels in the centre and around 5th Avenue.Many condos and hotels provide guests with bikes as an optional extra. If you are tired or hot, take a taxi. As a general rule of thumb, if you hail a cab it should cost you roughly $30 pesos to get you and your friends anywhere you want to go within the main part of town. If you jump in a cab that is sitting and waiting for a fare (at a taxi stand, called a sitio), the charge will be around $80 pesos.
Taxis will also transport you along the highway to your resort, to the airport, to eco-parks, beaches and other tourist destinations. If you choose to do this, it is best to agree on a fare before you get in the vehicle.
Gay Playa del Carmen – When to visit?
Rainy season in Playa del carmen is from June until October. Typically, during a vacation during these months, it might rain for 1-3 days and then it is over or there is a shower and then shunshine. The month with the least rain is February. The wettest month is September.
For a warmer and drier climate, the best time to go to Playa del Carmen is during the dry season. Temperatures are still very high, but there's a lot less rain than the summer and nights are very warm.
16 guests · 8 bedrooms · 11 beds · 8 baths
Alta Vista! An 8 bedroom abode just steps away from the idyllic white sandy beach and beautiful tranquil turquoise water! The moment you enter into the common areas ( kitchen, dining and living room) of the villa you will experience a captivating and enchanting views of the turquoise sea!
A full time chef is included for all meals as well as a butler service from Monday through Saturday.
10 guests4 bedrooms 6 beds 4 baths
Built in the style of open concept, the large living, dining and kitchen area will easily accommodate a group of 10. Casa Joya del Mar features custom aluminium double pane windows, oversized doors, custom fixtures, professional window coverings, high quality finishes, amenities such as wireless internet, ipod dock and speaker, linens, china and everything else you might want or need during your vacation.
Share this Page with Your Friends!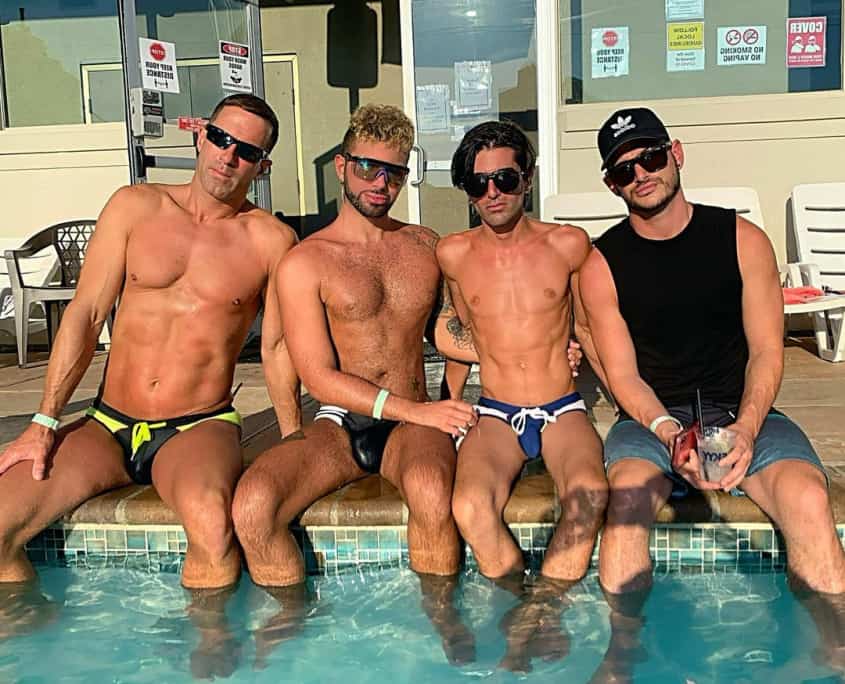 Gay Asbury Park is a vibrant city located along the Jersey Shore. Explore the best bars, hotels, restaurants and things to see and do.
https://www.gaytravel4u.com/wp-content/uploads/2021/02/empress-asbury-hotel.jpg
905
1080
admin
https://www.gaytravel4u.com/wp-content/uploads/2014/10/logo-gt4u.png
admin
2021-02-06 17:40:47
2021-04-03 16:19:55
Asbury Park Gay Guide