Gay Hawaii Guide, Waikiki Beach, Honolulu, Oahu.
Gay Hawaii is one of the world's most unique destinations. The Aloha state is blessed with cosmopolitan beaches, lush landscapes, and rich rainforests. .
The world famous Waikiki beach and diamond head in the distance.
Hawaii is a tropical island escape offering a slice of heaven, with gay-friendly locals, delicious cuisine, and incredible biodiversity.  So, whether you are a romantic beach lover or an outdoor adventurer, Hawaii has everything you need for a vacation to remember.
Tourism is at the heart of Hawaii's economy and locals have seen all types of visitors. Islanders are open minded and relaxed. You are unlikely to face any problems during your stay.
Same sex marriage was legalized in Hawaii in 2013 and Hawaii has become increasingly attractive as a destination for gay travellers. It is one of the top destinations for gay weddings and honeymoons.
Hawaii is year-round destination with great weather guaranteed.
The weather in Hawaii is perfect all year round. Temperature-wise, April, May, September, and October are probably the most enjoyable times to visit (which luckily coincides with the off season, when the best rates are available, and the islands are less crowded).
If it does rain during you holiday on one part of Hawaii, the sun is usually shining on another, a short drive away. The rain is warm, and downpours usually do not last too long.
The rainy season for the beach destinations of Waikiki, Poipu, Kona and Kihei, is between November and April, but no matter when you visit you are guaranteed some fun in the sun!
Explore beyond Oahu,  visit the stunning island of Kauai.
Most visitors to Hawaii will arrive via the main Island, Oahu, home to the International Airport. Oahu and Honolulu in particular, offers the most options to gay visitors. However, if you plan to island-hop, Maui and the Big Island also have a fun and relaxed gay scene.
The biggest of all the Islands and home to three quarters of the population, visitors to Oahu can enjoy the soft sandy beaches of the legendary Waikiki Beach, explore the rainforests on quadbikes and relive history at Pearl Harbour.
Honolulu has a metropolitan population of nearly 1 million residents so you can expect a well-developed gay scene. That said, the vibe is distinctly easy going and friendly.
Getting Here and Getting Around
The Daniel K. Inouye International Airport is twenty minutes from downtown Waiki Beach. A taxi will cost around USD 50. You can also catch a SpeediShuttle for under USD 20. Save the hassle and pre-book a round-trip transfer.
Most people stay close to the beach in Waikiki, within easy walking distance from the gay bars, clubs, and tourist attractions.
TheBus, a bus system with low fares, and the Waikiki Trolley, which can quickly get you to some of the most popular tourist spots.
If you are looking to discover more of the Island, a car is more convenient and can be rented at the airport or in downtown Oahu.
To explore nearby attractions, you can also rent a bike or a moped. Costs vary between USD 15 and USD 50 per day.
Most of the gay scene is found in and around Lewers Street.
The gay scene in Hawaii is concentrated in the island of Oahu.
Honolulu, the capital of Hawaii, is where you will find the best gay bars and clubs as well as several circuit parties, events, and pride festivals.
Waikiki Beach is the epicentre of Hawaii's gay life and is where most gay travellers choose to stay.
Hawaii attracts quite a mix of visitors from US servicemen to European tourists as well as tourists from Japan, Asia and beyond.
5 Star! Located on Waikiki Beach overlooking Diamond Head, the Halekulani hotel boasts 3 restaurants, a live jazz lounge, and a day spa. A spacious lanai is provided in each guest room. Free WiFI is available throughout the property.  Choose between Premier Suites, executive luxury suites, diamond head suites, ocean suites, pool view suites, junior suites, and standard rooms.
Readers Choice! Outrigger Waikiki Beach Resort features an oceanfront swimming pool with sun terrace, 3 on-site oceanfront restaurants, and a fitness centre. Rooms offer great views of the beach. The location is close to all the nearby bars, restaurants and gay scene.
Moana Surfrider, A Westin Resort & Spa
Private Beach Area! Just steps from Waikiki Beach in Honolulu, Moana Surfrider, A Westin Resort & Spa boasts a freshwater pool, a private beach area and a state-of-the-art fitness centre. Guests have a variety of on-site dining options. Rooms provide free gourmet tea and coffee.
Halepuna Waikiki by Halekulani
Luxury Option! Located in the heart of Waikiki, 2 minutes' walk to Waikiki Beach, Halepuna Waikiki is a luxury boutique hotel surrounded by shopping and dining. Guest rooms feature complimentary WiFi, 50-inch flat screen TVs, TOTO washlets (electronic bidet), specialty bath amenities, deep-soaking tub, shade and lighting controls, and USB and Bluetooth connectivity conveniences.
The Surfjack Hotel & Swim Club
Great Value! Featuring an outdoor pool, the Surfjack Hotel & Swim Club in Waikiki offers vintage inspired bungalows and suites, with optional in-room coffee and cocktail service.
Hand-crafted furniture, custom-tile bathroom floors and eclectic artwork is featured in all rooms.The Swim Club offers poolside entertainment, cultural activities and programs. Private cabanas are available for hire. Guests can shop at the onsite boutique, Olive and Oliver. A 24-hour reception welcomes guests.
Gay bars come and go, but there are some stalwarts that have become firm favourites with locals and visitors. Honolulu's gay nightlife scene is concentrated in Waikiki, so you can spend the day topping up your tan and the night at the nearby bars and clubs. Many of the bars are located on Kuhio Avenue between Kalaimoko Street and Lewers Street.
Hula's Bar & Lei Stand – The most popular gay bar in Hawaii, located in Waikiki, close to the rest of the gay bars in the city.  Hula's has lots of balcony seating and is open from morning to late night, shifting from beach bar to lounge to nightclub depending on the time of day you visit.  The bar is open daily from 10am and hosts special shows from Thursday-Saturday with go-go boys.
Scarlet Lounge – Home to the world-famous Pineapple Stage! The club is in the downtown area and has great drag shows. The club is spread out across two floors and the interior is decorated like a giant dollhouse. and fun talent nights. The "Freaky Friday" night are especially popular. Open Fridays and Saturdays until 2 a.m the music skews towards electronic dance and top hits.
Waikiki beach is world famous and encompasses of six distinct beach districts spread out over two miles. Some of the most well-known beaches include Waikiki Beach, Fort Derussy Beach Park, Kahanamoku Beach, Kuhio Beach, and Kaimana Beach, where you will find the gay beach.
Queen's Surf Beach, Honolulu:  Honolulu's historic "gay beach", Queen's Surf Beach offers picturesque settings, even though it's become more rocky over time. If you're seeking a beach with a rich history in Oahu, this is a must-visit.
Kaimana Beach, Honolulu: Positioned close to Queen's Surf, Kaimana Beach is has taken the title of "Gay Beach" from Queens Surf. With its soft sand and crystal-clear waters, it's a favorite among locals and tourists.
Waikiki's Hotel Beaches:  One of the most iconic beaches in Honolulu". Though they attract crowds, their beauty is undeniable. Try the beaches near Moana Surfrider Hotel in Waikiki if you are looking for more space.
Fort DeRussy Beach, Honolulu: Fort DeRussy is a hub of activity, from volleyball games to sunbathing soldiers.
Ala Moana Beach Park, Honolulu: Offers an expansive area for various activities. Its proximity to Waikiki and free parking options make it a popular choice.
Beyond Honolulu: Beaches to Explore
Waimanalo Beach: Waimanalo Beach, a 20-minute drive from Waikiki, offers peace and beautiful turquoise waters.
Lanikai Beach: Ranking among "top sunrise spots in Oahu", Lanikai Beach is a 10-minute drive from Waimanalo and is renowned for its serene beauty and soft sands.
North Shore Beaches: A must for those searching for powerful surf spots in Oahu, the beaches of North Shore showcase the might of the Pacific with their impressive waves.
Mokuleia Beach, Oahu: The unofficial nude beaches in Oahu", Mokuleia Beach stands out with its secluded charm and adjacent scenic woods and cruising spot.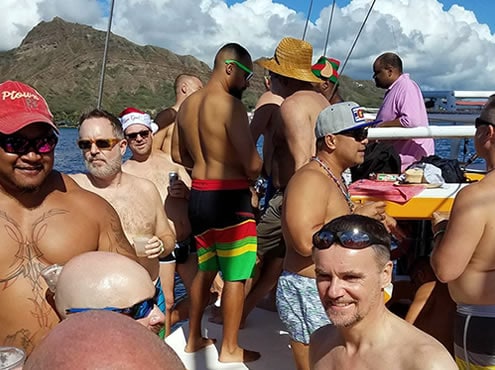 From: May. 23.2024 - To: May. 27.2024
LeiBear weekend is an annual 5 day event hosted by the Aloha Bears in Hawaii and is one of the busiest gay events
https://www.gaytravel4u.com/wp-content/uploads/2018/07/LeiBear-Weekend-3.jpg
370
800
Andrew Stevens
https://www.gaytravel4u.com/wp-content/uploads/2014/10/logo-gt4u.png
Andrew Stevens
2018-07-23 19:31:33
2023-11-17 17:35:15
LeiBear Weekend Honolulu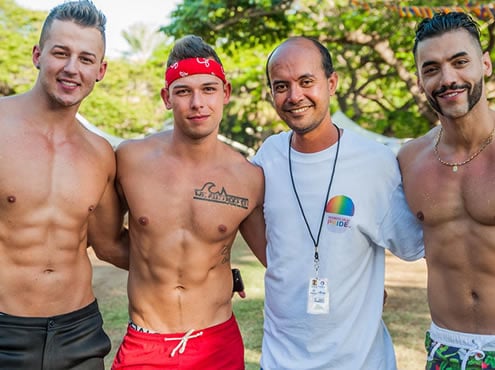 From: Oct. 18.2024 - To: Oct. 20.2024
Hawaii's largest city, Honolulu hosts the Honolulu Gay Pride celebration each year in October
https://www.gaytravel4u.com/wp-content/uploads/2018/07/Honolulu-Pride-1.jpg
370
800
Andrew Stevens
https://www.gaytravel4u.com/wp-content/uploads/2014/10/logo-gt4u.png
Andrew Stevens
2018-07-23 18:23:21
2023-10-26 15:52:12
Honolulu Gay Pride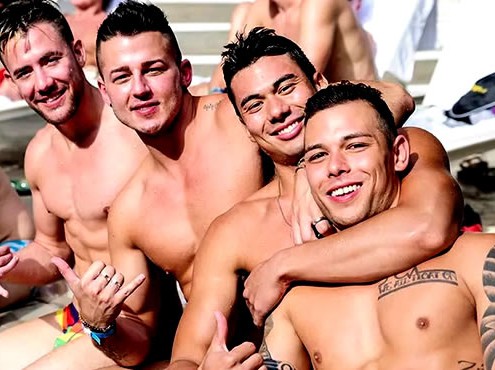 From: Oct. 20.2024 - To: Oct. 20.2024
Lei is one of Hawaii's leading gay magazines and presents the Honolulu Pride Party each year in some of the Islands' top hotels
https://www.gaytravel4u.com/wp-content/uploads/2023/10/Lei-Pride-Pool-Party-Honolulu-5.jpg
370
800
Andrew Stevens
https://www.gaytravel4u.com/wp-content/uploads/2014/10/logo-gt4u.png
Andrew Stevens
2023-10-26 16:58:16
2023-10-26 16:58:16
Lei Pride Pool Party Honolulu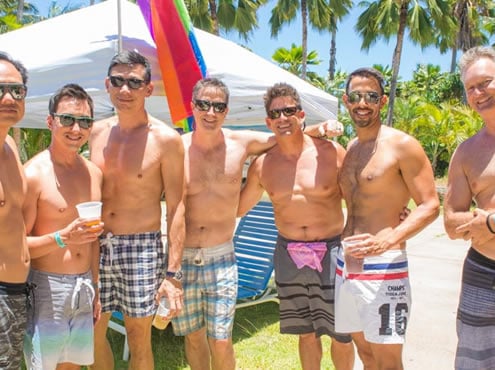 Awaiting dates
Held annually in July this LGBTQ Day at Wet 'n' Wild Hawaii is a pool party like no other With large crowds
https://www.gaytravel4u.com/wp-content/uploads/2018/07/Splash-Hawaii-1.jpg
370
800
Andrew Stevens
https://www.gaytravel4u.com/wp-content/uploads/2014/10/logo-gt4u.png
Andrew Stevens
2018-07-23 20:10:46
2023-07-24 10:24:02
Splash Hawaii
Other Gay Activities in Hawaii
Coffee and Pancakes
Cloud Nine Cafe Hawaii – Enjoy a fun and flavorful menu of boba teas, soufflé pancakes, salads and sandwiches at this cafe located at Market City Shopping Center. Their soufflé pancakes are a must.
Liliha Bakery – Coco puffs are a local favorite and are great with that first cup of coffee in the morning. Liliha Bakery
Popular with the locals
Fine Dining
Momosan Waikiki – Ramen spot by Iron Chef, Masaharu Morimoto offering an array of Japanese noodles, appetizers & 20 different sakes.
La Vie Waikiki – For a real treat try the modern French cuisine at The Ritz Carlton Residences in Waikiki. La Vie is a breakfast, lounge and dinner spot that is exquisitely elegant, while highlighting local ingredients served with specific attention to detail.
Roy's Waikiki offers high-end dining serving notable chef Roy Yamaguchi's Hawaiian fusion fare in a contemporary setting. The menu features upscale Hawaiian-influenced cuisine including the finest seafood, steaks and sushi.
What to see and do in Oahu?
The USS Arizona Memorial – Commemorating the attack on Pearl Harbor. This poignant memorial is built over the sunken hull of the USS Arizona battleship.
Diamond Head State Monument – Catch an unforgettable view of the cityscape and the coastline. The hike is not for the faint of heart taking you 760 feet to the summit, but the views do not disappoint.
Looking for something less touristy? Try some remote places like the Makua Cave or the Pali twin waterfalls. Other great hikes include the Koko Crater Railway Trail. Take a guided tour of the island including Lanikai Pillbox & Around the Island Tour
Learn more about Hawaiian history and culture by visiting the stunning exhibits at the Bishop Museum.
Visit Shangri-La, the former estate of the late tobacco heiress Doris Duke, is an incredible collection of Islamic art in a sumptuous surroundings.
Ala Maona Center – Home to more than 300 stores, the centre is the world's largest open air shopping centre and is the perfect way to get your shopping fix!
Take in a Luau at the Alii Luau at the Polynesian Cultural Center on the North Shore, the Paradise Cove Luau at Ko Olina in Leeward Oahu or the Royal Hawaiian Luau (Ahaaina) at The Royal Hawaiian Hotel. A luau is a Hawaiian feast featuring lively music and vibrant cultural performances from Hawaii and greater Polynesia. Typical dishes served include Hawaiian Roasted Pork, Hawaiian Grilled Fish Salad. Chicken Long Rice Lomi Lomi Salmon, Aloha Sweet Potatoes and Poi.
Take an open door helicopter tour through of Oahu, an incredible island. Along the way you will see the bright sand of Waikiki beach, the Windward Coast, the incredible landscape of Ka'a'awa Valley and then on to the world famous North Shore.
Ride a personal, self-propelled, electric underwater scooter through Oahu's underwater world. Or check out the whales in this amazing Whale Tour.
Soar 30 feet (9 meters) above the waters of Oahu with a water-propelled jetpack.
Discover the natural beauty of Kualoa Ranch on a self-drive UTV tour of Ka'a'awa Valley. Check out filming sites from Hollywood movies such as "Jurassic Park."
Share this Page with Your Friends!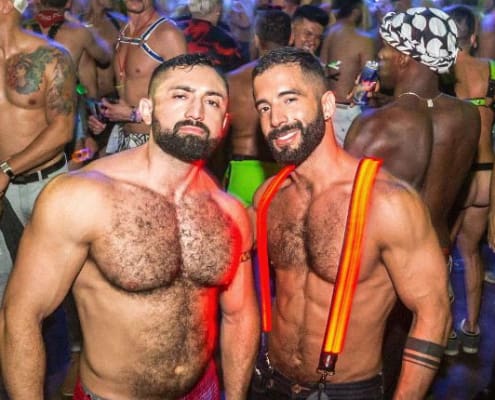 Enjoy a vibrant Gay Thanksgiving filled with festivities, from the snowy streets of PTown to the sun-kissed beaches of Puerto Vallarta!
https://www.gaytravel4u.com/wp-content/uploads/2023/10/The-top-gay-thanksgiving-parties-and-holidays-in-the-USA.jpg
430
1210
admin
https://www.gaytravel4u.com/wp-content/uploads/2014/10/logo-gt4u.png
admin
2023-10-15 18:33:38
2023-10-15 19:30:42
The Top Gay Thanksgiving Events in the USA