Gay Maui, The Big Island and Kauai
Explore beyond Waikiki beach and Honolulu! Leave Oahu and experience a chilled atmosphere in Maui, a gay friendly local scene on The Big Island or total escapism on Kauai.
Maui has become one of the most popular gay honeymoon spots in the USA.
One of the most famous of Hawaii's Islands, Maui has become the go-to sport for gay weddings. The Island is well known for its romantic atmosphere, beautiful beaches, and national parks. It is also a haven for surfers.
While Maui's Kahului Airport (OGG) does not have the same volume of fights as Honolulu, there are still many nonstop options from the US mainland.
Where to stay in Maui?
West Maui was originally developed in the 1960s and remains the most popular place to stay on Maui. The old whaling village of Lahaina anchors this area and the Ka'anapali resort area is home to the majority of dining and accommodation options on this side of the island.
When to visit Maui?
Maui is a warm destination no matter when you might choose to visit. Because Hawaii lies at the edge of the tropical zone, it technically has only two seasons, both of them warm. There's a dry season that corresponds to summer (Apr-Oct) and a rainy season in winter (Nov-Mar).
The best times to visit Maui are April through May and September through November. The spring and fall shoulder seasons provide pleasant weather, a more relaxed experience and better hotel deals.
Gettting around Maui
You can get around Maui by shuttle, tour bus, taxi or public transportation. But to really experience Maui, you should consider reserving a rental car in advance from the Kahului or Kapalua airports.
Honolulu is home to some of the country's busiest gay bars and clubs.
The gay scene in Maui is relaxed and unassuming. There is a great community spirit where you can experience one of the warmest welcomes!
Gay Maui – Where to stay!
Located on 15 acres of Mokapu Beach, Andaz Maui at Wailea Resort boasts 4 outdoor infinity pools, 2 restaurants and a full-service spa. Free WiFi is provided.
A private balcony, 40-inch flat-screen cable satellite TV, a minibar with complimentary non-alcoholic drinks and snacks, and coffee machine are included in each guest room.
Little Beach
Little Beach is a clothing-optional beach located in Makena, approximately a 20 minute drive from Kihei. The Northern end of the beach is known as the gay part of the beach. The rest of the beach is ambiguously mixed with people of varying sexual preferences, different ages, genders, and physical appearance.
To get there, drive to Makena Beach, a few miles past the Maui Prince Hotel, along Makena Ala Nui road, park at the asphalt parking lot, and hike to the beach
Head to the northwest end of the beach, where you will find a trail up the lava rocks that takes you to Little Beach.
Although public nudity is officially outlawed in Hawaii, authorities have not enforced this rule at Little Beach.
Those looking for a more relaxed experience should consider Mai Poina 'Oe La'u Beach, one of the more empty and beautiful beaches for sunbathing and taking a long walk.
The Red Sand Beach
The Red Sand Beach, in Hana (Kaihalulu Beach) is one of Hawaii's most beautiful beaches. It is off the beaten track. The beach is located in a crescent-shaped cove and the water is calm and clear. Drive to the Hana Community Center on Ua Kea Road past the old cemetary and you will come acrooss the beach.
The Big Island is home to some of the best beaches in the world.
The big island is famous for its incredible natural attractions, especially the volcanoes that have shaped and continue to shape the landscape. The scenery here ranges from fertile rain forests to alien-like lava fields, arid deserts to snow-capped volcanoes.
Originally formed by five volcanoes, the island continues to grow as the active Kilauea spews lava into the ocean. The Island is nearly twice as big as all the other Hawaiian Islands combined, hence, its nickname – "The Big Island".
How to get to  The Big Island
The Big Island has two airport options: Hilo International Airport (ITO) sits on the eastern side of the island, while the larger Ellison Onizuka Kona International Airport at Keahole (KOA) occupies the westernmost tip of the island. Hilo is served by just one carrier from the mainland (United from Los Angeles). Kona, meanwhile, offers nonstop options on multiple airlines.
Where to stay on the big Island?
You will likely want to split your stay between Kailua-Kona on the west side and Hilo (or Volcano) on the east side during your trip. This will alleviate a lot of extra driving (the journey between towns is 3 hours approx) and allow you to experience both sides of the island.  Kona offers better weather, the best beaches and snorkelling, newer resorts, and more vacation rentals.
Getting Around The Big Island
If you want to be in control of your own transport, there is only one viable option to navigate around the Big Island: renting a car. The public transport system on the Big Island is called the "hele-on bus". This bus can get you around the whole of the Big Island, and using it is cheap. Uber and Lyft ride share services are also available.
My Bar Kona is a Gay-friendly watering hole with beers & bar bites, plus a dance floor, pool table & TVs. Fantastic music, and friendly staff.
The Mask bar is an easy-going gay bar with daily happy hour plus karaoke, trivia & other events.
The gay-owned Lava Lava Beach Club is located at the Kohala Coast's Waikoloa Resort, near many of the major resorts, offering a relaxed and welcoming scene.
Gay Events on The Big Island
Hilo Pride/Hawaii Island Pride is the second largest LGBT and Gay Pride celebration in the state of Hawaii. It is held each year in the summer with a variety of activities throughout the week.
Kona Pride festival takes place in late September on the west side of the Island and is host to some great pool parties and circuit events.
Honokohau Harbor Beach, located on the Kona Coast in the Kaloko-Honokohau National Historical Park, is home to The Big Island's most famous gay beach. The gay section can be found at the end north end of the shore.
Things to see and do in on The Big Island.
Hotel Wailea, Relais & Châteaux – Adults Only
Nestled on a cliff overlooking Maui's southern coastline on 15 landscaped acres, the Hotel Wailea, Relais & Chateaux – Adults Only features luxurious facilities and spacious suites.
Each suite at Hotel Wailea boasts free WiFi and a private, furnished deck with a view of the ocean or garden. Amenities such as plush bathrobes and deep soaking tubs ensure a comfortable stay.
Kauai, the perfect escape from everything!
Visitors will find some of the most stunning natural scenery on Kauai. The Island has a relaxed vibe and is less touristy than other parts of Hawaii. It is known as Hawaii's "Garden Island" thanks to its lush landscapes and laid-back pace.
Where to stay in Kauai?
Princeville is well-located in terms of beaches and tourist attractions. It's also provides a front-row seat to some of Kauai's most breathtaking views.
Getting around Kauai?
Kauai's main airport is Lihue Airport (LIH) in southeastern Lihue. Many airlines now offer direct service to Kauai. Visitors can also fly into Honolulu International Airport (HNL) on Oahu, then travel to Kauai.
The best way to get around Kauai is in a car – actually, the only way to get around Kauai is in a car. The bus system, though inexpensive, does not cater to tourists. … Ride-hailing apps, such as Uber and Lyft, are also available on Kauai.
What to see and do in Kauai?
Visit Waimea Canyon named by Mark Twain as "the Grand Canyon of the Pacific" thanks to its red rock cliffs and steep slopes.
Take a boat tour of the 20-mile-long Wailua River or try a combination kayak paddle and hike to experience the Opaekaa and Wailua waterfalls.
Do not miss the Nā Pali Coast recognizable as the backdrop from films such as "Jurassic Park" and "South Pacific," and experience their stunning undulating cliffs. Take a boat trip or helicopter ride to see the best of what the coast has to offer.
Located on the eastern coast of Kauai, this upscale 25-acre beachfront resort offers a free transfer service to Lihue Airport. 4 restaurants and bars, 4 swimming pools, a waterslide and 2 hot tubs are located on site.
Molokai
Molokai is an island formed by Hawaii's volcanic activity and is one of the quieter places to visit. The Island is perfect for nature lovers and those seeking a complete escape.
Lanai
Another of Hawaii's more relaxed Islands, Lanai is blessed with stunning natural beauty and secluded luxury retreats.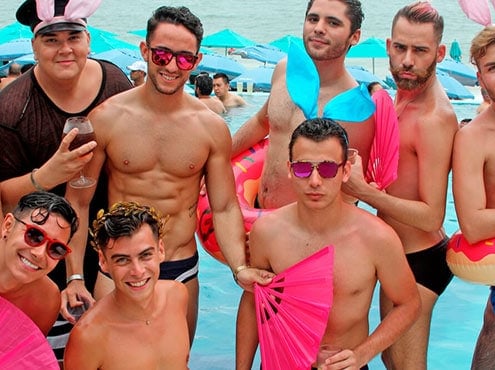 From Pensacola to Puerto Vallarta, our readers can't wait to start traveling again and these are the top 5 most searched for events in 2021.
https://www.gaytravel4u.com/wp-content/uploads/2021/04/top-5-summer-gay-events.jpg
370
800
admin
https://www.gaytravel4u.com/wp-content/uploads/2014/10/logo-gt4u.png
admin
2021-04-07 20:05:02
2021-04-07 20:06:25
The top 5 trending Summer gay events in North America