Gay Greece! Discover more than Mykonos with our guide to the Islands
With Gay Greece reopening it borders from the beginning of July, there has never been a better time to explore beyond Mykonos and discover some of the country's other island destinations.
Santorini – don't just "day-trip", stay a few days and explore.
Few countries can match the beauty of Gay Greece with its crystal blue waters, warm weather and beautiful architecture offering visitors the opportunity to witness history up close!
Though in Gay Greece people tend to have a more conservative attitude, in the past few years there has been a positive change towards gay and lesbian couples coming to the country for holidays.
The Greek gay community enjoys the majority gay rights, including cohabitation. Greek people are gay-friendly and familiar with gay lifestyle although you may find people tend to have a more conservative attitude in quieter destinations.
Jump to :
Gay Santorini is perfect for sunset cocktails and walks on the beach.
Santorini is the second most popular gay island in Greece, after Mykonos. A famous and romantic destination offering magnificent sunsets and superb volcanic beaches, the island is better suited to gay couples than single guys looking for fun. Many visitors combine Santorini with a trip to Mykonos. There are frequent ferry connections between Santorini and Mykonos in the summer season.
Locals are very welcoming to all, accepting the gay and lesbian audience equally. Santorini is a tiny Island, just 28 square miles and home to only around 13,600 Greek citizens. The island is famous for its black volcanic sandy beaches and high-end style.
The island's unique geology is the result of one of the largest volcanic eruptions in recorded history. The centre of what was a much larger island dropped 300 meters below sea level to form a giant lagoon, known as "The Caldera'. Fira, Imerovigli and Oia are famous towns that cling to the top of the cliffs overlooking the caldera. The views rank as some of the most dramatic in the world.
Watching the sunset is by far the most beloved activity on the island! Santorini is definitey a highlight not to be missed on your next trip to Gay greece.
Santorini is best explored early morning to avoid the crowds and cruise passengers.
Flying is the best option.  There are flights from Athens all year round. From May until the end of October, there are direct flights from most major European cities
From May to October, there is a daily fast jet ferry service between Mykonos and Santorini. Journey time is around 3 hours.  A fast boat service operates between Santorini and Piraeus (Athens).
Taxis are expensive and in short supply on the Island so we recommend hiring a car so you can relax and enjoy Santorini at your own pace.
Santorini's many hotels and entertainment venues are totally gay-friendly but beautiful Island is not a place for clubbing or partying.  It is a place to take in the sunsets, relax on the beach and enjoy the finer things in life.
The busiest bars of Santorini, are located in the Chora. Some of the most popular gay-friendly bars around Santorini are Tropical Bar, Theros, and Crystal Cocktail Bar!
What to see and do on Santorini?
Its not all beaches and sunsets! Why not take a private tour, with a local guide.
Take in the Sunset – Santorini is famous for its beautiful sunsets and the village of Oia is the most popular spot.
Visit Megalochori where five-star hotels with infinity pools give way to historic mansions and traditional tavernas.
Discover the wines of Santorini –  tour of the island and two or three of its wine estates.
Dining and Cocktails 
Ice Cream Time – Lolitas gelato – authentic and delicious – the best on the island.
Dine out – book a table at Metaxi Mas and try some delicious local dishes.
Nightcap – grab a cocktail and enjoy the night time views at PK Cocktail Bar.
Where to stay in Santorini?
Situated 500 m from Archaeological Museum of Thera in Fira, this villa blue suite features a terrace with sea views and an outdoor hot tub.
Built in 1790, Trieris Villas & Suites is 350 m above the sea level and just a 3-minute walk from Fira Town Centre. It features a heated outdoor pool with hydromassage jets, and panoramic Aegean Sea and Caldera views. Free WiFi is available throughout
Located in the heart of Fira in Santorini and featuring Caldera views, On the Cliff is 100 m from Archaeological Museum of Thera. Free WiFi is offered throughout the property. Quite reasonably priced when compared to other similar hotels.
Santorini has two busy gay beaches. The Island is very gay-friendly.
The most popular Santorini beaches for LGBT visitors are the nudist beaches of Vlychada and Cape Columbo.
Vlychada Beach is currently the hottest and most popular "gay" beach on the island.
Koloumbos and Exomitis Beaches have also become well known for their gay-friendly attitude!
Santorini's most Instagrammable beaches include the Red, Black and White Beaches. The Red and White Beaches lie next to each other at the southwest coast of the island, around 14 kilometres (8.7 miles) from the capital Fira. The White Beach is only accessible via a boat, which departs from the Red Beach. The Black Beach (Perissa) at the southeast of the island, is nestled at the foot of Mesa mountain. The colors are the result of the island's volcanic activity.
Paros is a well-kept gay escape close to Mykonos!
If you are looking for a more relaxed escape, consider the gay-friendly island of Paros. The island has a cosmopolitan flair and is connected to Mykonos making it perfect for those who still want to party on occasion. Paros is perfect for long walks on the beach, lounging at the beach clubs and dipping into the Mediterranean to cool down.
The island's night-time venues are gay-friendly. Paros can be reached by ferry from Athens and from other close islands. Most tourists tend to use Parika as a base to explore the rest of Paros.
Gay Paros – What to See and do!
Paros offers visitors a different side of life in Gay Greece. Our top places to visit include:
Visit the Old Town And Port Of Naoussa – explore narrow maze-like passages, quite in the daytime and busy at night.
Expore Paros Park – complete with an open air movie theatre and home to jazz and cultural festivals all summer.
Dining and Drinks
Lager Gay beach Paros, quiet but popular with gay visitors.
In Naoussa, there are also two sandy beaches with crystalline waters, ideal for gay cruising and nudism, Kalami and Lageri. Both are remote and are frequently used by naturists. Lageri is the most popular with gay guys. Check the weather before you leave for these beaches as the Island can get very windy at times.
Where to stay in Gay Paros
Located in Parikia and with Livadia reachable within 500 metres, White Blossom provides express check-in and check-out, allergy-free rooms, a garden, free WiFi throughout the property and a terrace.
Just 1 km from Kolymbithres beach, Parilio, a Member of Design Hotels is the hotel for those seeking a real treat! Stunning rooms, amazing breakfasts and 5 star service.
Gay Greece – Skiathos – Home to amazing Gay Sandy Beaches!
Skiathos, charming old town, great beaches and 2 hours from the mainland.
Skiathos is a fun cosmopolitan Island with amazing scenery and a vibrant nightlife scene. The island's sandy beaches are some of the finest in all of Greece and has not one but two gay beaches.
Getting to Skiathos can be done by plane or via ferries from the ports of Volos and Agios Konstantinos. Being so far north in the Aegean, the Skiáthos season is relatively short, and the sea warms up late in spring. Beach bars and seaside tavernas are only guaranteed to be up and running between early June and mid-September.
There is a bus service running around the Island every 20 minutes. Taxis are also available but busy during the Summer months.
What to see and do?
Take in the Sunset views – visit Agia Eleni Beach.
Buy a ticket on the round-the-island boat cruise to access Skiathos' hidden coves and sea caves.
Visit Skiathos Castle and take in the amazing views.
Explore the old town with classic cobbled streets and fragrant bougainvillea.
Banana Gay Beach – The Beaches of Skiathos have the finest sand in Greece!
The Island has over 50 beaches to choose from. Big Banana and Little Banana beach are both gay and busy during the season. Koukounaries and Vromolimnos are two of the islands more famous sandy spots.
Where to stay in Gay Skiathos
5 star and a 5-minute walk to the centre of Skiathos, adults-only.
Crete has a busy day time gay scene on the many beaches dotted across the Island.
Gay Crete is set to become one of the busier Islands this Summer offering a more relaxed holiday than its more famous island neighbours. We have a detailed guide to the Island and its popular resorts and gay-friendly beaches.
Share this Page with Your Friends!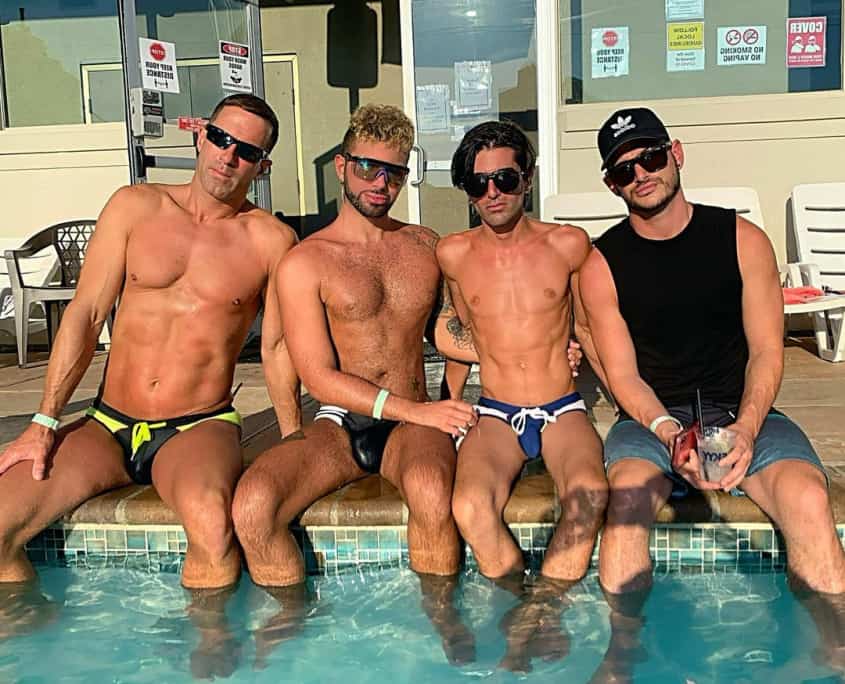 Gay Asbury Park is a vibrant city located along the Jersey Shore. Explore the best bars, hotels, restaurants and things to see and do.
https://www.gaytravel4u.com/wp-content/uploads/2021/02/empress-asbury-hotel.jpg
905
1080
admin
https://www.gaytravel4u.com/wp-content/uploads/2014/10/logo-gt4u.png
admin
2021-02-06 17:40:47
2021-04-03 16:19:55
Asbury Park Gay Guide