Taiwan Gay Pride 2023
Taiwan Gay Pride is biggest Gay event in Taipei more the 80,000 people attending the 4 day event from around the world.
From: Sunday, October 22, 2023
To: Sunday, October 29, 2023

The Parade is on Sat 28th, 2023 

Hot Guys
3 Gay Clubs
20 Gay Bars
Circuit Parties
The Main Parade
Post-Parade After Party
An open and proud Taipei hosts Taiwan Pride in October 2023
The biggest Gay event in Taiwan is Taipei Gay Pride with more the 200,000 people attending the 4 day event from around the world. The Gay parade takes place on the last Saturday in October and is the highlight of the event. Pride celebrates its 21st anniversary in 2023.

Taipei  fills up with visitors from across Asia and beyond for Pride. Book your hotel early as the city sells out well in advance. Try the Citizen M hotel for an ultra modern stay in one of the world's most ultra modern cities.

Taipei Pride Parade 2023

Sat 28th Oct, 2023 The Parade starts from the town hall , then moves through the streets of Taipei, ending up back where it started where you will find the main stage and many stalls  highlighting the gay charities and organisations supported by the Pride.
The following routes are the ones that typically take place. We are awaiting updated for the 2023 route. Two groups of participants will set off at 2 p.m. from Ketagalan Boulevard in front of the Presidential Office.

North Route : Taipei City Hall → Renai Road → Dunhua South Road → Zhongxiao East Road → Yixian Road → Taipei City Hall
South Route : Taipei City Hall → Ren'ai Road → Guangfu South Road → Xinyi Road → Dunhua South Road → Ren'ai Road → Taipei City Hall

Taipei Pride Village and Afterparties

Sat 28th Oct 2023 The official gay pride village is open during the weekend of the pride festivities and features a stage with live shows and performances throughout the day and a big post-parade party that lasts well into the late evening. The pride village is located in front of the Town Hall. Awaiting confirmation.

Taipei Pride Circuit Parties

October 27th to 29th, 2023 – Formosa Rainbow Music Festival hosts a weekend of spectacular circuit events with international guest DJs and hot GoGos at Zepp, New Taipei.

Gay Taipei

New! Check out our 2023 just-updated gay guide to Taipei, with the latest bars, clubs, parties and events.
Taipei is probably one of Asia's best kept secrets; there is always something to do; shopping in some of the world's biggest designer filled shopping malls; night street markets offering everything from exotic fruits to the latest fashion and the not-to-be-missed 101 Tower – the tallest building in Taiwan offering a bird's eye view of city and surrounding mountings of Taipei.
Culture Vultures have an endless choice of things to do, from hot springs to museums, places to Buddha temples. When it comes to eating out there are hundreds of restaurants to suit every taste and budget.
Taipei has a vibrant and fun gay scene offering something for everyone, with over 20 gay bars in the Red House district and 3 gay clubs, not to mention the big parties being held over the pride weekend. Saturday night at the W hotel is one of the highlights of the weekend, especially as it coincides with the Halloween festivities.
Stay in the trendy Ximending district, home to the city's best gay bars and nightlife.

Recommended  Hotels in Taipei

If you want to be in the heart of the gay area then stay close to the Red House entertainment complex and Ximan. Hotels here are cheap and cheerful. Book early as they tend to fill very fast!
The following Taipei Hotels are close to the city's top attractions and a short ride to the gay bars and clubs:

The Tango Hotel,    The Okura Hotel,    Ximen Airline Hotel,    CityInn Hotel
For further information and advice on
Gay Taipei, check out The Website
Gay Map of Taipei
Taipei's main gay district is located in the Red House District, a large outdoor complex featuring shops, bars and restaurants.
Recommended Hotels in Taipei By Booking
Book with confidence. Get the best Prices from our partner Booking.com
We have chosen hotels in Taipei that keep you close to all the shops,restaurants & bars
Video Of Taipei Pride
Taiwan Pride Parade Highlgihts
Top Gay Neighbourhoods in Taipei
Taipei, the capital city of Taiwan, has a thriving LGBTQ+ scene with several gay-friendly neighborhoods and areas. These areas are known for their inclusive atmosphere, LGBTQ+ establishments, and vibrant nightlife.
Ximen | Considered the heart of the LGBTQ+ District
Photo: Ximending is home to some of Taipei's most popular gay bars
Ximen has earned a reputation as a hub of LGBTQ+ culture in Taipei.
One of the focal points of Ximen's LGBTQ+ scene is the Red House Theater. It's a place where LGBTQ+-owned businesses, bars, galleries, shops, and cafes are concentrated.
Throughout the year, Ximen hosts various LGBTQ+ events, including pride celebrations, drag shows, art exhibitions, and cultural festivals.
The Tonghua Street Night Market area, in particular, features a concentration of LGBTQ+ bars & venues.
The city's most vibrant cultural, entertainment & shopping district home to several gay bars and clubs.
This district has range of LGBTQ+ establishments, including bars, clubs, & cafes & is known for its trendy vibe
The modern business district with skyscrapers, including the famous Taipei 101. Best for Luxury shopping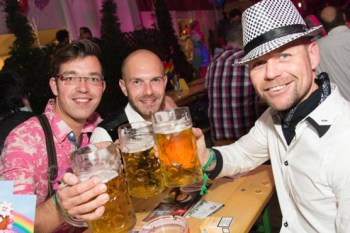 From: Sep. 16.2023 - To: Oct. 03.2023
Munich Gay Oktoberfest, also know as Rosa Wiesn Oktoberfest is actually a combination of different events taking place during a larger Oktoberfest in Munich
https://www.gaytravel4u.com/wp-content/uploads/2014/11/rosa-wiesn-2.jpg
370
800
admin
https://www.gaytravel4u.com/wp-content/uploads/2014/10/logo-gt4u.png
admin
2014-11-03 19:16:41
2023-01-21 09:39:13
Munich Gay Oktoberfest
Latest Gay Travel News
Get ready for a season of scary boys, sexy costumes and parties to remember, from Austin to New Orleans and beyond with our guide to the best gay Halloween parties.

The Top Gay Christmas Markets & Festive Events, From Santa Speedo Runs to fairytale Christmas Markets.

From the White Parties in Bangkok & Puerto Vallarta to fireworks displays in Rio and Sydney, here's our top choices for a Gay New Year escape.
Trending Events & Articles
Here are the most popular events searched for and viewed by our readers over the past 7 days: