Gay Tulum Guide
Gay Tulum was a holiday-spot for the Mayan Kings, the original sun worshipers and their legacy can still be viewed today, right on the beach.
The Tulum Ruins, one of the most visited in Mexico.
Tulum, just 40 minutes' drive from nearby Playa del Carmen is located at the end of the Riviera Maya. The Riviera is a stunning stretch of coastline that runs from 10 miles south of Cancun, includes the beach town of Playa del Carmen and finishes 75 miles later at Tulum.
Tulum is surrounded by beautiful lush jungles and  magical freshwater cenotes.  It is also home to some stunning hotels, authentic restaurants and cool cocktail hang-outs.  With soft sandy beaches, perfect weather and crystal-clear waters, it is easy to get lost in this Mexican paradise.
Where to Stay in Gay Tulum?
Tulum is full of independent charming boutique hotels offering beach side luxury with an relaxed vibe, embracing the natural beauty of the surrounding jungle.
The Hotel Jashita, one of many small boutique hotels by the beach in Tulum.
Tulum is roughly divided into 2 main areas: the pueblo (downtown) and the playa (beach), about 5 km apart from one another. There is no electrical grid reaching the beach zone, which means there hotels are independently owned or belong to small, high-quality, local chains – cozy by necessity because they are all solar-powered or run by small generators
Book very early for the best hotels on the Tulum beach. Six months in advance is good, nine months is better.
Tulum has several beautiful villas by the beach and in the town. They are finished to a very high standard and some even offer a full time chef! The villas are great for special occasions or for groups seeking affordable 5 star luxury. Check out our top 10 villa guide to Tulum!
Recommended Hotels in Gay Tulum
Allow yourself the opportunity to enjoy. Enjoy happiness, rays of the sun, a beautiful beach and breath-taking views. Relish great service in a stunning, luxurious hotel. Mezzanine offers you that Mexican vacation you've been waiting for.
Tulum's Best Boutique Hotel on the Beach – La Valise is the perfect beach and jungle getaway with its beautiful rooms and stunning beachfront views it makes for the most picturesque stay on the beach in Tulum. Heated infinity pool overlooking the jungle on one end and breath-taking views of the Caribbean ocean on the other side. Beds directly on the beach for lounging in the day or laying beneath the stars at night.
This hotel is located in The Pueblo. This neighborhood has a local vibe, boutique hotels and located about a 15 min bike ride to the beaches.
Eleven separate and independent Villas, with jungle and garden views. Among tall trees, dream catchers and locally sourced handcrafts, with a zen like pool and common area, Una Vida is a fit for families, friends and couples looking for a quiet, fun and chic atmosphere to spend time together.
Gay and Gay Friendly bars in Tulum
Tulum Gay Scene
Tulum is a laid-back laissez-faire destination with a live-and-let-live attitude. The scene is definitely gay-friendly, less circuit-party and more afternoon T-dance.
Tulum is safe, friendly and runs on its own time. No rushing or watches necessary.
The town attracts visitors from around the world, from expat hippies to hipsters. No matter where you visit, you will find a warm welcome from both locals and fellow chilled travellers.
Tulum Gay Friendly Bars
Gay Friendy Restaurants in Tulum
You will find Tulum's best restaurants in the Pueblo and Middle Beach Zone. The Pueblo has more authentic, affordable restaurants, while the Middle Beach Zone has more chic, upscale eateries. Most restaurants in the beach zones are on the jungle side of the road with outdoor seating.
Credit Card V Cash? How to pay.
Most restaurants and bars, even the pricy ones, are cash only. You can pay in either Mexican pesos or U.S. dollars, but the exchange rate works in your favour if you pay in pesos. Thankfully, there are plenty of ATMs around—just make sure that the one you're at dispenses local currency.
Tulum is blessed with truly amazing beaches with white powdery sands and azure waters. The beaches are great for swimming as Tulum is protected against the rough seas from the nearby Island of Cozumel. The beach is further divided into about 4 areas.
North beach zone is a quiet, romantic area with great hotels and restaurants near the ancient Maya ruins.
The beach town is at the centre, busy with shops, restaurants and hotels.
The middle beach zone has luxury hotels and great nightlife option while the South Beach zone is more relaxed and home to luxury hotels and yoga retreats.
Playa Ruinas
One of the most-photographed beaches in the Americas, this beach is home to the clifftop Castillo, built as a watchtower in the 13th century. It has become the third most-visited archaeological site in Mexico after Teotihuacan and Chichén Itzá. The beach itself however is quiet and relaxed. Book a hotel near here!
Santa Fe
The Santa Fe beach can be found 5 minutes from the Mayan Ruins and is the prefect place for an afternoon of sunbathing.
Playa Paraiso
This beach is aptly named and lives up to its reputation. The beach is surrounded by looming palm trees and rugged cliffs. The beach is large, so even when it gets busy, there is plenty of space, and if you are feeling peckish, head to some of the great seafront restaurants for food and cocktails. Stay close to Playa Paraiso.
South Beach
For a truly luxurious beach experience, rent a cabana at Casa Malca or Nest's beach clubs (reservations recommended). For a more low key beach experience, visit Om or Maalix's Beach Clubs
Middle Beach Zone
This is the liveliest beachfront in Tulum lined with hotels, restaurants, shops and bars. The beach is long and full of uninterrupted sugary white sand. Try Cocos beach club for a lively vibe and hip sun lounger neighbours!
Beaches beyond Tulum
Akumal Beach is just a 30 minute drive from central Tulum. It has everything you need for a beach-day escape with plenty of restaurants, bars and sun loungers to rent.
Those looking for a more relaxed retreat should head to "Secret Beach" a secluded spot located deep in the Sian Ka'an Biosphere reserve.  It takes about an hour to reach by bike!
Tulum Top things to See and do!
Even though Tulum is small, it packs in many sights to see! There is way more to do in Tulum than the nearby hotspots of Cancun or Playa del Carmen.
Tulum Zones
Tulum consists of three zones: Tulum Pueblo, the town center where you can find numerous restaurants; Zona Hotelera, the hotel zone near most of the beaches; and the Tulum Ruins, home to many of the area's old Mayan structures.
From the Airport
The nearest airport to Tulum is Cancun (CUN).  Tulum is located approximately 81 miles [131 km] from Cancun. Yellow Transfers operates a bus from Cancun International Airport to Tulum ADO Terminal Autobuses every 30 minutes. A taxi will cos around EUR 80 and will take approximately one and a half hours.
Rent a car in Tulum
Renting a car is easy and many hotels allow you to park. You can rent at Cancun airport and take a quick safe ride down the main highway. If you arrive in Cancun at a busy time of the day you can take shared shuttle service or hire a private car
Getting Around
The best way to get around Tulum is by taxi. You can walk or bike to the beaches, to the ruins and to Tulum Pueblo. You can rent a car in Cancún or Playa del Carmen.
Gay Tulum – When to visit?
Tulum's rainiest months are June, September, and October. avoid September and October, the rainiest months.
The three-month stretch from end of October to December is the best time to visit, when hurricane season is over and the weather is warm but not oppressively hot.
January through March see the biggest wave of tourists, so avoid that time if you're not a fan of crowds.
10 guests · 4 bedrooms · 6 beds · 4.5 baths
Gorgeous villa with private pool and gym within the calm Tulum's neighborhood of Holistika. 2 minutes driving from downtown and 15 mins from the beach.
7 guests · 3 bedrooms · 4 beds · 3 baths
Set 5 km from Tulum Archeological Site, Yaakunah Tulum Home offers an outdoor swimming pool, a garden and air-conditioned accommodation with a balcony and free WiFi.
Share this Page with Your Friends!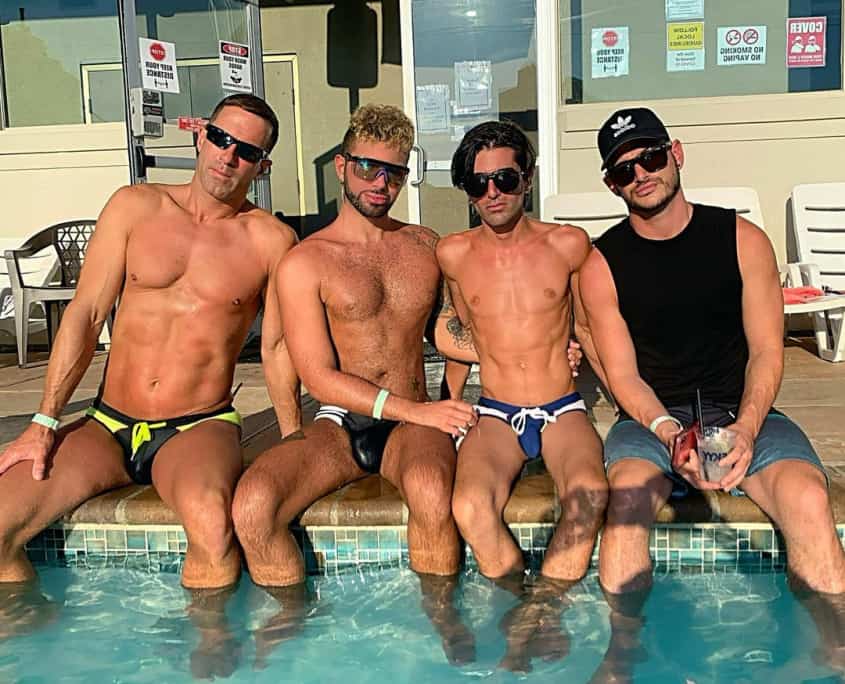 Gay Asbury Park is a vibrant city located along the Jersey Shore. Explore the best bars, hotels, restaurants and things to see and do.
https://www.gaytravel4u.com/wp-content/uploads/2021/02/empress-asbury-hotel.jpg
905
1080
admin
https://www.gaytravel4u.com/wp-content/uploads/2014/10/logo-gt4u.png
admin
2021-02-06 17:40:47
2021-04-03 16:19:55
Asbury Park Gay Guide