Gay Puerto Rico – Our Island guide
Gay Puerto Rico , the "Island of Enchantment" is well-known as one of the most gay-friendly islands of the Caribbean where the warm trade winds blow and life's pace is refreshingly slow.
San Juan, Gay Puerto Rico's capital beach side oasis!
Puerto Rico's gay life is centered around the capital,  San Juan. The city has a busy gay scene that caters to all tastes. The island is the perfect place for those visitors seeking to enjoy a unique culture, cuisine and nightlife.
Other parts of the Island including Cabo Rojo on the west and Viques Island off the eastern coast are also popular with gay visitors.
Gay Puerto Rico is an American territory. Expect to find the same openness and rights as you will see in the rest of the United States. The Island legalised Gay Marriage making it a welcoming destination for LGBTI travellers from around the world.
Getting to Gay Puerto Rico
Gay Puerto Rico is a quick flight from the south of the USA. The dollar is the local currency. There are also direct Flights from Europe and Latin America. Taxis and ride shares are the best way to get to your San Juan Hotel with fares costing around USD 20.
Taxis, found everywhere, are also reasonable, figure on about $15 for most trips within the city. There are independent mini-bus "públicos" — locally known as "guaguas" — that carry 10 to 14 people along main thoroughfares, with set routes but no set schedule — frequent enough so you won't wait long.
The Weather in Gay Puerto Rico
Puerto Rico has a tropical climate, practically guaranteeing beach-weather during your trip! The weather stays between 70 to 80 degrees Fahrenheit all year and with nearly 300 miles of coastline, you can have a sun-kissed vacation any time.
The island's high season is between November and February (which is roughly how long the holiday season lasts on the island), so if you're planning your stay during those dates be sure to book your hotel early!
Gay San Juan – The Capital
Condado San Juan, home to many of the city's gay bars and clubs.
Puerto Rio is an island you will want to explore and most visitors will begin their journey in the capital, San Juan. The city has some great things to see and do, so it is worth spending a few days exploring the popular neighbourhoods of Old San Juan. Santurce and Condado are at the heart of gay San Juan.
The following areas of Gay Puerto Rico are the most popular with international visitors.
The old town, with its cobbled streets and Spanish Architecture is compact and easy to walk around.
Condado has become more gentrified over the past few years and is where you will find the gay beach scene.
Santurce is full of energy and has five LGBT clubs along Calle Condado between Ponce de León and Carmen, and six more to the east, around Ponce de León between Diego and San Jorge.  People gather at the bars and clubs around La Placita square for cheap drinks and delicious street food.
Ocean Park is mostly a residential neighborhood, but it has a handful of gay-owned hotels. Its beach is one of the best, and it's never crowded.
Isla Verde is where the old-money crowd lives. It's a snooze of a neighborhood, but there are some wonderful resorts and boutique hotels.
Tip! When visiting bars outside the tourist zones of Old San Juan and the Condado always take a taxi there and back. Make sure the bar is open before your taxi leaves, as the clubs in Santurce and beyond tend to open and close without much warning.
San Juan – Gay Bars and Clubs
Popular Gay Bars
Late Night Clubs and Cruising
Circo – Nightclub For dancing, drag shows gogos and more. Also host a popular Drag Bingo evening. Peak hours are 3am on Fridays and Saturdays.
Xteamworks is a gay bathhouse/sauna. Popular late at night.
Gay Friendly Restaurants in San Juan
Where to stay in Gay Puerto Rico – San Juan?
5 Star – Located in the exclusive Condado neighbourhood, O:Live Boutique Hotel has a Mediterranean décor and stylish suites.
4 Star – Adults only hotel located on the hip Ashford Av right in the gay district with a beachfront infinity pool and ocean view.
Gay Friendly Guest House offers studios and fully furnished apartments with free Wi-Fi, free parking and a shared hot tub.
San Juan's most famous son, Ricky Martin at the annual Pride Parade.
Gay Puerto Rico is home to some great festivals. San Juan hosts several popular gay events throughout the year. These include:
San Juan has miles of beaches and all are welcoming. Here are the most popular gay beaches in the city:
The most popular gay beach is Atlantic Beach in Condado. Sundays are especially busy.
Ocean Park Beach (in front of Numero Uno Guesthouse) is the place to cruse at night
Cueva las Golondinas is a nudist beach just under an hour from the city.
What to see and do in Gay Puerto Rico?
In the centre of San Juan
Take the tour of the famous Bacardi Distillery. make your own Mojito and learn the history of this amazing brand.
Visit Old San Juan and take in Las Americas Museum and Fort San Cristobal. San Juan is also great for shopping. Check out Fortaleza street with its famous canopy of umbrellas.
Beyond San Juan
Take a trip to Vieques and discover the Bioluminescent Bay. one of the best bio luminescent bays in the providing a spectacular every night.
Take a day to visit El Yunque, a stunning tropical rain forest, where you can get in touch with nature while hiking the well-maintained trails, bathing in natural pools or beneath waterfalls, ziplining through the mountains, or simply basking in the scenery.
Plan a day trip to Puerto Rico's best-kept secret: Flamenco beach. Frequently recognized as one of the best beaches in the world, Flamenco is a crescent-moon shaped sandy beach with vivid turquoise waters.
Vieques, Amazing beaches but you will need a 4×4
Viques is a a short 40 minutes flight from San Juan and is the perfect Island escape after a visit to San Juan. The trip to Vieques is half the fun. From San Juan, you can take an eight-seater Cape Air flight that flies over the lush, verdant El Yunque National Forest — a magnificent, unforgettable experience.
Once you land, you'll rent a bright red 4X4 Jeep to get around the island. A sleepy Island paradise, Vieques is organic and authentic. Think barefoot walks on the beach and delicious authentic cuisine in chic but simple restaurants.
Accommodation on the island is simple, but gets great reviews for the warmth and hospitality on offer.
Cabo Rojo, well worth a day trip or a few nights visit. 
Located on the island's southwest coast, Cabo Rojo is a popular town with stunning and dramatic landscapes and protected beaches!
This laid-back yet charming municipality is home to Boquerón, one of the most popular beachside neighborhoods that feature kiosks, themed restaurants, local shops, and a relaxed atmosphere.
Book early if you plan on attending pride as rooms fill up fast.
Share this Page with Your Friends!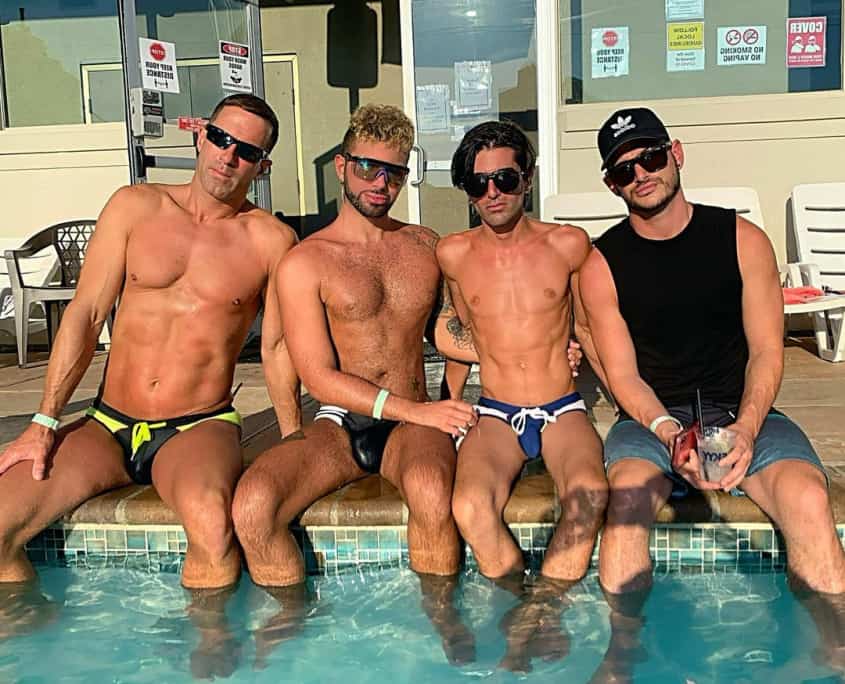 Gay Asbury Park is a vibrant city located along the Jersey Shore. Explore the best bars, hotels, restaurants and things to see and do.
https://www.gaytravel4u.com/wp-content/uploads/2021/02/empress-asbury-hotel.jpg
905
1080
admin
https://www.gaytravel4u.com/wp-content/uploads/2014/10/logo-gt4u.png
admin
2021-02-06 17:40:47
2021-04-03 16:19:55
Asbury Park Gay Guide