Gay Pensacola Guide
Pensacola Beach is home to powdery white sandy beaches and crystal-clear waters on the gulf of Mexico. Located on Santa Rosa Island in Northwest Florida, it is a world away from the hustle and bustle of Miami! The beach attracts some of the hottest guys from Georgia, Kentucky, Tennessee, Alabama and beyond!
The Sugar White Quartz Sand of Pensacola
Named as one of the top 10 beaches in the USA, Pensacola Beach offers brilliant white quartz sand that always stays cool! The deep cyan waters are shallow and inviting. And the ionic Pensacola Beach Pier features the Portofino Boardwalk, complete with gay-friendly open-air bars, restaurants and shopping.
Pensacola Beach is a true oasis; the only way to access it is via bridge on either end. The resort is surrounded by water on both sides- with the emerald blue vistas of the Gulf of Mexico 'Gulfside' and the tranquil views of Pensacola Bay 'Soundside'. The beach is in a protected area, part of the Gulf Islands National Seashore.
Gay Pensacola Hotels
&

Resorts

Pensacola has some great hotel resorts right by the beach. Our favourite place to stay in Portofino. For those staying longer than a weekend, a vacation rental is also another option. Pensacola is home to some great beach houses with pools and lots of space to relax.
Springhill Suites Pensacola Beach – Great Value
Featuring direct access to Pensacola Beach, the Springhill Suites offer a hot buffet breakfast and suites free WiFi. Facilities include an outdoor pool, and Gulf Islands National Seashore is 6 minutes' drive away.
Margaritaville Beach Hotel – 4 star
Located in Pensacola Beach, The Margaritaville Resort features an outdoor zero entry pool and on-site restaurant. All rooms have free WiFi, and the resort is 600 m from Pensacola Beach Gulf Pier.
A flat-screen cable TV, desk, and coffee machine as well as a refrigerator are featured in every room at this Florida Margaritaville Beach Hotel. Some rooms have an ocean or bay view.
Hampton Inn Pensacola Beach
Located in Pensacola Beach, the Hampton Inn is a beachfront hotel is 5 minutes' walk to the Pensacola Beach Gulf Pier. It features an outdoor pool, on-site fitness centre, and an in-room flat-screen TV.
The rooms at this Pensacola Beach Hampton Inn include a microwave, refrigerator, and coffee machine. They are equipped with free WiFi, cable TV, and the HBO channel. A seating area with a work desk is provided.
Portofino Resort – Recommended
If you wish to be right on the beach then Portofino is for you. The resort is the most gay-friendly of the beach resorts. Most visitors stay here people during Memorial Day Weekend. There's shopping and dining on-site as well as a dream-worthy spa experience.  A full kitchen, separate seating area, and cable TV are featured in every apartment.
Pensacola Victorian Bed & Breakfast – Downtown
Located in Pensacola, the Victoria Bed and Breakfast is 800 metres from Saenger Theatre and is close to all the gay bars in the city. It is 1.2 km from T T Wentworth Jr Florida State Museum, Pensacola Victorian Bed & Breakfast provides accommodation with free WiFi and air conditioning.
Unlike South Florida, which welcomes snowbirds in the winter months, the Emerald Coast high season starts in the spring and continues through early fall. The summer holiday weekends of Memorial Day, July 4th, and Labor Day are peak times for visitors to the area.
March to early September constitute peak season in Pensacola. Temperatures this time of year rise from average highs in the 70s to the low 90s by July and August, which makes it ideal for days on the beach. Pensacola has 343 days of brilliant sunshine a year.
Gay Neighbourhoods in Pensacola
The Pensacola gay scene is centered around three areas: downtown Pensacola; Pensacola Beach, located on a barrier island about ten miles outside downtown; and the 9th Avenue area, six miles north of downtown.
Downtown Pensacola – On Palafox Street, south of Garden Street, you will find several nightclubs, bars and restaurants. The area has seen a lot of new development which has brought a new energy to the entire downtown district. Further down Palafox, the Saenger Theatre marks the area's performing arts centre as well as the Seville Quarter, home to many of the most popular nightclubs.
Pensacola Beach – One of the finest beaches on the Emerald Coast, with sparkling, emerald-hued waters, Pensacola Beach has the ideal laid-back beach town vibe; from small, locally-owned shops to just the right amount of restaurants and nightlife options.
9th Avenue – The famous Pensacola shopping district. Cordova Mall is the largest shopping center on the northwest Gulf Coast of Florida, and eight million shoppers visit the mall each year.
Getting To and getting around Pensacola Beach
The Gay Bar & Clubs are in Downtown Pensacola.
Getting to Pensacola
The nearest airport to Pensacola is Pensacola (PNS) Airport which is 10 miles away. Other nearby airports include Valparaiso (VPS) (40.3 miles), Mobile (MOB) (64.1 miles), Panama City (ECP) (85.1 miles) and Gulfport/Biloxi (GPT) (111.2 miles).
There are no direct international flights to Pensacola, but there are direct flights from Atlanta, Chicago, Dallas, Miami and Washington.
Once you arrive from the airport, you can rent a car and drive to Pensacola Beach. The best way to get from Pensacola Airport (PNS) to Pensacola Beach without a car is to line 52 bus and line 61 bus which takes 1h 47m and costs $4.
Getting Around Pensacola
The Pensacola Trolley is the best way to get around the island. The trollies come around about every 15 min or so, 4:00 p.m. until midnight, and there are plenty of stops along the way. They are also fully air conditioned and free to use!
You can leave your car parked for the duration of your trip. Pensacola Beach has everything you need for a relaxing beach getaway. The best bars and restaurants are easily accessible on foot and you can access Uber and Lyft 24 hours a day, 7 days a week.
Daily bike rentals in Pensacola Beach Florida start at around $10 per day. However, you can rent a bike for around $100 for a whole week. Partial day rentals and rentals by the hour are also available
Getting from From Pensacola Beach to Pensacola
There are 3 ways to get from Pensacola Beach to Pensacola by bus, taxi or car. Pensacola is roughly 8 miles from Pensacola Beach. The Line 61 bus takes 25 mins. A taxi will take just under 17 minutes.
Pensacola has a small but vibrant gay scene. It is at its busiest during the high Summer season. Most of the gay bars are located in downtown Pensacola.
The Roundup – Located on Heinbeg Street, this is an easygoing gay club with a spacious outdoor deck, kitschy decor, pool tables & karaoke nights.
The Cabaret – Just one treet from Palafox in downtown Pensacola, steps from downtown's beautiful Seville Square, The Cabaret  is a gay bar offering events such as live music, karaoke & game nights. Great atmosphere, strong drinks and a fun drag show on Sundays. Happy hour from 3pm to 8pm daily.
Dolce and Gelato – Funky gay friendly dessert shop in a cozy bungalow offering daily flavors of homemade gelato, coffee, wine, and beer. Located in the heart of East Hill the venue hosts live entertainment and regular drag shows.
Enjoy the carnival like atmosphere at Pnesacola Pride & Memorial Weekend.
The Memorial Day Weekend is the biggest yearly LGBT pride event in the South. The event take place on last Monday in May and is one of the busiest times of the year for gay visitors.  It marks the start of the Summer circuit party season attracting more than 60.000 visitors.
The Pensacola Memorial day weekend is entirely located at the Portofino or on the private beach that goes on a few miles. Many visitors set up their own beach tent and people party-hop from one tent to the other. Johnny Chisholm events is the party promoter and hosts lavish pool parties and circuit nights during the 4 day extravaganza.
Pensacola Pride is held on the last week in June. The festival includes an entire week of events, including a parade, a gay celebration gala ball and a mini-film festival.
Finally, the Stamped LGBT Film Fest takes place in October, highlights LGBTQ+ films & filmmakers from across the globe.
The Blue Angels
The Pensacola Bay area is the official home of The Blue Angels, the US Navy Flight Demonstration squadron. Pensacola Beach hosts the annual Blue Angels Show every July, where the town is full to capacity.
Visitors unable to catch the main show in July can catch the Blue Angels practicing on Tuesdays and Wednesdays at 11:30am from March to October. The best views are from the Fort Pickens recreation area at the western tip of the island.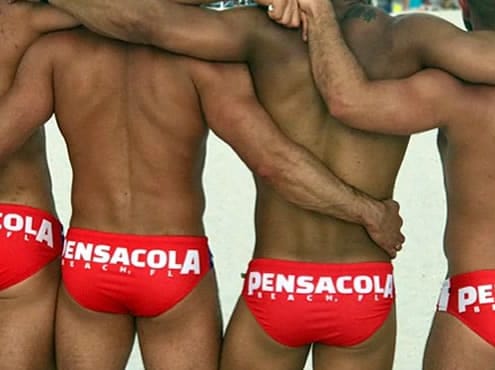 From: May. 23.2024 - To: May. 27.2024
Pensacola Beach Memorial Day Weekend Gay Party opens it doors to upwards of 200,000 LGBT party goers, come meet all the boys
https://www.gaytravel4u.com/wp-content/uploads/2019/02/Pensacola-Beach-Memorial-Day-Weekend-5.jpg
370
800
Andrew Stevens
https://www.gaytravel4u.com/wp-content/uploads/2014/10/logo-gt4u.png
Andrew Stevens
2019-02-11 15:36:47
2023-05-30 13:17:28
Pensacola Beach Memorial Day Weekend Gay Party
From: Jul. 13.2024 - To: Jul. 13.2024
The Blue Angels are the home town heroes of Pensacola and the Red White and Blue Week, Summer show is one of the highlights of the beach town's Summer Season.
https://www.gaytravel4u.com/wp-content/uploads/2021/03/Pensacola-Beach-Air-Show-1.jpg
370
800
Andrew Stevens
https://www.gaytravel4u.com/wp-content/uploads/2014/10/logo-gt4u.png
Andrew Stevens
2021-03-22 19:14:50
2023-07-10 13:47:36
The Blue Angels Show, Pensacola Beach Air Show
Gay Friendy Restaurants in Pensacola
Beyond history, flip flops and sunscreen, Pensacola serves some of the best food in the Gulf – you'll find all the fresh seafood and craft brews you could want.
Pensacola
Pensacola Beach
Casino Beach Bar  – Right on the gulf at Casino Beach serving some delicious items including their legendary Beach Burger and sublime Coconut Mojitos.
Dog House Deli  – Great for breakfast or lunch with a unique menu including their delicious Hawaiian hot dog, Truffle Skillet and French Toast Bites.
Something Special
Jackson's Steakhouse – Refined venue offering premium steaks, chops & wine in a high-ceilinged room dating to the 1860s. Try their lunch time Martinis!
The Grand Marlin of Pensacola Beach – Elegant, clubby waterfront destination with a raw bar serves refined, area-sourced seafood dishes. Located right on the beach at the beginning of the bridge. Menu changes daily.
Restaurant Iron – Buzzy, stylish locale serving gourmet, reimagined takes on Southern cuisine, plus clever cocktails. Located in downtown Pensacola on Palafox street the Iron has late night specials on the weekends
Pensacola is famous for its world class beaches, some of the cleanest and whitest in the USA. In fact, the sand so white the coastal waters take on a turquoise hue.
There is a beach for everyone in Pensacola, from beachfront resorts with hotels and restaurants to miles and miles of undeveloped beach reserved for undisturbed enjoyment.
Pensacola Beach is book-ended by long stretches of protected Gulf Islands National Seashore. The Fort Pickens recreation area to the west of town and the Santa Rosa area (including Opal Beach) to the east.
The gay beach is located near the entrance to the Gulf Islands National Seashore Santa Rosa Area, just look out for the rainbow flags and colourful umbrellas.
If you are driving head to the beach before 10am. Beach traffic tends to start building around 9:30 am during the summer months.
Take the Hop-on, Hop-off tour – Explore downtown Pensacola without getting lost on this hop-on hop-off bus tour—a great choice for first-time visitors. Take as much time as you like at each stop and sightsee at your own pace.
Tour the National Naval Aviation Museum – View more than 150 restored aircraft representing U.S. Navy, Marine Corps and Coast Guard aviation. A motion-based flight simulator takes would-be pilots through an F/A-18 mission.
Spend a day at Fort Pickens – This 1834 landmark was built to defend Pensacola Bay and its naval yard. Explore its intricate tunnels and authentic cannons. The park is open daily from 7am until sunset and perfect for a picnic lunch.
Explore the Pensacola Lighthouse & Maritime Museum – Climb the stairs and get ready for views of a picture perfect skyline and sugar sand beaches. The lighthouse is open to the public Tuesday, Wednesday, Friday-Sunday from 10am-4pm.
Visit Historic Pensacola, encompassing nine acres and 30 historic sites and properties located within the footprints of the original Spanish and British forts,  with charming homes, museums, galleries, restaurants, and more.
Party at Seville Quarter – Spread out over a full city block the Seville Quarter has 7 different bars open from 7am to 2am. Rosie O'Grady's Goodtime Emporium, opened in 1967 and features a dueling piano bar.
Shop on Palafox Street – Home to the city's vibrant nighttime scene, Palafox has some great shopping options The Gallery Nights are hosted on one special Friday each month, where alleries, boutiques, restaurants, and bars open their doors to the night air as visitors and locals flood the streets to enjoy music, art and cuisine. Café tables set out on brick sidewalks are the perfect place to enjoy a coffee or cocktail.
Grab a Photo at Quietwater Beach – Take that Instagram worthy shot inside the clam shell at Quietwater Beach as you stroll along the Portofino Boardwalk.
Order a Bushwacker (the unofficial drink of Pensacola) at the Flora-Bama Yacht Club, an open-air roadhouse that straddles the Florida-Alabama border. This Gulf-front seafood and oyster shack has become a cultural landmark.
Fun with Dolphins – Sip something tasty while you take a three-hour tour around Pensacola Bay by boat, looking for dolphins and other wildlife against the backdrop of a sunset-hued sea and sky.
Head to Joe Patti's dockside market, carrying everything from gelato and prepared sandwiches to locally made artisanal products and imported goods like caviar and pâté, perfect  for a beachside picnic or you're stocking the fridge in your beach house.
No visit to Pensacola would be complete without a meal at The Fish House. Try their house special, their famous take on shrimp and grits, "Grits à Ya Ya".
Experience the best of Pensacola with a money-saving attraction pass that's good for three days of exploring, from fascinating museums to the wildlife of the Gulf Islands National Seashore. You'll have access to a hop-on, hop-off bus tour through the heart of Pensacola, discounts around the city, and admission to the National Naval Aviation Museum, Pensacola Lighthouse and Museum, Fort Barrancas, Fort Pickens, a dolphin-watching cruise, and more. This three-day Pensacola explorer pass is the perfect way to cut costs while discovering the 'City of Five Flags.'
'Seas Life' Beach Home
8 guests · 3 bedrooms · 5 beds · 2 baths
Seas Life is an elegant, ready to entertain house makes spending time with loved ones that much easier. With a little over 1500 square feet, it offers a HUGE wrap around deck with ample seating to enjoy the white sand and the Florida weather.
Pensacola Bch Penthouse
10 guests · 2 bedrooms · 2 beds · 3 baths
Sitting just a short walk from the sands of Pensacola Beach, this 2-bedroom, 2.5-bath penthouse vacation rental is a beachy escape! The living room features large windows with incredible ocean views, vaulted ceilings, a fully equipped kitchen
Share this Page with Your Friends!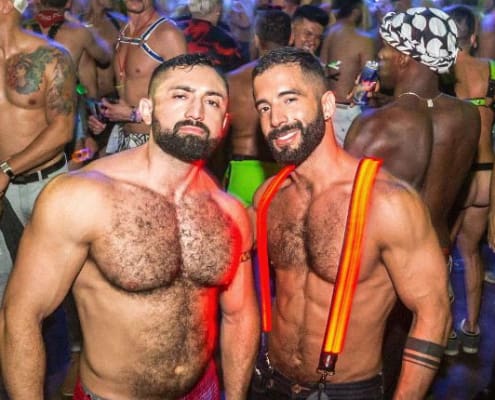 Enjoy a vibrant Gay Thanksgiving filled with festivities, from the snowy streets of PTown to the sun-kissed beaches of Puerto Vallarta!
https://www.gaytravel4u.com/wp-content/uploads/2023/10/The-top-gay-thanksgiving-parties-and-holidays-in-the-USA.jpg
430
1210
admin
https://www.gaytravel4u.com/wp-content/uploads/2014/10/logo-gt4u.png
admin
2023-10-15 18:33:38
2023-10-15 19:30:42
The Top Gay Thanksgiving Events in the USA