Gay Istanbul Guide
Gay Istanbul is one of the largest cities in the world with a population of 18 million. It is the economic, cultural and historical heart of Turkey; where Europe meets the Middle East.
Istanbul, a city that straddles Europe and Asia.
Istanbul stretches across two continents between the Bosphorous Strait; the tightly packed historical centre on the European side and the less visited but charming Asian side.
The home of the former Byzantine and Ottoman Empire, Istanbul is made for exploring. A former home to the Greeks, Persians, Romans, Venetians and Ottomans, Istanbul is perfect for exploring. Grand mosques, ancient markets and stunning palaces allow you to step back in time and experience the city's fascinating past.
Istanbul's gay scene by night is quite vibrant and the city is relatively tolerant compared to other Muslim countries. This is a country where hot Turkish guys have fun in "Spas" and not sex clubs and personal displays of affection are best done in private.
Gay Friendly Istanbul Hotels
The Istanbul hotel scene has exploded over the past decade with stunning new boutique hotels opening up across the city. We recommend you stay in the historic Fatih district,Beyoglu, close to the gay bars and tourists sites.
Situated in Beyoglu district, Soho House Istanbul features 3 original buildings including the Chancery and the Annex, a new Glass Building, and members' club 19th century Palazzo Corpi. The courtyard garden has a Cecconi's restaurant, and Cowshed Spa offers a gym and a traditional hammam.
The House Hotel Karakoy is located in the up-and-coming district of Karaköy on Bankalar Caddesi, the glory of Constantinople's financial district, great for exploring bohemian Beyoğlu and historic Sultanahmet.
Located in a majestic historical building in Galata, the heart of modern day Istanbul, this award-winning hotel offers guest rooms with spacious balconies, stunning views and personalised service.
Tomtom Suites, member of Small Luxury Hotels of the world, is located in a historic building in Istanbul's Galata district. Every room has a private spa bath, and there are Marmara Sea and Sultanahmet views from the roof top terrace.
Situated in Istanbul and with Galata Tower reachable within 100 metres, World House Boutique Hotel features express check-in and check-out, allergy-free rooms, a shared lounge, free WiFi throughout the property and a garden.
Located only 100 m from vibrant Istiklal Avenue, Room Mate Emir offers 4-star accommodation. Interior is designed by famous designer Lázaro Rosa Violán, creating a blend of avante-garde furnishings set in a classical building.
Istanbul Gay Scene & Districts Explored
Istanbul is over 50 times larger than Manhattan! That said, the city is comprised of distinct districts and neighbourhoods which make it easier to plan your visit.
The majority of Istanbul's gay bars and clubs can be found near Taksim Square and the Beyoglu district. Istikal Caddessi (known formerly as the Grande Rue de Pera) is lined with theatres and nightclubs and is the centre for arts, commerce and entertainment. The city's gay bars, clubs and cafes provide a cosmopolitan atmosphere that peaks after midnight.
Istanbul's most celebrated historical sites are located in Sultanahmet Square, including the Hagia Sophia, the Blue Mosque and the Basilica Cistern.
Karaköy is a lively colourful harbourside district with funky cafes, cocktail bars and cute family run stores. The area is home to some great boutiques and a vibrant art scene as well as some of the coolest hotels in Istanbul.
Cihangir has a more Greenwich Village vibe with great café terraces and lively locals.
Istanbul Gay Bars
Many of the café bars and clubs listed will not be on the ground floor. Many are located on the second, third or fourth floor! Also,  Do not get confused with Taksim and Beyoglu districts, when you see the venue addresses. The municipality is called Beyoglu , the historical Pera district. Taksim is the central neighborhood of Beyoglu.
Chianti Bar is open from 3pm and is on the second floor. A chill café by day the night brings karaoke and outdoor seating. Later on the party atmosphere takes over.
Chaplin Café and bar is a 10 minute walk from Taksim metro station and is located on the 3rd The bar is a great place to visit before you head on to party late.
Durak bar is located in the Aksaray district, about 5 km away from Taksim and offers local beer in a traditional setting. The bar gets busy after midnight and is busiest at weekends attracting bears and macho guys! Woof.
Rocinante Bar is an early evening bar from 22.00 to 01.00. Popular meeting point.
Liberta Cafe Bistro is a local gay favourite with great food and friendly English speaking bartenders.
Hetro but definitely worth a visit, head to the top of the Marmars Pera Hotel for bliss cocktails with 360° degree views and mellow DJ-spun tunes.
Reset Bar is a low key bar with full bar and snack menu.
Gay Clubs
Haspa is located close to Taksim Square with live music performances, gogos, karaoke and shows.
Love Dance Point is one of the most famous gay spots in Istanbul with Theme nights on Friday and great music, hot dancers and resident Djs.
Tekyon Club – one of our favourite venues open ever night complete with a busy open air garden. Paid entry during the weekend.
Recommended Restaurants in Istanbul
Istanbul cuisine is diverse and world renowned, a mix of cultures and flavours, paying tribute to its historic spice trade. Some of Istanbul's best luxury dining experiences are set on high rooftops, allowing visitors to revel in the city's inspiring views and warm weather.
Branching off Istiklal Avenue you will find a diverse and lively concentration of places to eat and drink. Cezayir Sokak is a narrow and pretty lane of cafes and restaurants. Nevizade Sokak is also home to some of our favourite eateries. The owners are warm and welcoming and staff are attentive, just be sure to tip!
Breakfast and Brunch
Great Lunch Options
Sunset Dining
Dine in style
Top things to See and do!
From Imposing mosques to mosaic laid churches,  bustling markets and Turkish taverns, the city has long been a mesmerizing destination.
The Blue Mosque, arguably Istanbul's most iconic sight, the Mosque has six stunning minarets and a huge courtyard. Built in the 17th century, the Mosque gets its name from the blue times surrounding the interior walls. Explore this and other monuments in the Secrets of Istanbul Tour.
Havia Sophia, located across from the Blue Mosque was constructed in the 6th century by the Emperor Justinian. Originally a church it was converted to a mosque in the fourteen hundreds. Today it is a museum and a house of worship.
The Grand Bazaar is one of the largest covered markets in the world with more than 4000 souks selling everything from carpets to jewelry, clothing to leather ware. Be sure to haggle for the best price, all part of the shopping experience. Explore the Baazr and Istanbul Old Town with a guided tour
Topkapi Palace is a complex of buildings, pavilions and courtyards and was a former home to the Ottoman Sultans. It has some beautiful terraced gardens and great views over the Golden Horn.
Visit the Teşvikiye neighbourhood. Its relaxed atmosphere and Parisian vibe welcomes artists and photographers as well as after-work Istanbulites for cocktails and conversation.
Take a ferry to the Princes' Islands and visit the islands of Burgazada and Büyükada where you will find great beaches and hidden coves. (best during the warmer months.)
Head to Üsküdar where you will find Kiz Kulesi – The Maiden's Tower) a 30-meter-high structure overlooking the island's charming old mosques and timeworn timber houses all among a maze of winding lanes.
Explore the best of Turkish cuisine with a multi-ethnic food tour complete with a shopping trip to the oldest markets. Enjoy your dishes with some local raki or some great Turkish wine.
Discover the local street art with iconic murals produced as part of the annual Mural Istanbul Festival. Look out for the iconic panda bear by local artist Leo Lunatic.
Retreat to the Belgrad Forest, an oasis of green and calm in the city, covering over 1,300 acres with walking trails, ponds and monuments.
Pay a visit to a çay bahçesis (or tea garden) in the relaxed Arnavutköy district with its beautiful Bosphorus views and waterfront mansions.
Get your Instagram "I was here" photo at the Rainbow steps. This rainbow-colored urban staircase is part of a citywide guerrilla street art project and is located in the Beyoğlu district.
While shopping and hagling with the merchants in the Grand Baazar is great fun and highly recommended, don't foreget to explore Istanbul's many other shopping districts.
Serdar-ı Ekrem, a tiny cobblestone street near the historic Galata Tower full of hip boutiques, great cafes and cocktails.
Çukurcuma Caddesi, the main neighbourhood for antique hunting with neoclassical houses and the Meuseum of Innocence.
İstiklal Caddesi, the main thoroughfare with high street shops and brand name boutiques. Look out for the small pasaj (arcades), on the side streets. Visit Beyoğlu Balık Pazarı (open-air market) for some top notch food shopping.
Abdi İpekçi Caddesi, Istanbul's luxury neighbourhood with brands such as Prada, Louis Vuitton and Gucci.
From the Airport:
Istanbul's new "Istanbul Airport" is the city's new hub replacing Ataturk Airport and is located 25 miles (40km) northwest of Istanbul by the black sea.
Taxis can be expensive and traffic in Istanbul is notorious so be prepared for a longer than normal journey at peak traffic times.
Havaist is the airport shuttle bus and with many drop off points in the centre of Istanbul. You can also book a private shuttle service in advance with a fixed rate.
Sabiha Gokcen, is the hub for many low cost carriers and is located on the Asian side of Istanbul. Again, it can take over an hour to 90 minutes to get to Taksim at peak traffic times.
Getting around the city:
Taxis
Taxi's are plentiful and reasonably cheap and are the best way to get around the city outside of peak traffic times. You can use the BiTakxi app to hail a cab.
Ferry
A journey across the Bosphorous is ideally made via the vapur (or ferry). You can catch the sights of the city on your crossing and avoid the traffic on the bridge. There are three main ferry stations on the European side.
Metro
A great way to get around the city, the Istanbul metro is home to the second oldest rail line in the world. Most of the major neighbourhoods on the European side are well connected.
Metrobus
The metro buses have their own lanes, so getting around the city on one is quite fast. Buses get very packed with many stops but can get you from one side of the city to the other faster than any other means of transport.
The Istanbulkart is good for stays of several days using public transport, a plastic card charged with fares good for use on buses, trams, suburban trains, metro, and local ferries.
Istanbul – When to visit?
Peak season in Istanbul is during Summer (June to October) when temperatures average in the high twenties! Hotels are more expensive and the streets are crowded with visitors. The shoulder seasons of March to May and September to November are more relaxed and it is easier to get around this sprawling metropolis.
Penthouse Suite
3 guests
1 bedroom 2 beds 1 bath
Penthouse suite in one of the oldest residential buildings in the city centre, an exemplary street reflecting the late 19th century Istanbul. 10 minutes walking distance to Galata Tower, 3 minutes Istanbul Museum of Modern Art and easy public transport( 1 min.metro station)
Boutique House by Tao
7 guests
3 bedrooms 4 beds 2 baths
Your spacious bright high ceiling 5 story home away from home! This newly designed historical greek home is in the heart of the UNESCO World Heritage Sight in the most authentic neighborhood! This 4 bed/3 bathroom home is located in the heart of Balat close to the coastal line…..
Share this Page with Your Friends!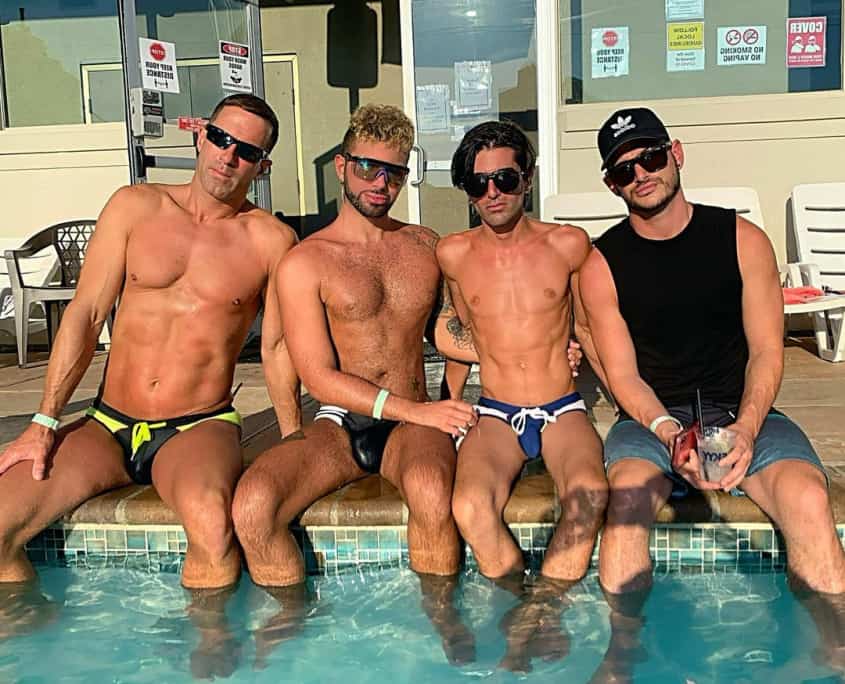 Gay Asbury Park is a vibrant city located along the Jersey Shore. Explore the best bars, hotels, restaurants and things to see and do.
https://www.gaytravel4u.com/wp-content/uploads/2021/02/empress-asbury-hotel.jpg
905
1080
admin
https://www.gaytravel4u.com/wp-content/uploads/2014/10/logo-gt4u.png
admin
2021-02-06 17:40:47
2021-04-03 16:19:55
Asbury Park Gay Guide