Gay Ibiza Guide
Gay Ibiza's reputation as a beach party island is almost mythical! With stunning sand beaches and legendary nightlife the reputation is well-deserved. But the Island also has a tranquil and sophisticated side satisfying those seeking a more relaxed gay holiday escape.
Ibiza, Europe's Summer beach playground.
From the historic city walls of the old town and incredible annual events to the uber cool hotels and delicious cuisine, discover more with our insider Ibiza gay guide.
Ibiza is one of 4 Balearic Islands in the Mediterranean, 50 miles from the coast of Spain. "La Isla Blanca" has been welcoming gay visitors for decades with a welcoming gay scene.
Ibiza's old town is home to the best gay bars on the Island.
Getting around Gay Ibiza
Ibiza is a small island, however the main towns are spread out from each other. If you want to explore beyond where you are staying, then we recommend you hire a car or scooter.  The towns themselves are easy to walk around. If you don't want to rent a car, a taxi is your next best option. It costs around EUR 30 to get from one town to the next.
The gay district of Ibiza
Most of the gay bars in Ibiza are located in Ibiza town. A United Nations World Heritage Site, Ibiza's Old Town retains its medieval city walls and is home to most of the best sights and attractions on the Island. Ibiza town is the most convenient place to stay.
Large parts of the island are protected from development, so if you need to get away from the crowds there are always places to enjoy eye-popping vistas in solitude.
Consider staying in Santa Eulàlia a charming resort town popular with locals and discerning visitors. Santa Eulàlia is home to some of the best hotels on the Island and has a charming promenade with great restaurants. The old town is approximately 20 minutes' drive from Santa Eulàlia
20 minutes west of Ibiza town is San Antonio, the Island's second busiest town with several gay adults-only hotels. There is no night-time gay scene in San Antonio, however the town is home to some of the most famous bars in the world, with sunset views to remember.
Recommended Ibiza Hotels – Ibiza Old Town
Most of the gay bars and restaurants are located in Ibiza old town. The old town is the most convenient place to stay and makes a good base for exploring the rest of the island.
4 Star – THB Los Molinos is located on the beachfront in Ibiza. It has a sauna, fitness centre and hot tub, and offers air-conditioned rooms with a balcony,  satellite TV and minibar. Adults Only.
4 Star – Royal Plaza has an ideal setting just 200 m from Ibiza Town's harbour. It features a spa and a rooftop swimming pool with views of the city, the cathedral,  and the Mediterranean Sea.
4 Star Aparthotel – Set on the beachfront and situated in Ibiza Town, Sud Ibiza Suites features a terrace with seasonal solarium,  jacuzzi, views of the sea, and a 24-hour reception.
Santa Eulàlia
Santa Eulàlia, just 20 minutes from Ibiza town has a charming promenade with great restaurants, beautiful beaches and resort style hotels. Relax during the day and head to Ibiza town for evenings of cocktails and fun.
5 Star Aguas de Ibiza Grand Luxe Hotel is a luxury design hotel with a free spa and outdoor pool. The rooftop bar-terrace offers views of Santa Eulalia Marina and the island of Formentera.
5 Star – Situated next to the infamous Nikki Beach, ME Ibiza is a sprawling, white-hued haven of chic ultra-modernity. The space consists of 205 rooms, three pool areas and indulgent spa treatments.
Set on an orange grove in the Ibizan countryside, this beautiful rural hotel features a small outdoor swimming pool and small spa. It offers free buffet breakfast.
Most of the gay bars, restaurants and cafes can be found in the town of Ibiza, between Carrer de la Mare de Déu (Calle de la Virgen in Castillian) in the portside Sa Penya, and in the Dalt Vila area.
Ibiza Town (Eivissa) has a compact Old Town (Dalt Vila) that is perfect for strolling. The town is packed with bars and clubs with outdoor terraces buzzing on sultry summer evenings. Gays and straights mix with ease.
Figueretas Beach, to the west, has several hotels and restaurants. Almost all the businesses in the district are gay-friendly.
Gay Bars in the Old Town
Ibiza Gay Clubs
The area around Sant Rafel (San Rafael), at island center, between Eivissa and Sant Antoni, is home to big clubs with gay parties, Amnesia, Privilege.On a Wednesday, it's La TROYA @ Heart Ibiza where the gay boys party.
Ibiza Town, Santa Eulàlia and other villages dotted across the island offer a unique culinary experience.
Breakfast & Coffee
Recommended Restaurants
Beach Clubs
Cabaret Dinner Shows
Ibiza has over 80 different beaches spread out across the island. Many offer full-service, beach clubs and fine dining. Others offer a party atmosphere or you can search for a tranquil space to relax, the choices are almost infinite.
The official gay beach in biza is Es Cavallet. Platja d'es Cavallet, a naturalist, clothing optional beach is surrounded  by unspoiled sand dunes, just 10 minutes' drive south of Platja d'en Bossa past the airport.
The beach has a busy gay scene at the far end, with several nearby Chiringuito-style beach restaurants. Chiringay, just behind the gay area, along with El Chiringuito are well known and are located between the dunes and the sea for drinks, tapas, burgers, pasta and fish.
Enjoy the drive to and from Es Cavallet. The road takes you through the Sea Salines salt flats and nature reserve, where many see flamingos. The Experimental Beach Restaurant is on the other side of the Ses Salines National Park. Highly recommended for lunch.
Figueretas Beach, the city beach on the south side of Eivissa, surrounded by hotels, restaurants, bars, and shops, with a palm-fringed promenade which comes alive in the evenings, as visitors leave the beach, and locals arrive to cool off and relax. Figueretas is, popular among gays thanks to nearby Chaos gay bar and the Cenit hotel.
Platja (or playa) d'en Bossa, a long stretch of beach with bars and beach lounges and shops in Sant Josep de Talaià just south of Eivissa, varying from the super trendy to casual and laid back.
Las Salinas Beach is located on Ibiza's southern tip. The beach is full of trendy beach clubs. Further down the bay you will find the nudist beach and further still some small coves for those seeking a total escape.
Cala Jondal (Platja d'es Jondal) is further down the coast from las Salinas. Home to the rich and the beautiful, here you will find several high end restaurants and beach clubs.
For ultimate seclusion, however, you might consider the rather more hard-to-reach Aguas Blancas.
Ibiza Gay pride normally takes place over 5 days, normally during mid June.
The pride festivities include drag shows, world famous DJs, musical performances, film previews, theater and street parties. Mot of the events take place in Ibiza Town, in the port area. The town's gay street "Calle de la Virgen" bustles with locals and international visitors.
Lola's club is one of the busiest spots during Ibiza Gay Pride and hosts several themed parties.
The main pride parade, know as the Great march for LGTBQI rights is held on the final day of the event from 7pm, followed by an after party in the port.
Other Festivals in Ibiza
Other festivals worth noting include the Ibiza Light Festival in October. Stunning light installations are positioned across the old town, transforming the entire look of Ibiza Town.
Other traditional festivals take place during important public holidays, including Semana Santa (Easter), Nit de Sant Joan (June 23), Dia de Verge de Carmen (July 15-16), and Festa de Sant Jaume (July 25)
Gay Ibiza What to see and do!
The town of Ibiza is about more than just partying and offers a well-rounded cultural experience and riveting architecture, including the fortress area and cobbled streets of Dalt Vila, a UNESCO World Heritage Site. Yachts, speedboats, and sailboats are all part of the Ibiza experience; and they're the best way to visit the many caves and bays on the coastline.
Walk Along the Ramparts of Dalt Vila – Ibiza Town, is one Ibiza's most picturesque cities, which is home to an old port and historic city ramparts.
Island-Hop To Formentera – Home to Caribbean-style beaches, small coves and inlets, and charming villages, definitely worth a day trip.
The Western Inlets offering miles of sandy shoreline. There are ten inlets in total but top offerings include Cala d'Hort, Cap Llentrisca I Sa Talaia Natural Park Visit Es Vedrà for that Instagram moment – Part of a protected nature reserve, it measures around 400 meters in height. Quite impressive.
Go shopping at Punta Arabí, the largest hippie market on the island.
Take the hidden tour of Ibiza – go snorkeling, cliff jumping, discover the best cocktails and enjoy a tapas dinner with great sunset views.
Relax on a Catamaran –  Spend a relaxing day away from the crowds onboard a private catamaran during this full-day, guided cruise to Cala Bassa.
 Cala Compte – quite possibly the best spot on the island to catch the spectacular and colorful sunsets.
Hire a luxury yacht  A unique trip where you can enjoy 6 top water-sports! Reserve in advance, very popular.
Gay Ibiza – When to visit?
Shoulder Season (April through mid-June and mid-September through October): Late spring and early Autumn are ideal times to visit Ibiza to avoid the island's biggest crowds and hottest temperatures. … Winter in Ibiza is fairly mild, with high temperatures of 20°C.
Eivissa Apartment
2 Bedrooms
The apartment is perfectly located, next to the marina and the old part of the city making it perfect for exploring Ibiza, close to all the bars clubs and restaurants, so everything you need right outside your door
With wonderful views of the sea, this apartment located in the famous Port of Ibiza is perfect for a couple or a small group of friends. By being in the heart of the Ibiza, there are many restaurants, clubs, close by
Beyond Ibiza, A trip to Formentera
When you need a break from the party scene in Ibiza, head to Ibiza's chilled out little brother, Formentera for an off-grid escape. Pristine beaches and turquoise blue waters await!
How to get to Formentera?
Take  the ferry boat from the port at Ibiza Old Town which goes to Formentera in around 30 minutes.  (Return ticket – approx. 45 euros) Almost very road leads to a stretch of bleached-white sands with pristine waters that glow with deep hues of azure and luminous turquoise that don't quite seem real.
Where to Stay?
Hotel Es Marès – 4 Star – Located in the old part of Sant Francesc, this family-run hotel features designer accommodation with a free buffet breakfast and free Wi-Fi. It offers free on-site parking and free bicycles.
What to see and do.
Visit to the Cap de Barbaria Lighthouse for world-class sunsets.
Illetes Beach, one of Europe's best beaches is a world away from Ibiza. Relax and enjoy the simpler things here.
When you have had enough of relaxing, head to  Beso Beach, the place to go for strong cocktails, live DJs and day-long liquid lunches.
Ibiza Gay Hotels
The two most famous gay hotels on the Island are located in the town of San Antonio, a 20 minute drive from Ibiza town.
4 Star Set on the beachfront at San Antonio Beach, AxelBeach Ibiza is an adults only hotel featuring 2 outdoor pools, a free spa and a gym with sea views.
3 Star The Purple Hotel – Gay Only boasts an outdoor pool and sun terrace in Sant Antonio. Cafe del Mar and Mambo are 7 minutes away.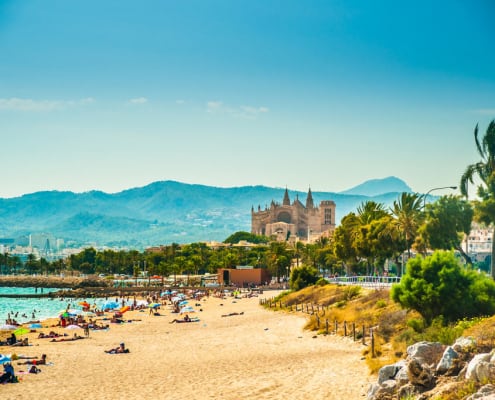 From the tall palm trees that line the waterfront to the character of the Old town with its Moorish architecture, discover Gay Mallorca and the city of Palma.
https://www.gaytravel4u.com/wp-content/uploads/2020/06/gay-guide-to-palma-mallorca.jpg
683
1024
admin
https://www.gaytravel4u.com/wp-content/uploads/2014/10/logo-gt4u.png
admin
2020-06-13 18:31:23
2020-06-13 18:37:25
Gay Mallorca Guide