Gay Brussels Guide
Gay Brussels takes pride in being one of the most friendly capitals of Europe.Take a rapid ride at the quasi-futuristic Atomium. Follow in the footsteps of perennial comic book twink Tintin! Or feast on Art Nouveau architecture of Victor Horta! Your choices are endless!
Brussels is a compact city and easy to navigate with stunning Art Nouveau and Art Deco architecture.
Gay Brussels is a city full of fun. There is a surprise around every corner; from its cartoon murals to its peeing statues!
The capital of Belgium and home to the parliament of 500 million Europeans., Brussels offers a truly international taste of gay life!
Compact yet cosmopolitan, Brussels has a diverse gay scene. It caters to everyone from twinks to fetish lovers! The city's architecture is stunning; a unique mix of Gothic and Art Nouveau. Gay Brussels is also home to some of the world's most famous caricatures, from Tin Tin to the Smurfs!
Brussels is a metropolis with a personal touch, internationally renowned for its conviviality. It's a global and proudly multicultural city, both historical and modern; a meeting point of North and South. Differences are maintained, yet meld together harmoniously.
Brussels is home to the legendary La Demence Party.
The Gay Scene in Brussels
Most of Brussels' gay bars, clubs, saunas and shops are located in the city centre, specifically around the Saint Jacuqes district. Its scene is true to the city's image: discreet, varied, warm and friendly.
Most of the gay bars are found along and around the street Rue du Marché au Charbon, also known as Kolenmarkt. Brussels and its street names are bilingual, French and Flemish.
The gay bars can get very crowded during weekends and holidays. People party on the streets of the gay district, late into the evening. Saint Jacuqes is fun and welcoming. It is a great place to meet new friends.
Brussels throws epic circuit parties throughout the year during public holidays and Summer weekends. It also hosts great gay music and art festivals .
There is something for everyone, from hipsters at Le Fontainas to drag shows at Chez Maman to bears and admirers at Le Baroque
Getting Around Gay Brussels
You can't miss the gay district which is centered around Rue du Marché au Charbon and it's wonderful mural.
Brussels is a compact city, and most of the sights are within walking distance of each other. Alternatively, underground trains, trams, buses, and taxis are easy to find,. They offer inexpensive day and night services.
Many of the tourist attractions are concentrated at the center, in a few of the city's 19 municipalities: Brussels-City, Ixelles, Saint-Gilles, Schaerbeek and Koekelberg.
The Brussels Card is your entrance ticket to over 30 museums in Brussels. From chocolate to comic strips, there is a museum to suit. The standout among a number of world-class museums and galleries is the Musée Magritte – 
a tribute to Belgian surrealist master René Magritte.
Along with free entrance, you can also use your Brussels Card to enjoy discounts in selected shops and restaurants across the city.
Where to stay in Gay Brussels? Hotel Options
Brussels is a compact city. If you stay in the center then your hotel will be within easy reach of the gay district.
Everything gay is just moments away from the world famous Gran palace. Hotels in the centre fill up fast, so with this in mind you should book well in advance.
Stay close to Fuse Club, the home of La Demence, at The Pullman Hotel, a nearby 10 minute walk from the club.
Forte Hotel Amigo, 5 Star Luxury Option
Elegant rooms with designer features, on the corner of Grand Place with an award-winning restaurant in a picturesque historic setting.
Brussels – Grand Place
5 Star Readers Choice
2-minute walk from the Grand-Place and Brussels Central Station. It features free access to the fitness centre and sauna and close to the bars.
Hotel Grand Place
4 Star Perfect Location
The Brussels Marriott Hotel is only 50 m from Bourse Metro Station. Rue Neuve shopping street can be found 850 m from the hotel.
Brussels Gay Bars
Cruise Bars
Our top tip!
Brussels Gay Clubs
Gay Saunas in Brussels get busy during the after-work period and late at night during weekends when the bars close! They are also very busy as "After Party" venues, when the big circuit events finish in the early hours of the morning.
Macho Sauna – located in the historic center of Brussels, in the heart of the gay district, next to the prestigious Grand Place,
Oasis Sauna -This elegant gay sauna decorated in the French baroque style offers a dry sauna, Jacuzzi, video room, private cabins,
Sauna La Griffe -Popular with a more mature crowd and their friends, Sauna La Griffe has all the necessary equipment to offer you a nice relaxing time
Club 3000- the biggest gay sauna in Brussels, spread over 6 floors and accessible by elevator
A Chocoholic's Paradise.
One of Belgium's most sought-after chocolatiers is an Australian. Paul Stevenson, who grew 
up in Queensland, is 
the two-time Belgian Chocolate Master. Sample his wares by dropping into his place of work – the Le Saint-Aulaye patisserie.
Chocolate is undoubtedly the best-known and most-exported gourmet product. Neatly arranged in ballotin boxes, pralines (invented in Brussels) are true jewels. World-renowned chocolatiers like Frédéric Blondeel, Godiva, Laurent Gerbaud, Mary, Neuhaus, Pierre Marcolini and Wittamer have stores in the Galeries de la Reine, around the Sablon and elsewhere.
Several places, such as Belgian Chocolate Village and Choco-Story Brussels, are devoted to the discovery of chocolate.
Belgian Beer
Beer is the favourite beverage of Brussels citizens and its visitors. From casks or bottles, it flows by the gallon. It may be natural or perfumed, simple or sophisticated.
Today, several well-known brewers continue to produce in the region: Brasserie Cantillon is known all over the world. Brasserie de la Senne, the Brussels Beer Project and En Stoemelings are all worth sampling.
Every year, during Beer Weekend, the Grand-Place and its surrounding area are the scene of tastings of the best of Belgian beer.
Belgian Fries
Frites stalls, also called friteries, or fritkots in Brussels parlance, fill street corners, squares and fairs with their delicious smell. There are some stand-out stalls such as the friteries on the Place Jourdan, the Place Flagey and the Place de la Chapelle.
Noordzee/Mer Du Nord is a kind of street food stall, almost-deli, somewhat al-fresco restaurant that specialises in small plates of seafood. Dishes are cooked to order, served with fresh bread, side salad and simple glasses of wine.
Customers descend upon two counters surrounding the fish shop for hot and cold plates of exceptionally cooked seafood. The restaurant is always busy, but highly recommended by both locals and visitors.
Rue Dansaert is a top destination for shoppers that are looking for boutiques hosted by Belgian designers and top level retail shops.
Just a stone's throw away from the gay district, head for Rue Dansaert and its adjacent al­leyways. A focal point for fashion and design, the Dansaert neighbourhood is a must-see destination, an inspiring tour of the many facets of Belgium's rich and original artistic talent.
Uptown Brussels and its heeled-up streets and alleyways makes you feel equally welcome. Avenue Louise and Place du Châtelain spoil you with the very best Brussels has to offer: upmarket, prestige and luxury brands galore.
In the prestigious setting of the Etangs d'Ixelles, the rather bohemian bourgeois Flagey neighbou­rhood is a hotbed of diversity that resonates with the tempo of a location brimming with life. Trendy restau­rants and bars offer relaxation, bonhomie and global gourmet cuisine, all within a remarkable architectural setting.
A short distance away, in the European district, Place du Luxembourg, a favourite after-hours haunt for young expats, is calling. Thursday night sees the square rammed with a cosmopolitan and cheerful crowd.
What to See and Do in Gay Brussels?
Follow in the footsteps of perennial comic book twink Tintin of feast on Art Nouveau architecture of Victor Horta. Brussels is a treasure trove of things to do!
Take a rapid ride at the quasi-futuristic Atomium.
Brussels grandest display of this optimism is the city's towering Atomium, looming large over parts of the skyline.
The Atomium is a shiny, aluminum, sci-fi wet dream come to life. Composed of nine spheres connected by shafts and held up by girders, it's the atomic shape of an iron crystal blown up 165 billion times.
The display was built for the 1958 World's Fair in the spirit of a peaceful atomic age. It was to represent an "optimistic vision of the future of a modern, new, super-technological world for a better life for mankind."
Expected to be torn down at the end of the exposition, people liked it so much, it remained. It has become a favourite of locals and tourists alike. At the top of the building is a restaurant with a 360-degree view of the city.
Comic Book Central
Brussels is the comic-book capital of the world. There are comic-book shops seemingly around every turn, and it's hard not to put a queer spin on Belgium's comic-strip exports, from preppy boy Tintin to ginger hero Spirou,to the Smurfs' fraternal (and perpetually shirtless) mushroom village, with drag queen Smurfette!
Comic murals and giant statues are dotted across the city. Don't miss the Comic Strip Center, both for the content and the beautifully restored Horta building, housing a collection of artwork and life-sized statues. And, if you're a Tintin fan, the Hergé Museum is a short train ride from Brussels.
Dining on a Tram
The city has transformed one of its trams into a gourmet delight. The Tram Experience was a hit of Brusselicious, and now it's back with Michelin-starred chefs from across the city. The jerkiness of the tram takes a bit of getting used to, but this eases off by the first course.
Statues Everywhere
The city's most iconic statues are a playful reflection of the people's irreverent spirit. The centuries-old Manneken Pis (literally "little man pee") draws huge crowds of tourists to the corner of Rue de l'Étuve and Rue du Chêne (a couple minutes' walk from the Grand Place).
There are also two lesser-known peeing statues. One is of a little girl, Jeanneke Pis, erected in 1987 at the dead end of Impasse de la Fidelité,. The other is the peeing dog, Zinneke Pis, erected in the late 1990s. It is a must-visit for dog lovers!
Architectural Gems
Don't forget to look around and take in the stunning architecture of the city. Numerous examples of Art Deco and Art Nouveau  architecture are open to the public all over town today, including the Maison Autrique, the Fine Arts Museum (Palais des Beaux Arts), the David and Alice Van Buuren Museum and Gardens, and the Villa Empain. Take the hop on, hop off tour bus to see all the sights.
Combine luxury shopping and dining by searching for the best food to bring home! Chocolate anyone?
The Dansaert district is the size of a pocket handkerchief, but it is brimming over with creativity, originality and unusual places. In the rue des Chartreux, you must stop for a snack at the A.M. Sweet tea shop or a gourmet break at the Café Greenwich, a magnificent Art Nouveau brasserie where René Magritte was once a regular.
For contemporary menswear with a twist, head straight for Rue des Chartreux, where there are three great options: Hunting and Collecting, Blender 01 and Bellerose. Nearby Rue Antoine Dansaert is another bastion of cool, with boutiques such as Stijl showcasing Belgian greats like Raf Simons and Dries Van Noten.
In Marolles, the oldest working-class district in Brussels, you will find a thousand and one treasures. In the heart of the neighbourhood, on the unmissable Place du Jeu de Balle, there is a flea market every day of the week from 6 am to 2 pm. You can stroll among the many stalls in a cosmopolitan, convivial atmosphere.
The upper part of the city, once a bourgeois stronghold, has almost naturally become a classy shopping area. Paris has its Champs Elysées, New York has its Fifth Avenue, and Brussels has its Avenue Louise and Boulevard de Waterloo. Avenue Louise and Galerie Louise, Boulevard de Waterloo, Rue de Namour, Avenue de la Toision d'Or and the neighbouring streets are a veritable kaleidoscope of shopping
Brussels gets more than its fair share of rain (on average around 200 days a year) and is generally damp, making winter visits feel somewhat chilly. Seasonal events such as the Christmas Market Summer are festive! To experience Brussels at its gayest, come for Pride week in mid May. For circuit party lovers, time your visit around one of the big La Demence parties. You sure won't be worried about what the weather outside is when you're partying.
Share this Page with Your Friends!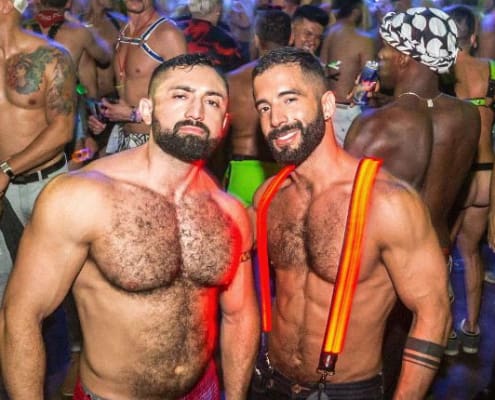 Enjoy a vibrant Gay Thanksgiving filled with festivities, from the snowy streets of PTown to the sun-kissed beaches of Puerto Vallarta!
https://www.gaytravel4u.com/wp-content/uploads/2023/10/The-top-gay-thanksgiving-parties-and-holidays-in-the-USA.jpg
430
1210
admin
https://www.gaytravel4u.com/wp-content/uploads/2014/10/logo-gt4u.png
admin
2023-10-15 18:33:38
2023-10-15 19:30:42
The Top Gay Thanksgiving Events in the USA