Rosa Kaiser Wiesn Vienna 2024
Rosa Wiesn is now known as Kaiser Wiesn and is held during the Wiener Wiesn-Fest in the Prater in Vienna.
From: Awaiting dates
To: Awaiting dates

Brass music band
Ice cold beer
Traditional Ferris wheel
Food stands
Traditional local dishes
Live performances
Rosa Kaiser Wiesn Vienna 2024 Dust off your lederhosen
The Rosa Kaiser Wiesn and the Rosa Wiesn Frühschoppen have become highlights of the LGBT party calendar in Vienna. So time to upback your lederhosen and head off to the weirdest party of the Vienna Oktoberfest!

Stay close to Vienna Oktoberfest celebrations at the Der Wilhelmshof Hotel, rated "Fabulous" by guests, featuring spacious and stylish rooms in a great location.

The Party

The Rosa Kaiser Wiesn Party is the opening party of the Vienna Oktoberfest in late September to Early October. And with the Kaiser Wiesn Frühschoppen as the closing event!
Take a spin on the transitional Ferris wheel and then walk your dizzy self over to one of the many food stands on site for an ice cold beer and some delicious traditional local dishes.
Make sure you check out some of the live performances on stage each night. Highlights of the event include the famous coronation of the Kaiser Wiesn Emperor and Empress.
Rosa Kaiser Wiesn takes place during Vienna's annual fair, Kaiser Wiesn (21 September – 8 October 2023).
Stay close to the gay bars and take a short taxi to the party at Hotel The Weekend, rated "Fabulous" by guests with hip designer rooms and highly-rated breakfasts.

The Venue

Rosa Kaiser Wiesn takes place in WOJNAR'S Kaiserzelt at "Prater", an amusement park and the location of the Giant Ferris Wheel, one of Vienna's most famous symbols.
About 250 attractions entertain you at the Vienna Prater, from autodrome rinks to ball toss and shooting booths, exciting roller coasters and ghost trains to flight simulators.
Vienna Prater is a 15 minute drive from the gay bars in the Naschmarkt.

Where to stay in Gay Vienna?

The Vienna gay area is quite compact and easy to get around. The following hotels are close to all the city's top attractions:

Hotel Beethoven,     Hotel Das Tyrol,     Hotel Kaiserhof ,     Hotel Erzherzog Rainer,     Hotel Savoy Garni.

If you want more information on Vienna take a look at our Vienna gay guide
Gay Map of Vienna
Wienzeile ('Vienna Row') is a street that runs through the city along the Vienna River. It is divided into Rechte (right) Wienzeile and the Linke (left) Wienzeile. Many gay bars and venues are located along both sides of Wienzeile.
Recommended Hotels in Vienna By Booking
Book with confidence. Get the best Prices from our partner Booking.com
We have chosen hotels in Vienna that keep you close to all the shops,restaurants & bars
Top Gay Neighbourhoods in Vienna
Vienna, the capital of Austria, has a rich cultural history and a diverse, open-minded atmosphere. Vienna hosts various LGBTQ+ events and festivals throughout the year. One major event is Vienna Pride, which includes a colorful parade and various cultural activities. This celebration promotes visibility, acceptance, and equality for the LGBTQ+ community.
Naschmarkt District | Close to the city centre
Photo: Kettenbrückengasse is home to some of Vienna's most popular gay bars
The Naschmarkt area has a lively atmosphere, diverse culinary scene, and several gay and gay-friendly venues.
Kettenbrückengasse street in quite popular, famous for its gay friendly environment.
The street is home to several gay bars, cafes, and clubs.
It is a hub for socializing and comes alive at from early evening to late at night, especially on weekends.
The Mariahilf district, along Gumpendorfer Strasse, is home to an eclectic mix of shops, cafes, and bars. Also great for shopping.
Near the city center, Schwedenplatz is a popular area with bars & clubs, some catering to the gay community. It's known for its nightlife close to the Danube Canal.
This street runs along the southern edge of the city center & includes the famous Naschmarkt, home to several gay cafes and bars.
This district has an hip, artistic & bohemian vibe. While not exclusively gay, it has a welcoming area with a mix of bars and cafes that cater to a diverse clientele.
Other Events in September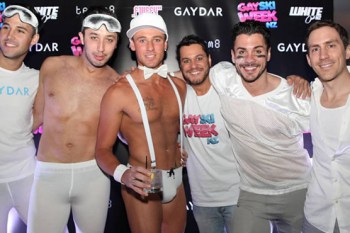 From: Aug. 23.2024 - To: Sep. 01.2024
The Winter Pride Week festival in Queenstown, New Zealand is an annual pilgramage for thousands of Gay & Lesbian travellers,
https://www.gaytravel4u.com/wp-content/uploads/2016/08/Gay-Ski-Week-New-Zealand-4.jpg
370
800
Andrew Stevens
https://www.gaytravel4u.com/wp-content/uploads/2014/10/logo-gt4u.png
Andrew Stevens
2016-08-09 16:12:22
2023-09-06 13:05:37
Winter Pride New Zealand
Latest Gay Travel News
Discover the best of Vienna's LGBTQ+ scene with our comprehensive gay guide. Explore popular gay bars, welcoming restaurants, and cozy hotels in the heart of the city.

The Top Gay Winter Sun Destinations. From the beaches of Sydney to the desert oasis of Palm Springs, Miami Pool parties and more!

Gay Rio Guide, Discover the top gay bars, clubs, hotels and things to see and do in Rio. Plus full event calendar.
Trending Events & Articles
Here are the most popular events searched for and viewed by our readers over the past 7 days: