Gay Asbury Park Guide
Explore Gay Asbury park, a city that has undergone a gay renaissance over the past decade. Discover wonderful gay beaches, new luxury hotels and great gay pool parties just a short ride from New York. The Jersey boys await.
Enjoying cocktails at the Empress Hotel gay pool party in Asbury Park.
Gay Asbury Park is a 1.6-square-mile city located along the Jersey Shore. The city has been attracting an increasing number of LGBT homeowners and beachgoers since the '50s, when New Yorkers started purchasing and restoring Victorian homes, leading to the city's rejuvenation.
Over the past decade, Asbury Park's LGBT scene has undergone something of another renaissance. The town's faded Victorian houses have been brought back to life and LGBT visitors are flocking to its wonderful gay beaches.
Just 60 miles south of New York City, (a two-hour train ride from Penn Station) Asbury Park's comes to life at the start of the Summer with visitors from the New York metro area and beyond,looking to escape the city heat.
By mid Summer the mile-long boardwalk of Asbury Park is bustling  with activity. Pride parades, festivals and fireworks are all part of the fabric of the town. Book your stay well in advance for Pride in June and Independence Weekend in July.
The local gay community are very active and residents are very friendly. Rainbow flags are everywhere throughout the seasons and not just for Jersey Pride. This is a beach destination that truly embraces diversity.
Where to stay in Gay Asbury Park?
Gay Asbury Park is most vibrant during the spring and summer seasons, but you'll find a significant amount of active gay locals all year round
The Asbury Hotel is in Asbury Park, 300 m from Asbury Park Boardwalk and the beach.The hotel has a seasonal outdoor pool and rooftop bar with views of the sea.
Asbury Ocean Club features a restaurant, seasonal outdoor swimming pool, a fitness centre and bar in Asbury Park. With a garden, the 5-star hotel has air-conditioned rooms with free WiFi, each with a private bathroom.
The Empress Hotel is on the waterfront, steps away from the beach. It features a large pool with a sun-lounger terrace. It is also home to Paradise.  Paradise at the Empress Hotel is a popular hangout, and boasts a pool, tiki bar and dance floor with top-notch DJs most summer nights and super crowded dance parties every Saturday all-year long.
Getting to Gay Asbury Park
By Car
Most visitors drive down the Garden State Parkway to Asbury Park from surrounding counties, as it's just 60 miles south of New York City. There are also frequent trains and buses to get you in and out: see NJTransit for trains and Academy Bus.
By Train
Alternatively Catch a North Jersey Coast Line train toward Bayhead. Get off at Asbury Park (about an hour and 45 minutes total.)
When to visit Gay Asbury Park?
The beaches of Asbury Park are at their busiest during Summer,  between Memorial and Labor Day Weekends.
Gay Asbury Park is most vibrant during the spring and summer seasons, but you'll find a significant amount of active gay locals all year round
5th Avenue Beach
The "gay" section of the beach is just steps away from the 5th Avenue boardwalk entrance, just south of Convention Hall. The sand between 4th and 5th Avenues at Convention Hall has become an unofficial gay gathering place.
The gay beach is close to the the mile-long boardwalk attractions with great boutique stores and restaurants.
There is a charge of $5 Monday-Friday, and weekends and holidays are $7 per day for a beach tag, seasonal tags are $70.
Area G Beach
Sandy Hook's  Gunnison Beach in Sandy Hook is 20 minutes way and has a nudist section. Known as "Area G". It the only legal clothing optional beach in the state. on a clear day you can enjoy stunning views of New York City.
Head to the southernmost point of Sandy Hook to have fun in the sun. But a few things to keep in mind, for starters, is that it's a bit of a hike to actually get here (the ocean is about a mile from the parking lot).
Pack snacks and plenty of water. There are no boardwalks near Sandy Hook. There are just two small refreshment stands far from the water.
It costs USD 15 at the National Park entrance to gain access to parking. The parking lots fill up early, especially on weekends, and close their gates once the park is full.
Restaurants, Where to eat?
Dining out in Gay Asbury Park is a real treat. Start at the boardwalk. It's easy to be overwhelmed by all the food stalls: do you go for crêpes, frozen lemonade, or sausage and peppers?
Gay Asbury Park is the official host of Jersey Pride. The event takes place on the first weekend in June each year.
Head to Asbury Park's Town Hall at noon and follow the decorated floats, vehicles, and motorcycles down Cookman Avenue.
Once you reach the festival grounds, at Bradley Park, you will find incredible performers, great food, and over 150 artisans and crafters. There's also fun for all ages in the Family Zone. Jersey Pride festivities are held rain or shine.  Check the weather in advance and dress accordingly!
Cookman Avenue – Take a 10-minute walk for your second wave of shopping, restaurants and farmers' markets, to nearby Cookman Avenue. There are art galleries, retro-clothing shops, gyms,crafts stores (one of which also teaches glassblowing), breweries, coffee, tea and poke hangouts, an art house cinema, a cigar shop, bookstores, salons, and a mid-century furniture shop.
Silverball Museum Arcade – a museum and an arcade all in one. They pride themselves on offering over 600 games in their rotation and describe the spot as a "living, breathing and blinking tribute to our pinball and video gaming past
The Convention Hall – Standing tall and proud on the boardwalk, at the shores of the Atlantic, it is home to the Paramount Theater, various shops, popular restaurants, and other major events throughout the year.
Asbury Festhalle & Biergarten – Authentic German biergarten with 41 beers on tap, live music, and a large rooftop bar that overlooks Wesley Lake, the Casino, and some impressive ocean views.
Madam Marie's Temple of Knowledge – Made famous in a Bruce Springsteen song, Marie Castello was the longest running tenant on Asbury Park boardwalk. She has since passed away. Today, the booth is run by Marie's granddaughter.  Have a palm reading and see what your future holds.
 The Hayworth
8 guests · 4 bedrooms · 4 beds · 2 baths
Old meets New! This magnificent renovated Beach home with a luxury heated pool is located just 4 blocks from the beach. Just steps away from the towns best restaurants and entertainment outside your door!
Grand Victorian
9 guests · 4 bedrooms · 5 beds · 3.5 baths
Casual Elegance. The house was built in 1907 and was fully renovated in 2005. Charming period detail throughout. Three bedrooms: two with queen beds and a master suite with King Bed and en-suite bath.
Share this Page with Your Friends!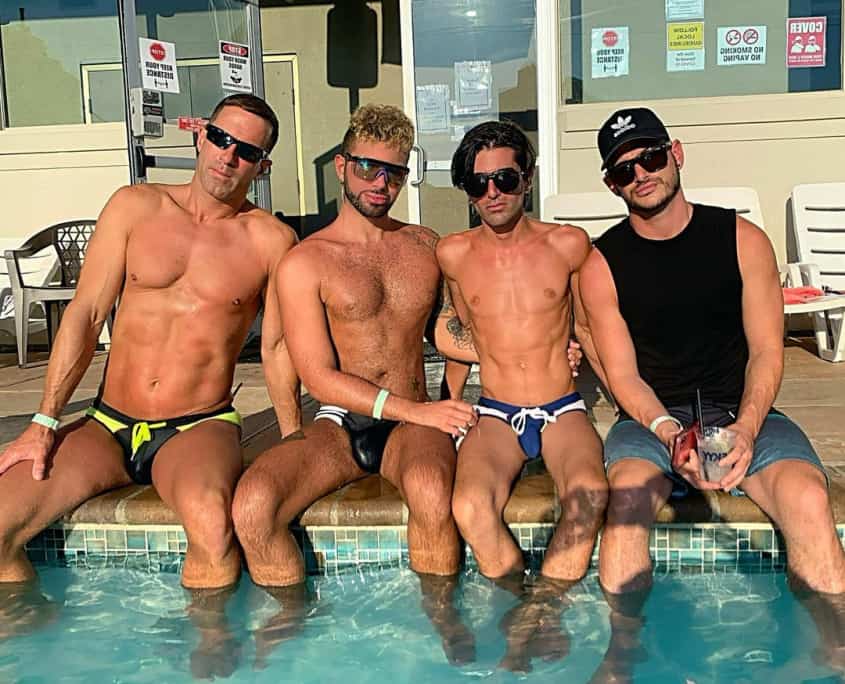 Gay Asbury Park is a vibrant city located along the Jersey Shore. Explore the best bars, hotels, restaurants and things to see and do.
https://www.gaytravel4u.com/wp-content/uploads/2021/02/empress-asbury-hotel.jpg
905
1080
admin
https://www.gaytravel4u.com/wp-content/uploads/2014/10/logo-gt4u.png
admin
2021-02-06 17:40:47
2021-04-03 16:19:55
Asbury Park Gay Guide