Vienna In Black 2023
Vienna Fetish Week the international leather and fetish meeting in Vienna.
From: Wednesday, October 25, 2023
To: Sunday, October 29, 2023

Fetish Dinner
Brunch events
Black fetish night
Leather night
A weekend of Austrian Fetish fun, Vienna in Black 2023
The international leather and fetish meeting in Vienna features a whole range of events, from fetish dinner to leather brunch, shopping tours and much more.

Visiting for Vienna in Black? Stay close to the parties and the gay bars in the Nachmarkt district. Try the K+K Hotel Maria Theresia, rated "Fabulous", a 4 star hotel with modern decor and delicious buffet breakfast.  

The Schedule

Events begin on Thursday with the opening reception at 5pm a the Fetish Store Vienna, followed by the Fetish Halloween from 8pm at Ropp. Late night highlights continue with the Rubber and Sports Opening party at 23.00 at Hardon. Or Enjoy a separate leather night at The Eagle from 23.00.
Stay close to the parties at Hardon at the Hotel Indigo, rated "Superb" by guests, just a short walk from the club, featuring bright, spacious rooms, just steps from the metro.
On Friday kick off your day with an all you can eat cake buffet at Ropp followed by the perv club after hour from 4pm at Hardon. Late night events include the Perv Club, mixxxed fetish night from 22.00 (Fetish dress code).
Saturday – Head to Boner Store from 14.00 for a meet and greet with the hottest porn actors, enjoy DJ music, shopping snacks and drinks. The fetish dinner takes place at Ropp from 20.00 followed by the Buff Hour at Hardon. Events end with the Black Night at 23.00 with the election of Mr Puppy Austria. Alternatively, enjoy the Fetish Extreme party at Smart Cafe.
Events end on Sunday with the Fetish Brunch at Ropp followed by the official closing for Vienna in Black, the Naked XXL Party at Hardon from 19,00 – dress code naked!

The Venues

Recommended Hotels in Vienna

The following hotels are all close to the city's top attractions and gay nightlife:

Hotel Imperial,   Steigenberger Hotel,   Austria Trend Hotel,   Hotel Maria Theresia.
Gay Map of Vienna
Wienzeile ('Vienna Row') is a street that runs through the city along the Vienna River. It is divided into Rechte (right) Wienzeile and the Linke (left) Wienzeile. Many gay bars and venues are located along both sides of Wienzeile.
Recommended Hotels in Vienna By Booking
Book with confidence. Get the best Prices from our partner Booking.com
We have chosen hotels in Vienna that keep you close to all the shops,restaurants & bars
Recommended Hotels in Vienna By Expedia
Book with confidence. Get the best Prices from our partner Expedia
We have chosen hotels in Vienna that keep you close to all the shops,restaurants & bars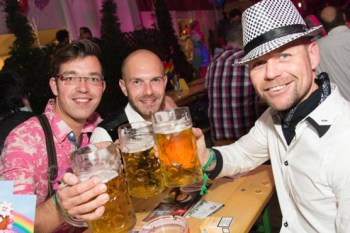 From: Sep. 16.2023 - To: Oct. 03.2023
Munich Gay Oktoberfest, also know as Rosa Wiesn Oktoberfest is actually a combination of different events taking place during a larger Oktoberfest in Munich
https://www.gaytravel4u.com/wp-content/uploads/2014/11/rosa-wiesn-2.jpg
370
800
admin
https://www.gaytravel4u.com/wp-content/uploads/2014/10/logo-gt4u.png
admin
2014-11-03 19:16:41
2023-01-21 09:39:13
Munich Gay Oktoberfest
Trending Events & Articles
Here are the most popular events searched for and viewed by our readers over the past 7 days: