Gay Bodrum Guide
Looking for an exotic holiday escape? Consider Gay Bodurm, Turkey's best kept secret, an under-the-radar beach town with luxury hotels, incredible food, beautiful beaches, and a charming old town.
Bodrum, on Turkey's Turquoise Riviera
The Bodrum Peninsula lies within a whisper of the Greek island of Kos. With its marinas, clubs and smartly dressed clientele from Istanbul,  Bodrum peninsula combines the feel of the French Riviera with an eastern twist.
The city has a rich history and was once home to one of the Seven Wonders of the Ancient World – The Mausoleum of Halikarnassus. Today the city has evolved into a major tourist destination.
Visiting Gay Bodrum is like visiting another world, surrounded by lush greenery, white buildings, and stunning minarets. It is the perfect base to explore the  Turkish coast and the nearby fishing villages dotted along the blue Agean sea.
This is our insider guide to Gay Bodrum's best bars, restaurants, hotels and things to see and do!
Gay Bodrum Hotels
&

Resorts

Over the past decade,Bodrum has welcomed some of the world's top hotels to its shores. From charming guest houses by the shore to upscale all-purpose resorts, there is a place to stay to suit every budget.
Caresse a Luxury Collection Resort & Spa
Offering a spa centre and sauna, Caresse a Luxury Collection Resort & Spa, Bodrum is located close to Bodrum Town. The resort has a seasonal outdoor pool and a private beach area, and guests can enjoy a drink at the bar. Free WiFi and private parking are available on site.
Overlooking  Bodrum Castle, the peaceful El Vino Hotel offers comfortable rooms with balconies. It has an outdoor pool surrounded by parasols and gazebos. All air-conditioned rooms come with satellite TV and minibars. Each El Vino room has free Wi-Fi.
Built abiding by Bodrum's traditional architecture, Artunc Hotel is situated in Bodrum's city centre. The hotel has air-conditioned rooms with satellite TV. Facilities include an outdoor pool. Bar Street, with its many bars and nightclubs, is just a 3-minute walk away.
Villas are the perfect way for large groups to enjoy Bodrum and explore the peninsula.
8 guests · 4 bedrooms · 4 beds · 4.5 baths
Boasting pool views, Important Group | Villa Prestige offers accommodation with a seasonal outdoor swimming pool and a patio, around 2.2 km from Gumuskaya Beach. This villa features a private pool, a garden, barbecue facilities, free WiFi and free private parking.
10 guests · 5 bedrooms · 10 beds · 6 baths
Regnum Escana Villas offer a unique luxury experience overlooking Bodrum Bay. The Villas are in a quiet and relaxing neighbourhood. The villas offer comfortable rooms, a fully equipped Kitchen, a sauna and a private pool with an exceptional view. Very centrally located, the  Villas are within walking distance of the main center of Bodrum town.
Dolmus (minibus) and local buses are the best, cheapest and easiest options for getting around the Bodrum peninsula. There are also many organised day-trip tours which leave from Bodrum. Alternatively, explore at your own pace and rent a car.
How to get from Bodrum Airport to Bodrum Town
The nearest airport to Bodrum is Bodrum (BJV) Airport which is 31.5 km away. Other nearby airports include Kos (KGS) (40 km), Rhodes (RHO) (92.1 km), Dalaman (DLM) (125.9 km) and Izmir (ADB) (141.5 km). The distance between Bodrum Airport (BJV) and Bodrum is 20 miles.
The Havas Airport Buses drives directly to the Bus Station, which is located in the city center of Bodrum. The around 60 min. drive will cost you 10 TL. A taxi will or private transfer will cost you 130 TL. approximately. Depending on traffic, the journey can take between 45 minutes to an hour.
Bodrum – Popular Neighbourhoods
&

Towns
Stay in Bodrum town, close to all the attractions.
Downtown Bodrum's central historic area is the ideal place to stay and is home to the city's famous visitor attractions.
Gumbet is one of Bodrum town's trendy neighbours and is a little more relaxed, with beautiful  beaches and stylish hotels.
Yalikavak (40 min drive from Bodrum) is especially popular with British expats and is famous for its relaxed beach vibe.
Gümüslük has grown more popular over the past decade and has charming guest houses and boutique hotels.
Therye are no laws prohibiting Homosexaulity in Turkey.  While there are nowhere near the levels of oppression experienced in many countries in the nearby Middle East, you need to consider that outside of the major tourist areas, attitudes to gay people may be a little different. That said, Bodrum is famous for its tolerant attitude.
The town has a more relaxed and gay-friendly vibe than many other parts of Turkey. Locals are warm and welcoming and rely on tourism for their livelihoods. Our advice? Relax and enjoy the charms of Bodrum and its hospitality, while remaining discrete.
The Gay Scene in Bodrum, Gay Bars and Clubs
Bodrum is a Summer playground for the Turkish jet-set and has a lively nightlife scene. The bars in Bodrum are gay-friendly as are their patrons.
In downtown Bodrum the busiest bars are located along "the Bar Street" (Barlar Sokagi). The Bar street consists of Dr Alim Bey and Cumhuriyet streets, both running parallel to the coast. Here you will find a bar to suit everyone, playing everything from Jazz to Rock.  Many of the large Music Bars host live performances during the Summer months.
Begin your eventing at Frappe bar with great music and delicious cocktails. Then head to the  town's longest running gay bar, Kavalye Bar The bar is right on the beach with a large terrace. Kavalye is a beach club by day and a dance club by night.
The nearby town of Gumbet is a nightlife hotspot . Local gays tend to mingle on the nearby nudist beaches during the day and head out to the bars in the evening. Gumbet is home to more UK-style bars and nightlife. Murphy's bar is a popular gay hangout. Haspa club also in Gumbet, is a fun venue with late night dancing and entertainment until 6am.
Bodrum has some beautiful beaches, both public and private. Many of the beaches have become well known for their stunning view and waterside beach parties.You will find the gay beach between Gumbet and Bodrum.
The beach is more of a cruising spot than a place to relax or top up your tan. The journey from the centre of Bodrum to the gay beach takes approximately 20 minutes. Get off from minibus in front of Salmakis Residence Hotel. Then walk towards the windmills until you reach to the tip of smaller peninsula. The gay beach is at the end of the cove. Bring sneakers! This area is not flip-flop friendly.
If you are looking for a more active holiday, head to Gümbet Beach for scuba diving, windsurfing, water skiing, jet skiing, and parasailing.
Private Beach Clubs in Gay Bodrum
For a more relaxing experience, visit some of the private beach clubs, many of whom host weekly beach parties, lounger service and on site dining. Those looking for a 5-star beach experience should explore the pristine sandy beaches at luxury resorts such as Mandarin Oriental or Swissotel Resort. Day passes are available.
The beach club at The Edition Hotel, on Yalikavak Bay is also highly recommended.
Finally, for some of the best views and sunbathing, head to Caresse for a truly top notch beach experience.
Beaches Beyond Gay Bodrum.
Want to spend the day on a sun lounger with a cocktail or two? Then visit Yahsi beach and enjoy pristine golden sands and a clear shallow sea. The beach is about 10 minutes drive from Bodrum town centre.
Gümülük is home to some of our favourite beaches surrounded by boutique guesthouses and restaurants right by the water. You could easily spend your entire holiday here, hanging out by the beach during the day and eating out at night.
South of Bodrum you will find quieter beaches. Kargı is a chilled out sandy beach and overlooks Bodrum's  famous white villas.  Stop for luch at one of Kargı's delicious fish restaurants.
Torba, four miles north of Bodrum Town is surrounded by lush hills and pine forests. Over the years it has managed to maintain the charm of a calm fishing village. Sun loungers are available to hire at the resorts on the beach but if you want somewhere quieter, head to the far end and settle down on the sand under the shade of a eucalyptus tree. The water here is dazzlingly blue, especially as you gaze north from the pebbly beaches at the edge of the village.
Turkbuku is often referred to as the St Tropez of Turkey and is twenty-five minutes' drive north-west of Bodrum. During the day all Türkbükü's restaurants and bars turn into beach clubs, with sunbeds on the small piers over the water. Enjoy a wide range of cocktails and tapas dishes from your sun lounger!
Drink cleverly mixed drinks from copper cups at Anhinga beach bar.
Looking for the perfect nightcap? Head to Fenix in Yalikavak, for some citrussy cocktails.
Head to Torba and visit Malva Cocktail Bar at the LXR Hotels & Resorts, Susona Bodrum. Guests can savour light bites alongside artisanal cocktails, a rich selection of Spritz, and the finest local and international wine, all the while enjoying stunning views of the beautiful coastal sunset.
Dining out in Bodrum is a real pleasure. From fresh fish to meze, even the most serious foodie will be satisfied. Many of the best restaurants are located outside of Bodrum, dotted across the nearby fishing villages.
Enjoy an all-day breakfast at Demeter Bar & Restaurant or go French and try delicious eggs benedict at Evimiz.
Antik Akdeniz has some of the best baklava, an iconic Turkish dessert, made to utter perfection.
Experience fine dining at Bodrum's boutique hotel, Maçakızı. Before or after dinner make sure to have a cocktail at the bar located steps away from the water.
Fish lovers should head to Orfoz. You can find the restaurant on an unlikely side street of Bodrum City, where bergamot trees planted by the Fisherman of Halicarnassus shade the whitewashed buildings. It is next to a statue of the cross-dressing singer Zeki Müren.
If seafood is not your thing, then try laid-back Hoca'nın Yeri. The restaurant serves mantı (small handmade dough pouches filled with ground meat and spices topped with a yogurt, garlic, and tomato sauce) and çiğ börek (puffy fried dough filled with meat or cheese).
Finish your evening with some bal badem (candied almond) ice cream, a heavy mix of ice cream filled with crunchy candied almonds at Penguen Ice Cream.
Located on the quiet tip of Bodrum peninsula, Gümüslük's sheltered shoreline is lined with rustic restaurant tables set literally in the water. You can cool your toes while you eat what the fishing boats hauled in that morning.
Gay Bodrum – Things to see and do
Bodrum has all the ingredients for a unique holiday. Whether you are a keen historian, intrepid explorer, or a shopaholic, Bodrum has something for you! Visit Bodrum's famous hand-crafted leather sandal workshops, local wine tasting at nearby vineyards, and a journey into the world of Turkish carpet making at Etrim village.
Explore the 15th century castle of St. Peter. Visit late in the afternoon. The weather is cooler and you can enjoy a stunning sunset. The gardens are roamed by peacocks and are home to many statues, mosaics, and sarcophagi. Built by the Knights of St. John,  the castle's walls enclose a small city of cafés, shops, and ateliers where glassblowers and potters show off their skills and sell their wares.
Head slightly out of town and explore the amphitheatre. Offering incredible views of the of Bodrum, the Graeco-Roman amphitheatre hosts concerts and events during the Summer season.Take a private tour 
Spend a day browsing the stalls of the Bodrum market or explore the other towns of Ortakent or Gündo˘gan for amazing cheeses, fresh honey, and homemade soaps.
Experience the past at the Bodrum Museum of Underwater Archaeology and the Mausoleum at Halicarnassus. Book a guided tour for a unique insight into the town of Bodrum and beyond.
Visit Bardakci Cove for some Instagram moments followed by a luxurious day by the sea or a wallet busting day of retail therapy.

Take a gullet

(the traditional, hand-built wooden yachts that are unique to the area) out to Orak Island, which is great for both shallow and deep-sea divers, with an incredible vertical reef wall that descends nearly 80 metres.
Gay Bodrum – When to visit?
Bodrum is warm during the shoulder or off-season months such as May, September, and October. Visitors can enjoy amazing holiday with fantastic weather and warm seas, while avoiding the Summer crowds. Temperatures vary between 21 and 26 degrees during the day.
If hustle and bustle is your thing and you want to enjoy the lively nightlife and beach club scene, then visit during the Summer months.
Share this Page with Your Friends!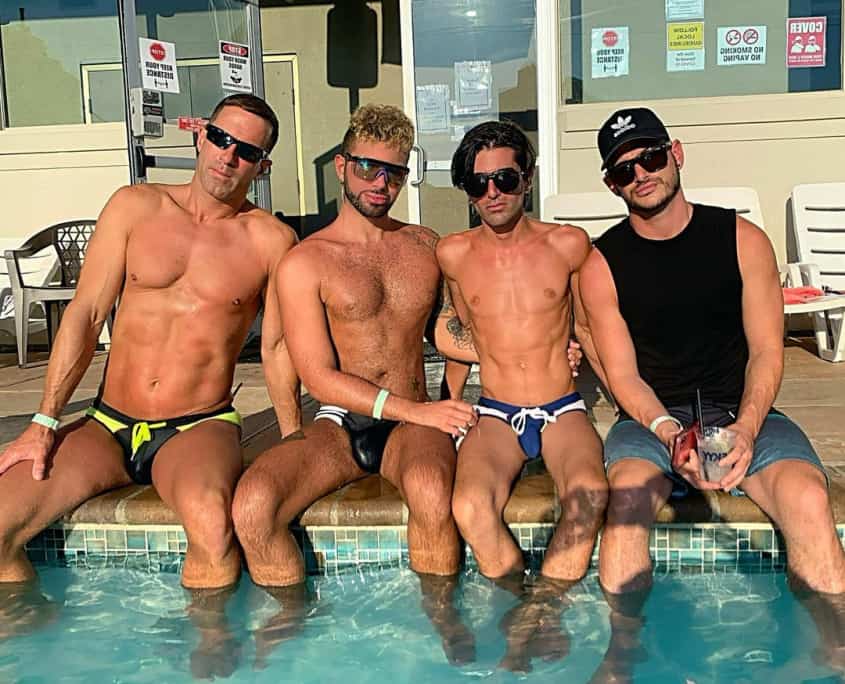 Gay Asbury Park is a vibrant city located along the Jersey Shore. Explore the best bars, hotels, restaurants and things to see and do.
https://www.gaytravel4u.com/wp-content/uploads/2021/02/empress-asbury-hotel.jpg
905
1080
admin
https://www.gaytravel4u.com/wp-content/uploads/2014/10/logo-gt4u.png
admin
2021-02-06 17:40:47
2021-04-03 16:19:55
Asbury Park Gay Guide