Guadalki Bear 2023
GDK is considered one of the most important, intimate and enjoyable bear events in Spain
From: Awaiting dates
To: Awaiting dates

The Boat Cruise
Party
Hot Bears

Seville is a popular year round destination
To get the best deals and save up to 70%
book your hotel early.
GuadalkiBear Seville 2023
GDK is considered one of the most important, intimate and enjoyable bear events in Spain.

Visiting Seville? Stay close to all the gay bars at Alameda de Hércules. Stay in the heart of Seville at the "Superb" rated Plácido y Grata offering a range of delicious breakfast options, stylish rooms and perfect location.

The Bear Festival

Highlights include the bear boat cruise and after party, a bear lunch and dinner, bear pub crawls and the Mr Gaudalki Bear competition.
Awaiting schedule for the next weekend.

Gay Seville, Where to stay?

Most of the gay bars and clubs in Seville are located along the Alameda de Hércules. The following hotels are close to the gay area as well as Seville's major tourist attractions:

Hotel Alfonso XIII,    Hospes Las Casas,    Petit Palace,    Hotel Doña María
Map of Seville
Because of the many warm months going out in Seville often is an open-air culture. Sometimes there is more going on in front of the bars than inside. That's especially true for the area around the park along the Alameda de Hércules, a popular hangout for having a drink and a chat with friends. There is one bar after another and basically all the bars there are at least gay-friendly and the gay bars are straight-friendly, so you'll usually find a mixed, easy-going crowd.
However if you are in Seville for any length of time, you may want to rent a car.
Recommended Hotels in Seville By Booking
Book with confidence. Get the best Prices from our partner Booking.com
We have chosen hotels in Seville that keep you close to all the shops,restaurants & bars
GuadalkiBear Seville
Bear Carnival Pre-party in Seville
Top Gay Neighbourhoods in Seville
Seville, like many major cities around the world, has a vibrant LGBTQ+ community and offers various LGBTQ+-friendly establishments, events like "Orgullo del Sur" (Southern Pride), which celebrates LGBTQ+ pride and diversity in the region. The event typically includes a parade, parties, cultural activities, and more.
Alameda de Hércules| The gay hub of Seville
Photo: Alameda de Hércules is home to some of Seville's most popular gay bars
Alameda de Hércules is a trendy and vibrant neighborhood with a diverse atmosphere.
It's known for its many bars, cafes, and restaurants that are popular with both locals and visitors.
Alameda de Hércules has historically been a hub for the LGBTQ+ community, with various LGBTQ+-friendly venues.
This historic neighborhood is famous for its narrow winding streets, charming squares,& traditional Andalusian architecture.
The neighborhood is a mix of traditional shops, boutiques, & souvenir stalls. Alongside historic attractions.
Seville's artistic riverside district, renowned for ceramics & flamenco, offers a cultural mosaic of markets & history.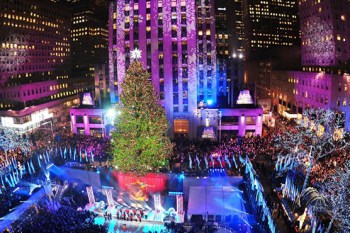 From: Oct. 26.2023 - To: Jan. 02.2024
Every Christmas, thousands of New Yorkers (and tourists) travel to the bright and brilliant nexus of town: the Rockefeller Christmas Tree.
https://www.gaytravel4u.com/wp-content/uploads/2016/10/Christmas-in-New-York-4.jpg
370
800
Andrew Stevens
https://www.gaytravel4u.com/wp-content/uploads/2014/10/logo-gt4u.png
Andrew Stevens
2016-10-24 19:46:20
2023-10-04 15:27:20
Christmas in New York
Latest Gay Travel News
Discover the best of Vienna's LGBTQ+ scene with our comprehensive gay guide. Explore popular gay bars, welcoming restaurants, and cozy hotels in the heart of the city.

The Top Gay Winter Sun Destinations. From the beaches of Sydney to the desert oasis of Palm Springs, Miami Pool parties and more!

Gay Rio Guide, Discover the top gay bars, clubs, hotels and things to see and do in Rio. Plus full event calendar.
Trending Events & Articles
Here are the most popular events searched for and viewed by our readers over the past 7 days: