Guadalki Bear 2023
GDK is considered one of the most important, intimate and enjoyable bear events in Spain
From: Awaiting dates
To: Awaiting dates

The Boat Cruise
Party
Hot Bears

Seville is a popular year round destination
To get the best deals and save up to 70%
book your hotel early.
GuadalkiBear Seville 2023
GDK is considered one of the most important, intimate and enjoyable bear events in Spain.

Visiting Seville? Stay close to all the gay bars at Alameda de Hércules. Stay in the heart of Seville at the "Superb" rated Plácido y Grata offering a range of delicious breakfast options, stylish rooms and perfect location.

The Bear Festival

Highlights include the bear boat cruise and after party, a bear lunch and dinner, bear pub crawls and the Mr Gaudalki Bear competition.
Awaiting schedule for the next weekend.

Gay Seville, Where to stay?

Most of the gay bars and clubs in Seville are located along the Alameda de Hércules. The following hotels are close to the gay area as well as Seville's major tourist attractions:

Hotel Alfonso XIII,    Hospes Las Casas,    Petit Palace,    Hotel Doña María
Map of Seville
Because of the many warm months going out in Seville often is an open-air culture. Sometimes there is more going on in front of the bars than inside. That's especially true for the area around the park along the Alameda de Hércules, a popular hangout for having a drink and a chat with friends. There is one bar after another and basically all the bars there are at least gay-friendly and the gay bars are straight-friendly, so you'll usually find a mixed, easy-going crowd.
However if you are in Seville for any length of time, you may want to rent a car.
Recommended Hotels in Seville By Booking
Book with confidence. Get the best Prices from our partner Booking.com
We have chosen hotels in Seville that keep you close to all the shops,restaurants & bars
GuadalkiBear Seville
Bear Carnival Pre-party in Seville
Recommended Hotels in Seville By Expedia
Book with confidence. Get the best Prices from our partner Expedia
We have chosen hotels in Seville that keep you close to all the shops,restaurants & bars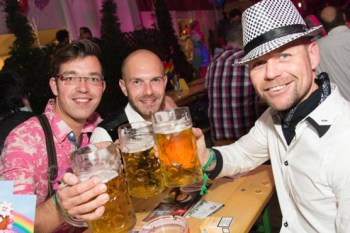 From: Sep. 16.2023 - To: Oct. 03.2023
Munich Gay Oktoberfest, also know as Rosa Wiesn Oktoberfest is actually a combination of different events taking place during a larger Oktoberfest in Munich
https://www.gaytravel4u.com/wp-content/uploads/2014/11/rosa-wiesn-2.jpg
370
800
admin
https://www.gaytravel4u.com/wp-content/uploads/2014/10/logo-gt4u.png
admin
2014-11-03 19:16:41
2023-01-21 09:39:13
Munich Gay Oktoberfest
Trending Events & Articles
Here are the most popular events searched for and viewed by our readers over the past 7 days: